"Wait- what time is it?" Shutting down Zanes yet again, I begin to half-regret my third basket of cheese fries that weekend. It's 2 a.m. – where to next? The answer always lies somewhere between 'rage at home' and 'smoke and pass out'. Sometimes, we do both. When you party in Snowmass Village, it's a different scene.
You just might miss it if you don't know where you are going. At the end of Brush Creek Road just off 82 between Aspen and Basalt lies Snowmass Village. It's a mountain town full of ski bums, bike bros, and river rats that came for a season and hope to stay a lifetime. Its intoxicating, this life of ours. Work hard, play hard and party harder because hey – why not!? Isn't that what we are all seeking? Just a little spice and reprieve from life's familiarities? Featuring only a handful of shops and dining options, Snowmass is really where the chillers chill.
That said, I have never met a group of people so talented at partying as the extreme sports community in Snowmass.
In case this is all sounding highly intriguing, but you have no idea what I'm talking about, that's okay! Without further ado, in chronological order, this is the ultimate guide to partying in Snowmass Village!
How you go about your night depends on the kind of night you want to have. First, always check to see what events may be going on around town – it's likely you will want to start there!
On a given day in the village, the first stop is either Mix 6 in Base Village, or Ranger Station on the mall. Leaving the upper mall from our day jobs, a few of us convene at Mix 6 for truffle fries and a raspberry mule (made with thick, homemade raspberry puree.) While I go for the Mediterranean bowl, my friend devours the Moxi Mac & Cheese. It comes with chicken tenders on top – yes, you read that right. Fun fact, the chicken tenders are gluten-free, but they don't offer a basket of tenders. They should, just saying.
Mix 6 is cool because they are centrally located in Base Village which plays host to everything from movie nights and traveling circus acts to casual cornhole on the lawn and arcade downstairs. Between being part of the Snowmass Collective, which features an arcade, board games, and multi-use art gallery, and the airy vibe, it's not hard to be an adult child-at-heart. It's a great way to kick off the night if a friend is in town or when you want to treat yourself to an extended night out!
Once you are nice and giddy, you will want to make your way towards the Sky Cab, or "Skittles" to reach the upper mall. This gondola is comprised of four, three-car sections and runs all day from 9:00 am -10:00 pm during the summer and winter seasons. Visiting with Fido? The middle Skittle of every section is reserved for our furry friends! If you have a dog or allergies to them, it's a great tidbit to know!
Stumble off Skittles right into Ranger Station – you literally can't miss it. It will be the New Belgium sponsored, full bar blasting great music directly across from the gondola. This is where the party *really* starts. Ranger features glass fire pits, 90s cartoons on the television and is home to an insanely delicious and completely deadly frozen lemonade. I like to get mango puree in mine, and I think you will too.
Ranger Station is where everyone goes to get a pitcher and a round of shots for the table! While I don't indulge in beer, they always have a mix of the latest brews and classic favorites on tap. For my not-so-beer people, they keep Stem Cider on tap and seltzers in the fridge! They don't offer too much in the way of food, but their pretzel bites are very popular. On Monday nights at 6:00 pm, they host Trivia night which features a different fun theme each week. Sometimes musicians, acrobats, running events, and alcohol festivals will just randomly show up on the gravel outside, so that's always neat to happen upon too!
Following Ranger Station, you again have one of two ways you can go. You could head down the mall and turn to the right, up some stairs to Big Hoss Grill, across from Stew Pot. Or, hit the stairs to the left immediately after Prime Image over to Slow Groovin' BBQ. Each of these spots has things to offer that make them unique. On a night when local singer and guitarist Rodrigo is playing, you will find me at Big Hoss Grill. If he's not, and the mood is right, then we're getting a little rowdy at Slow Groovin'.
Occasionally, Big Hoss will invite local musicians of all genres to transition from dinner service into a nightlife hot spot. When musician Rodrigo stops in or local DJ Billy Squared is performing, it's best to get there a touch early to grab a table, they tend to get packed! During the summer and winter seasons, Big Hoss hosts trivia night, and when Tuesdays on the Mall were happening, they would bring in bands for the whole mall to enjoy!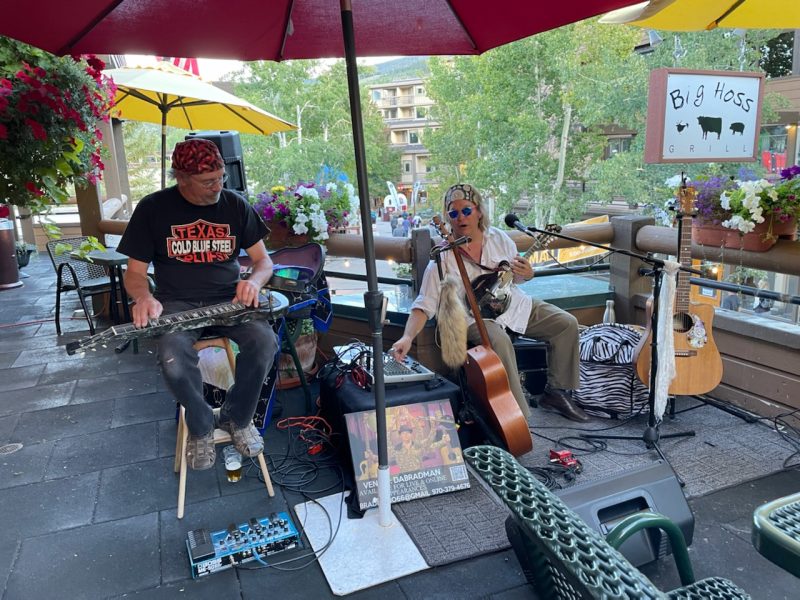 Slow Groovin' is known around the village as "Blackout Barbeque" – need I say more? This indoor/ outdoor double-bar is broken into two parts by a long narrow hallway lined with murals. You can hang outside with friends enjoying the night air and well pours from the bar. Inside, there is another full bar complete with pool tables and a stage for when Slow Groovin' invites local acts. One of the more prominent bands on the circuit is a 90s grunge band; they are pretty good, and it's fun to sing along!
Slow Groovin' could absolutely be the last stop on your party train. By the time people move on from "Blackout Barbecue," it's probably around midnight, and you're either ready for a toke and bed or are heading to Zanes. Enter: cheesy fries.
Picture this- you are buzzed (or totally fried) and have been making memories you may not remember for hours when you suddenly realize- Zanes serves food until 2 am. Game, Set, Match. You know where I'm headed! Zanes in Snowmass has been a staple for locals since 1997 and caters to locals year-round. While others close for the off-season, they stick around to be the local's home for football. That's right- Zanes has the NFL package, so the next time Home Team is closed, head to Zanes for your Friday Night fix! I live for their cheesy fries, but their mac and cheese egg rolls and street tacos are known village-round as a great go-to entrée.
It's 2am, the fries have been eaten by you and anyone slick enough to snag a handful. The night is done and it's time to retire until the next event. Whether you head home to Aspen or downvalley to Carbondale, Snowmass will be waiting to welcome you back for another round on the mall!
Featured Photo & Writer: Alexandrea Rager