Learning From Our Stories
We were late for an evening company skin up Buttermilk Mountain and so I told my husband to catch up to the group as it was the company that he works for. I was okay with hiking by myself as night rolled in. Skinning alone in the quiet of the early evening as the lights came on in our mountain town and clouds turned deep tones of purple, a peaceful feeling took over my being, and I began to contemplate on those times throughout my life where I had to make complex decisions, and how cool it was for me to review those decisions and the results that unfolded thereafter.
Making the Move to Aspen
Moving to Aspen was one of those decisions. I was walking into the coffee shop near where I worked in New York city as a publicist at Simon & Schuster in Rockefeller Center, when the person walking out was hit by a car. The driver had apparently lost control. Running outside, I witnessed a total of four victims moaning in the street. One was a woman with her arm hooked at a grotesque angle above her head, the contents of her purse strewn all around her, a drop of blood coming from her eye. The week before on Madison Avenue, I had witnessed someone ripping a necklace from the neck of a woman on the sidewalk. The weekend prior to that I had received a call from a friend, my boyfriend of 6 years had taken some other woman to a hotel room for some fun in between our weekends together. City living had run its course. I was done. My older sister who had moved from the city to Aspen, encouraged me to join her there, the same sister whose eyes would fill with tears when living in the city any time John Denver's powerful voice came through the airwaves, singing songs about sunshine and mountains and feeling high. But I liked the excitement of the city, and I didn't feel as though Aspen was my calling. After visiting her once before there, I felt contempt for the homogeneity of it. "Ugh," I moaned to my sister in my heart-broken state, "those who live in Aspen like to talk about their vert and mileage and how great everything always is. They are not my people, I'm not that hard core, edgy athlete that Aspen seems to breed, I'm more of a yogi girl who loves to move my body outside.  Give me the bars like Lucky Strike in NYC where one travels to different worlds in every whiskey infused conversation, not Aspen where the bars are filled with entitled people who prefer to be seen rather than experience others." But I didn't have much time to decide, I needed to leave that chestnut haired green-eyed boy who was breaking my heart and my middle sister was urging me to make the move. And so Aspen is where I fled, and she took me under her wing, breaking in her aerobic-performing, spandex-wearing sister, by taking me dry heaving up the Ute Trail and on  mountain bike rides where I had no business being, ignoring my cacophony of NYC obscenities directed at her for turning me into that person I dreaded becoming.
And now, almost 30 years later, I reap the results of that decision, with a stud muffin of a Colorado-born husband who knows that he must never put me in a survival mode position, and that if it ever came to that he should eat me first. We also have three totally rogue gorgeous boys, independent thinkers who will never be put in a box. Contemplating all that, just me, the snowcats, the noble pine trees and velvety white Aspens, and the darkening sky, I realized that the path I took was given to me, I really had no decision in that one, and it is the only path I could have taken that would have lead me to my happiest self.
Moving To Higher Frequencies
As this recognition took hold, I felt something changing within me, a sense that I was right where I belonged and I felt overcome by a positive vibration reverberating through my being. On the last day of 2020 I awoke as usual pre-dawn, when the only definition I could see on Aspen mountain were the white ski runs snaking down it, with twinkling lights from town sparkling at its base. My husband and I had recently made the decision that it was now time for us to leave the tear down "shack" in Aspen that my husband was property managing, and move back to our sweet home in Basalt in the spring. The realization that we only have a few months left of this borrowed life with single pane windows framing mountainous views that span East up Independence Pass, all the way West to Sopris Mountain, is filling me with a huge appreciation for what we have right now.
On that morning, I layered on clothes and went outside to take a walk while Face Timing my mother who is living alone in Connecticut with her 94 year old boyfriend, the current love of her life. With the brittle cold snow crunching under the weight of my boots, the sky changed from black to pink and the sun began to kiss the mountain tops. Having grown up visiting the Swiss Alps, my mother took it all in with tears for memories past, and her aching desire to be there by my side. When I hung up, I knew that I had to live that life she was missing and my heart began to palpitate. If she couldn't be out there in it, I needed to get out there for the two of us and ski the freshly groomed runs on Aspen Mountain in my new Rossignol outfit (As an Aspen Influencer, Rossignol is one of my accounts). Skiing corduroy can often be as soul feeding as skiing powder, but when dressed in style and technically sound and classic skiwear it makes it much easier to get motivated to get out first thing in the morning in 19 degree temperatures. I texted my ski posse, a group of over 50 women who can out-ski most, and who know when it is time for a Latte or when it is time to allow for our inner hype to be enough adrenaline to get us on the mountain before the crowds and skip breakfast altogether.
There were some sleepy, raspy voices on the other end of the line, others were already dressed with their goggles on. Those who could, rallied and we met in the gondola line, which wasn't much of a line at all.
At the top, the sun was shining and the sky was a deep cloudless blue. We hit Copper with well tuned edges and conditioned legs from all of our mountain cross training over the summer, and lapped the mountain until our legs were shaking, stopping to eat a Barley and Kale salad on the sunny deck of our beloved Bonnie's Restaurant. Then back at it until our kids starting calling for rides.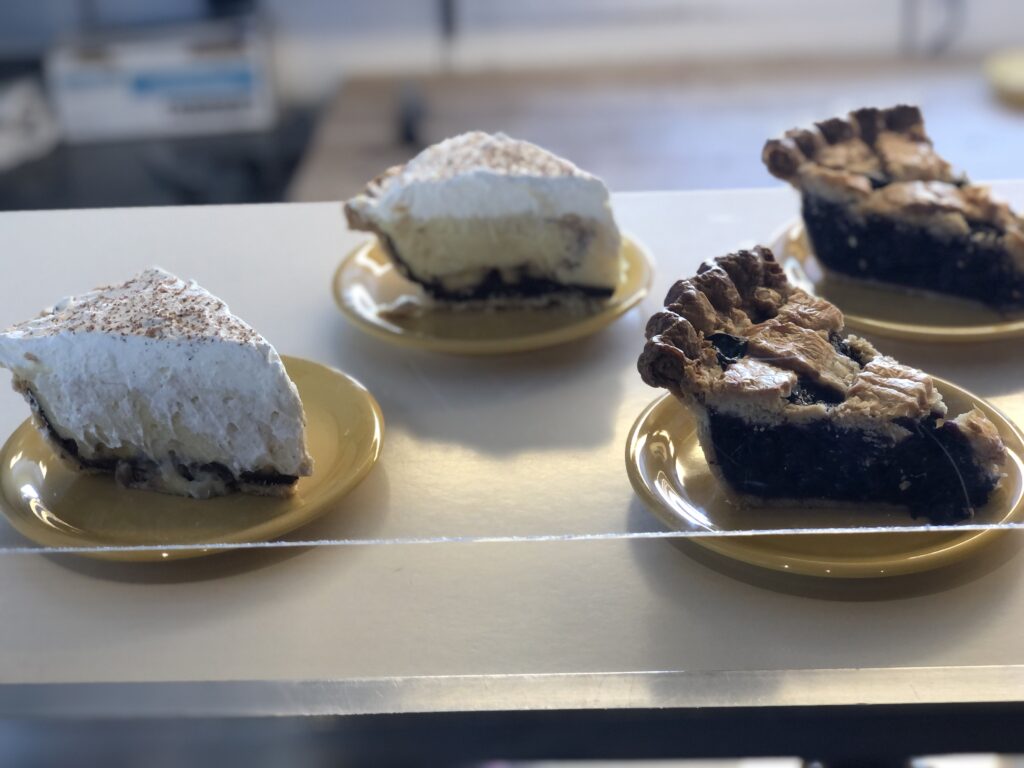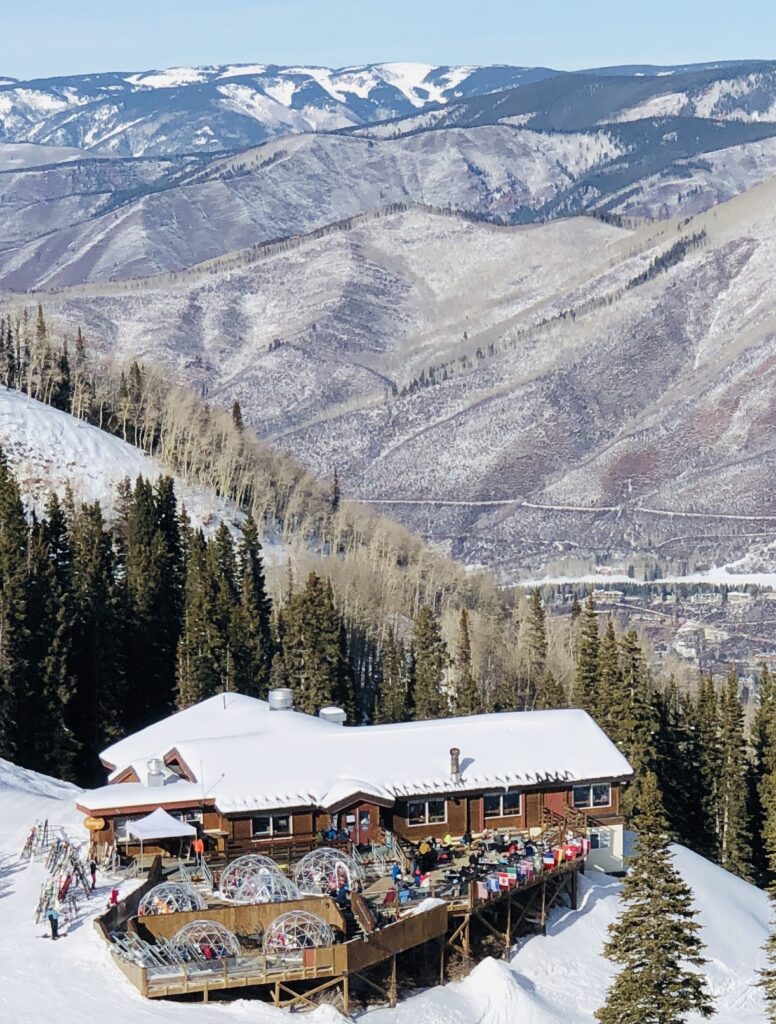 That night we social distanced while skinning under the twilight sky to bring on 2021 together with hot toddies under the stars. At the very top, as the last light hit the mountain peaks, the Pitkin County alarm went off on all of our phones to remind us of the Pandemic and the lonely broken hearts throughout the world and we took a silent moment to breathe deep and allow the power of the mountains to heal us, and vibrate that energy to those in our world who need strength.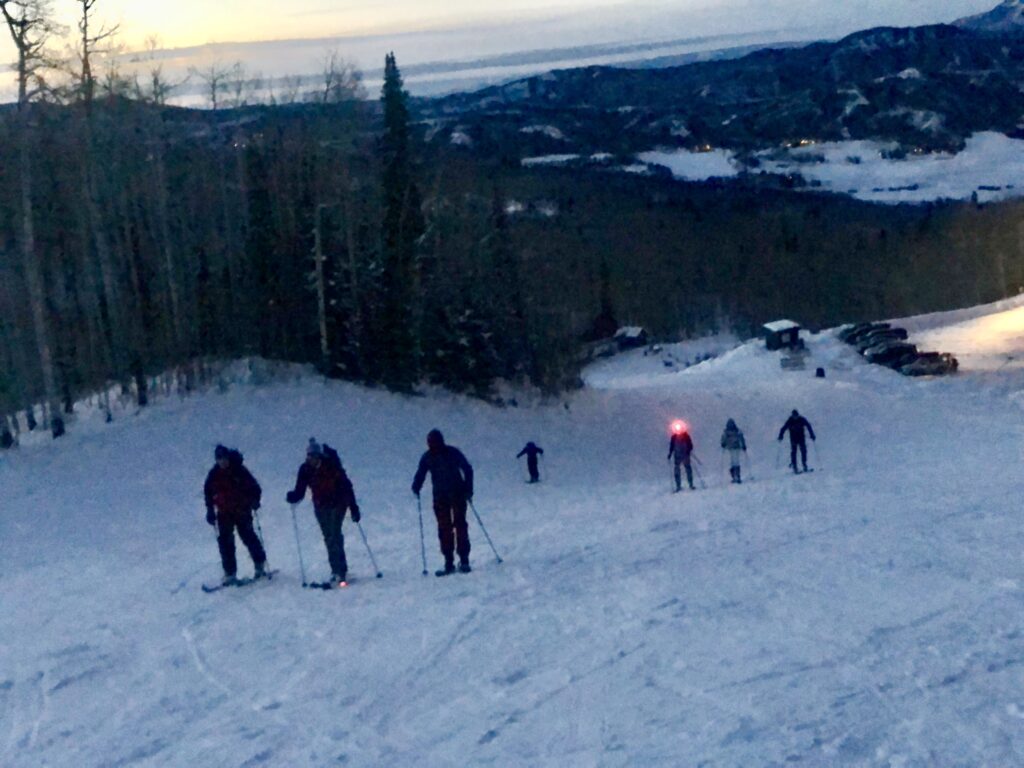 Flowing Into 2021
Today it is 2021 and this frequency I am living in is driving me to write again, and to stay on my course to continue to keep this blog as a local's platform, as well as to grow our Aspen Business Connect network so that together we may continue to help the small businesses of this valley.
To stay in this frequency, I will continue my 40 day meditation with Davidji and do my best to lead from a higher place so that I will continue to attract those who are also living at a higher frequency. Together, we will help those who need a lift to get there.
If you stop for a second to stay quiet, you too will tap into this beautiful frequency, and when you do, please do reach out.