The VIP reception for Art Aspen 2019 personified everything I love about being a local here in Aspen. There I was looking at the incredible artwork of my friends; Mark Cesark, Karl Wolfgang, and Hunt Rettig, friends of whom I have gone backpacking with in Canyonlands, 17 years ago on a school outdoor ed trip. Friends I have raised a ruckus with pre-kids, and even after. Friends I have swum naked in mountain lakes with, and gone skiing under full moons with. Friends who are so absolutely talented, and who I would love to fill my 1st and 2nd home with their works, if only I had one….or the other.
Having just picked up our middle son, Axel, from the summer pre-college program at California College of the Arts, I am making a concentrated effort to introduce us both into the local art world, and so we went back to view the show through his eyes. What fun it was to give him the perfect opportunity to practice speaking eloquently about art and his work to gallery owners, and to experience what type of gallery owner we would choose to display his own work. We shrugged off those who couldn't make the effort to stand up to talk to us about the artists they were representing, and gravitated to those who greeted us enthusiastically, clearly impassioned by the works of their artists.
Lawrence Schiller
The highlight of the evening was taking a photo of the 82 year old Lawrence Schiller in front of his portraits of Marilyn Monroe, and behind the scene shots of Paul Newman and Robert Redford, taken while filming Butch Cassidy and the Sundance Kid. Lawrence told me of his experience while working on set with Paul Newman, and how he mentioned that he was tired of photographing just one more head on another body. On the spot, Newman suggested that it was time for Schiller to start directing and gave him his first break by having him direct 8 mins of the film they were working on. Schiller went on to direct an Oscar-winning documentary, and an Emmy Award-winning tv mini-series.
As I struggle to stay in my fullest expression, I have a full appreciation for the artists who don't hold back to their drive to create, for it's all they know how to do. We need more artists to do all they know, and that's why I am trying to write more and stay in the flow of my work. We need more people to think out of the box, to lead the way for those who are stuck.
Hunt Rettig Aspen Artist
Hunt Rettig is known for his 3D assemblages that produce the illusion of 2D illuminated digital images. Self-taught, Rettig's process-based discipline is a continual quest to transform quotidian material into the sublime. In Rettig's hands, moldable synthetics and reflective acrylics become encapsulated sculptures implying kinetic movement if not actuating it. He has been drawn to the op and kinetic art movement since adolescence.

An explorer of both geographic and psychological terrain, Rettig is most at home on a dirt path or body of water observing "familiar patterns that connect us as one, like source code." Biomorphic shapes seen in Rettig's work suggest sensual elements omnipresent in nature. How connected are we? "If it didn't exist, if it didn't resonate, we wouldn't be here."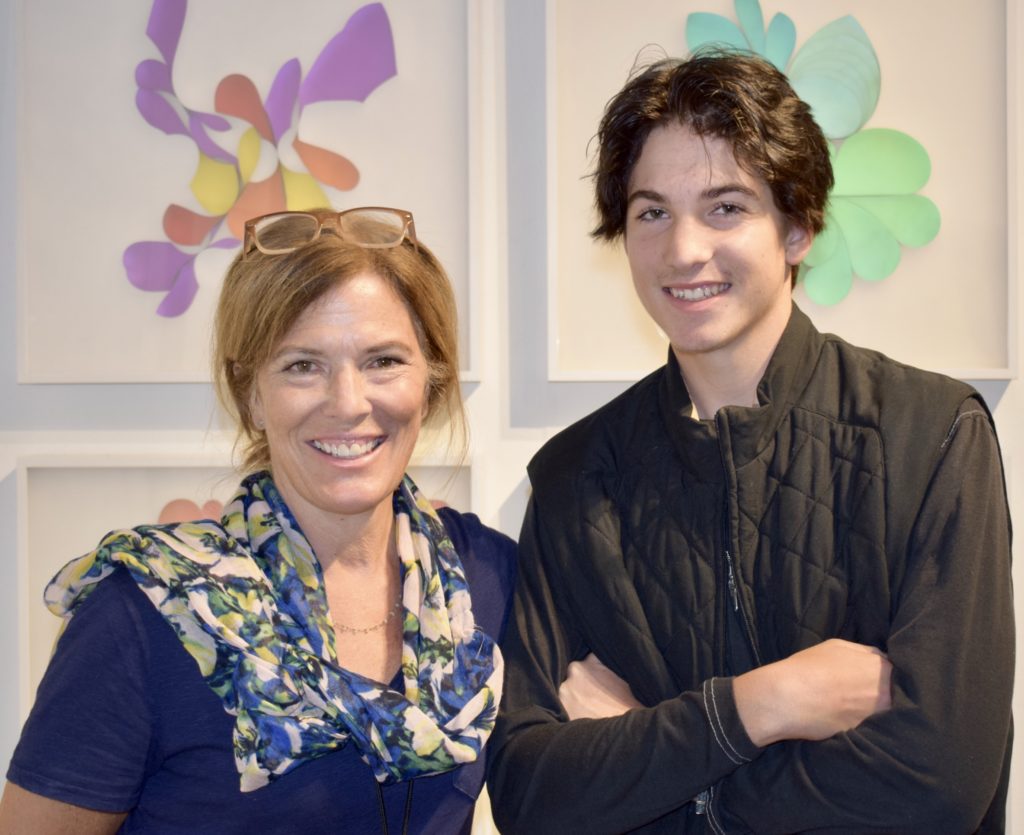 Karl Wolfgang
Before moving to Basalt, Colorado, Karl Wolfgang spent 15 years in Los Angeles as a union cameraman, working primarily on commercials and music videos. He began his training in photography as a sixth-grader in his father's darkroom. He has done editorial work and fashion shoots for local magazines and created a coffee-table book of images he made several years ago on Michigan's Mackinac Island, a project that has eased his transformation from moving to static photography.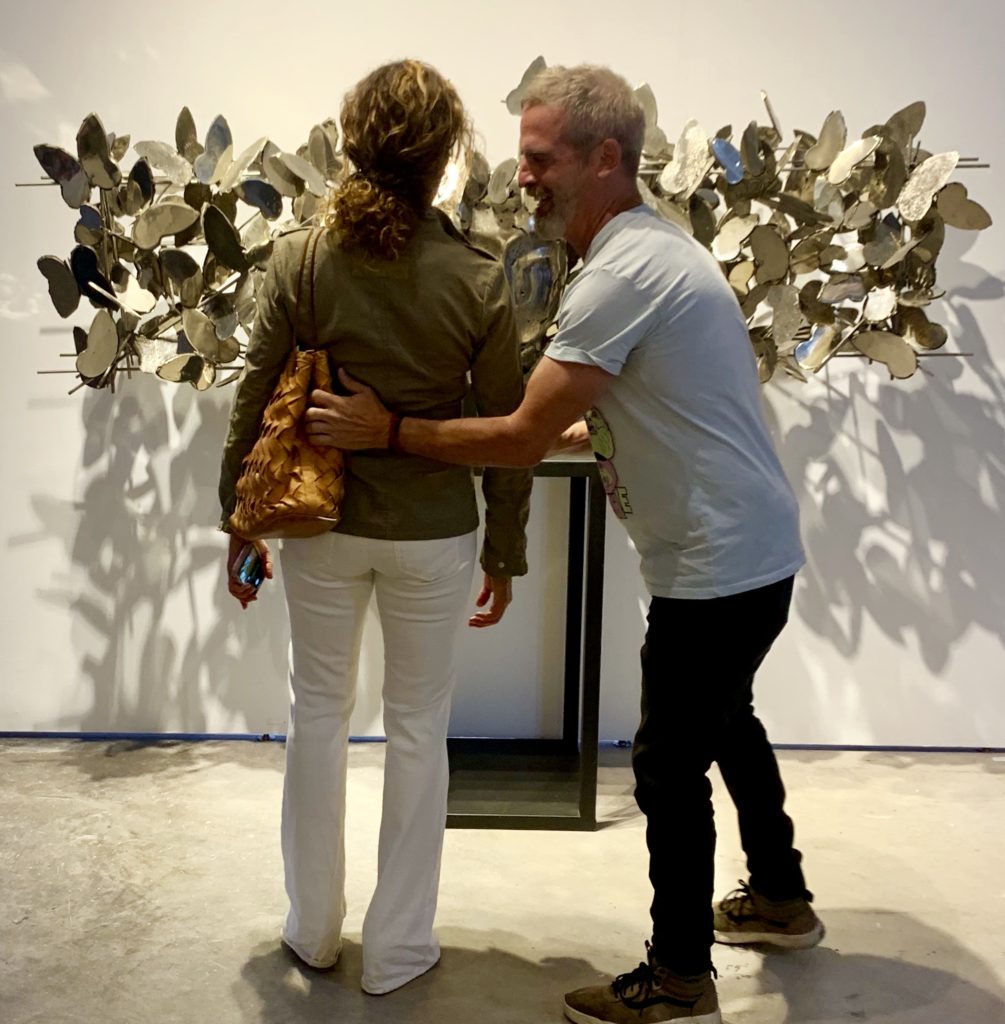 Mark Cesark
Mark Cesark creates his pieces from discarded painted steel from old machinery, farm equipment, vehicles, etc. The steel surfaces he uses had a life, a death and a rebirth. The underlying history and actions that caused these surfaces transpired over many years, thus creating an abstract visual documentation of that history. The found color plates, their natural patinas and textures are not created by any one individual – but by a collective of man, machine, time and nature. Mark Cesark sees his work as collaboration: between those who painted the metal, the actions of its past, time, the elements, and myself. He does not alter the surfaces. To alter them would destroy the intrinsic quality and history. The transformation takes place through assemblage and choice: the metal is chosen in much the same way a painter chooses paint from his palette. The found objects thus create a uniqueness that is individual to each piece.
Nick Archer
Another artist we enjoyed was Nick Archer, a painter based in Rye, East Sussex (UK), who paints on sandpaper to create a tension between something beautiful made on a utilitarian material. The link between the concept of the work and the process of how it is made is key to his practise. The paint utilises the language of suggestion and poetry where the idea of a narrative is planted in the viewer but it is the viewers who develops this narrative.
The Sandpaper pieces, 'Ice' and 'Room with a view', are based on places he visited near his home and studio in East Sussex in the United Kingdom. In 'Ice', diluted oil paint spreads and bleeds intollthe texture of the black sandpaper capturing the essence of water freezing on a pond. The addition of the caravan on the edge creates a mysterious narrative; is the caravan inhabited or abandoned? The graffiti covered building in 'A Room with a View' is based on a building at Dungeness, a nature reserve in East Sussex. The shack of a building is in an area of barren landscape by the sea where there is nothing but abandoned huts and the occasional relic of a boat.