WE ARE OPEN!!! Some of the most beautiful words that we have heard since March.
Riding our bike around town we captured the pockets of energy over lunchtime to show you that YES Aspen restaurants are open for business, and YES Aspen is bustling … at 50% … and YES (most) businesses are being careful, at least during the day, by wearing masks and following social distancing protocol.
Rumors and articles in the papers reveal that what happens at night in some business establishments is messier than what happens during the day with servers and patrons neither wearing masks nor social distancing. We get it. We are all ready for this pandemic that is killing our economy, our loved ones, and our spirit, to end and many of us are feeling rebellious about all the new rules. But the fact of the matter is that it is what it is, and protocols and compliance regulations are being placed if not for our own safety, then for the safety of those who are compromised. We also get that you are feeling feisty and want to show the world, or at least the person standing next to you that you refuse to live in fear. You're also a social being and single and ready to pour your pent up love onto others, and possibly even score some real love and affection because you just miss the human touch. You are not alone in these emotions. Many of us are feeling the same way. But, we also care about others and we know that unless we stay careful for an indefinite amount of time – this will indeed be life as we know it for longer than we need it to be. We are in charge. So let's just deal with it.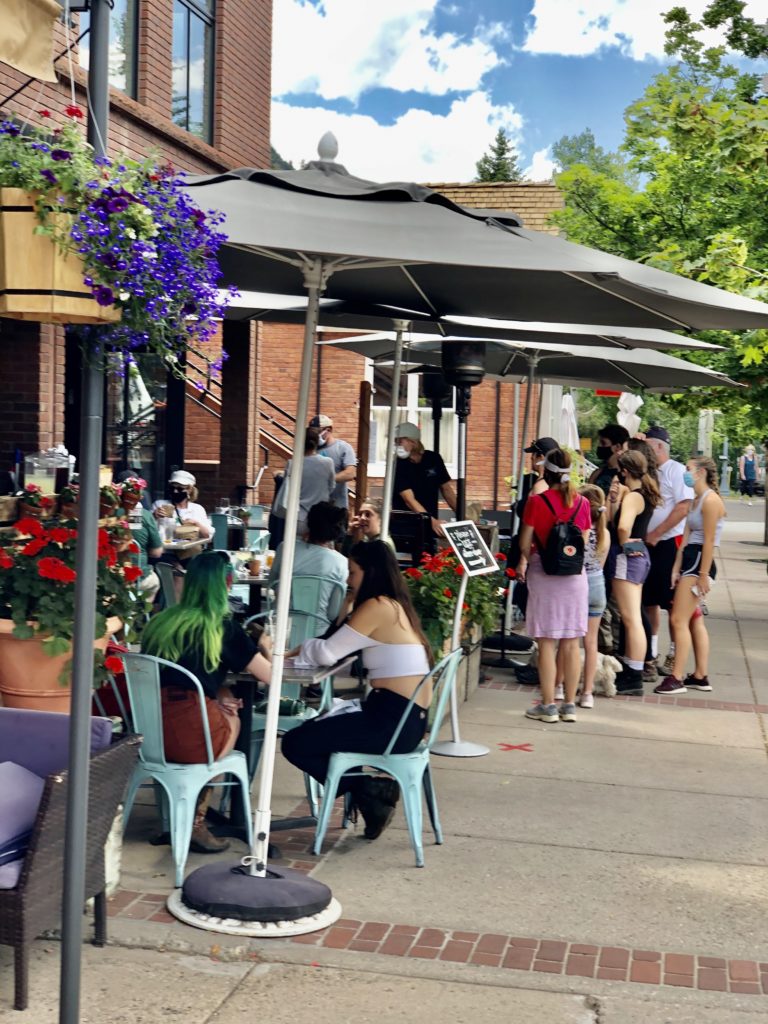 As Wendy Mitchell, local owner of Meat & Cheese Restaurant and Farm Shop, and Hooch Craft Cocktail Bar said in a Q & A with the Aspen Times, "It's really hard to adapt from being a place that's all about fun and interaction with and between our guests. I really miss the way people crammed on the banquette would talk across tables and even share food with strangers. But perseverance is a must right now, so we're doing our best to adapt, follow the rules, and patiently waiting for the day we can all be social and interact freely." In speaking with other restauranteurs, the feeling is mutual. They opened their restaurants not only for the food but to also create a social ambiance meant for people to gather. Now patrons come in with masks on and leave with masks on. There is no mingling at the bar and the only way to connect is by bumping elbows or smiling eyes.
If you are a business owner or a patron who is done with following rules, then please do the rest of our businesses a favor and stay closed. And if you are someone who can't put a mask on to protect yourself and others, then please don't go out. Don't ruin it for the rest of the businesses and patrons who are being careful.
We're in this together. Let's stick together and get through this, or chances are that we'll all go down together. Let's get it right this time around so we are ready for the next big set back. We can beat this, I'm sure of it.