Intro by Jillian Livingston: Locals love fine dining, but the fact of the matter is that many of us are fitting in a packed schedule of juggling jobs, kids, and hard-core workouts in the mountains, and so when we do make the decision to dine out we prefer to eat somewhere where we don't have to give up our first born to enjoy our meal, and thus we opt to order off of a bar menu rather than have a full-on dining experience unless of course, our visiting friends decide to treat us ….  For many, the criteria begin with a warm and social atmosphere, a bar menu, friendly bartenders, and to keep some dollars in our pockets after tipping our friends who are serving us.  Below Annette has rounded up some of our local favorites. Enjoy!
By Annette Gallagher Weisman
Woody Creek Tavern
 "Got tight last night on Absinthe and did knife tricks." This macho remark by Ernest Hemingway is typical of the kind he'd make in bars like Sloppy Joe's, in Key West.  Also typical of the late "Gonzo" journalist and author Hunter S. Thompson, who famously said, " I hate to advocate drugs, alcohol, violence, or insanity to anyone, but they've always worked for me."  One could imagine Thompson delivering this line with gusto during one of his many inebriated nights at the Woody Creek Tavern.  While not a big eater, the majority of his calories were consumed there too.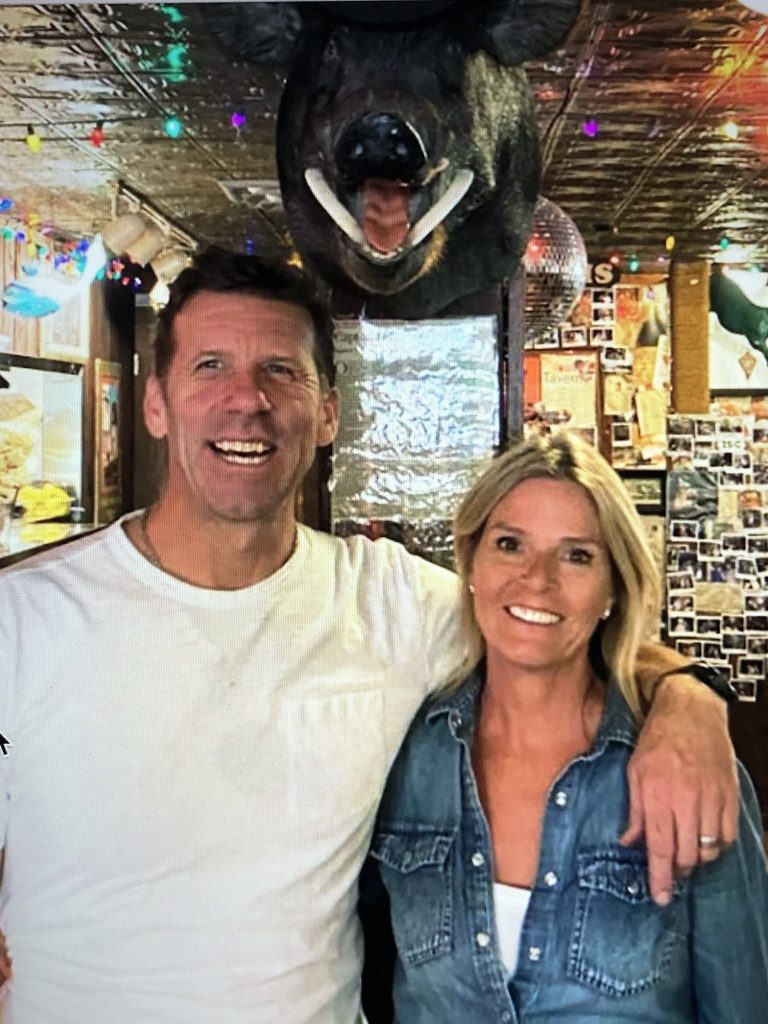 Aspen restaurateurs Craig and Samantha Cordts-Pierce have recently acquired and reopened the iconic Woody Creek Tavern.  While there are some changes, including the updated back bar and kitchen, Greer Mexic, Interior Designer and Project Manager for Artemis Construction Management, did a fabulous job in retaining its dive bar vibe. The Mexican-American menu is also updated with the focus now on fresh produce. Hunter S. Thompson wouldn't know from fresh, but he'd likely still hang out there if alive today enjoying his penchant for burgers and fries along with a Bloody Mary or a Margarita and a Wild Turkey or three to get his Goodtime aphorisms rolling. That's if he could get in. Open for lunch and dinner Wednesday—Sunday (subject to change), Woody Creek Tavern is on the hot spot list for its infamous fame and the wait can be long.
Hanging out in bars used to be associated with drunks and lonely people with nary a woman in sight. In fact, a woman in a bar on her own was thought to be a hooker. Where I grew up in Dublin, Ireland, ladies imbibed in the "Lounge" delineated from the main bar, or the "snug" which, as it conveys, is good for a romantic tete a tete or any private meeting. But things have changed, and women just as much as men can connect at the bar—or not while enjoying a good meal.
THE LIVING ROOM & BAR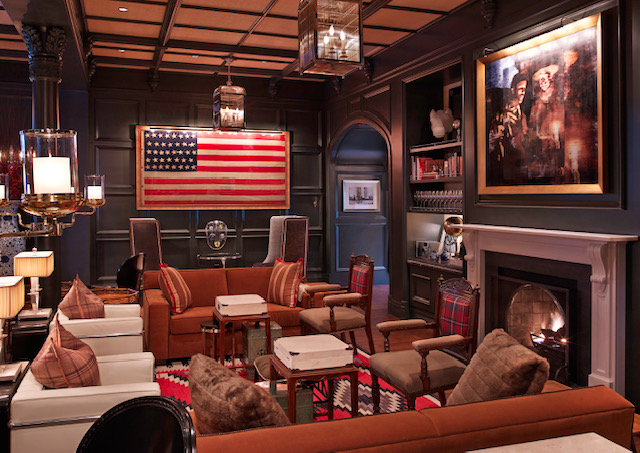 Speaking of snug, I love those carriage-like chairs with the curved backs in The Living Room & Bar at the Hotel Jerome on Main Street. Sitting opposite one another cocooned in those seats is perfect for an intimate conversation over cocktails. Some people prefer the famous J-Bar or The Library Bar at the Jerome, but Carbondale residents, Ed and Judy Brown love the clubby comfort of The Living Room adorned with Old West relics. After a day in town, Judy says, "It's an ideal place to unwind over a good scotch like a Glenfiddich or Glenlivet. We usually have a bite to eat too from the bar menu. Ed especially loves the fish tacos and fries." 
DANTE
Bars are more popular than ever in Aspen.  Bartenders or mixologists proffer creatively made cocktails all over town including Dante. Featuring Italian small plates and cocktails Dante NYC is a legendary café circa 1915, and named "One of the World's 50 Best Bars." Dante Aspen is into a one-year residency at the St. Regis' Chef's Club on Dean Street. It offers a "Best of" menu with a whole range of tasty edibles including antipasti, pastas, fish, and salads. Dante's drinks list is also a "Best Of" and features their most popular spritzes, martinis, and Negroni on tap, among others. 
Whether sitting up at the bar or nearby, the addition of bar food has broadened the demographic. Aspenites are willing to dine early to have a prix fixe menu at the bar like the fantastic three-course dinner that Pinons used to have before it closed, or choose from a bar menu, or just sit at the bar and order off the main menu. 
CASA D'ANGELO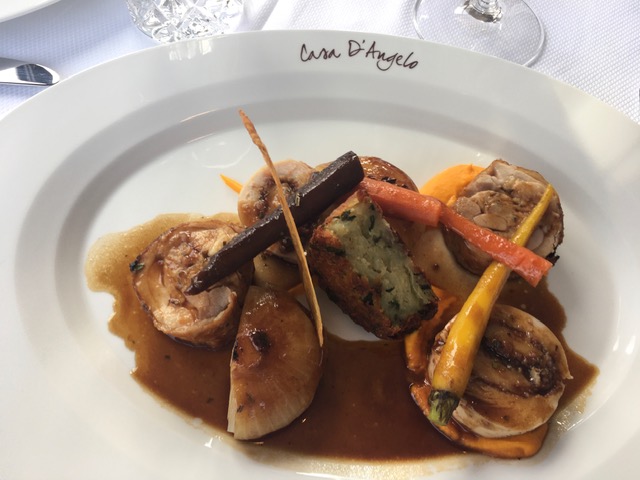 Newly opened Casa D'Angelo, the fine dining Italian restaurant on Mill Street that replaced Pinons this summer, doesn't have a bar menu, but you can sit at the elegant long bar or nearby tables and order anything from the menu itself. Choose bellissimo Tuscan dishes such as Polenti ai Funghi –creamy and crispy polenta, mushroom ragu, thyme, 63 degrees one hour egg, or maybe Bison Rossini (old fashioned) 8 oz. bison filet, seared foie gras, potato, and spinach sformato, asparagus, amarone jus.  Maybe have a craft cocktail too such as a Testarossa or a classic Sazerac served in an Absinthe spritzed chilled glass with flamed orange peel. As owner Chef Angelo Elia says, "Tutto Su Gli Ingredienti " It's all about the ingredients.
CAMPO DE FIORI
Campo de Fiori is located in the heart of Aspen and has a lively bar with the friendliest of bartenders.  Elizabeth Plotke, owner and founder, has enlisted an all-star group of employees to help her keep this iconic Aspen staple in business for over 26 years including; Local legend Chris Carmichael, Bar Manager, is part of the Campo family and adds to the energy, always ready for an authentic conversation. And then there is "Campo Dave," Dave Ellsweig, who greets you at the door with his handsomeness and charming smile. Lead by Chef Giuseppe Garofalo, the culinary vision here is classic Italian curated using local and fresh ingredients along with Italian wines.
THE WILD FIG
My husband, when on his own one evening, dined at the bar at The Wild Fig on E. Hyman Ave, and was thoroughly sated by a "crazy good" Gazpacho soup, followed by Steak Tartare, a light beer, and a decaf cappuccino. Now Bob's not exactly a craft cocktail connoisseur, but it was just what he felt like and his report was that the Steak Tartare was superb. Another time Bob had the Gazpacho again, followed by the Lobster Ravioli (little pillows of happiness), and a Gruner Veltliner recommended by Manager/Wine Director Teresa Mulvany.  Who knows what he might have next time. The important thing from a restaurant's point of view is he'll be back! But then we both like everything on The Wild Fig's Mediterranean style menu, as well as the French bistro ambiance, and how lovely it is, whether sitting inside or out, the row of glass doors that open up onto the front patio. 
BETULA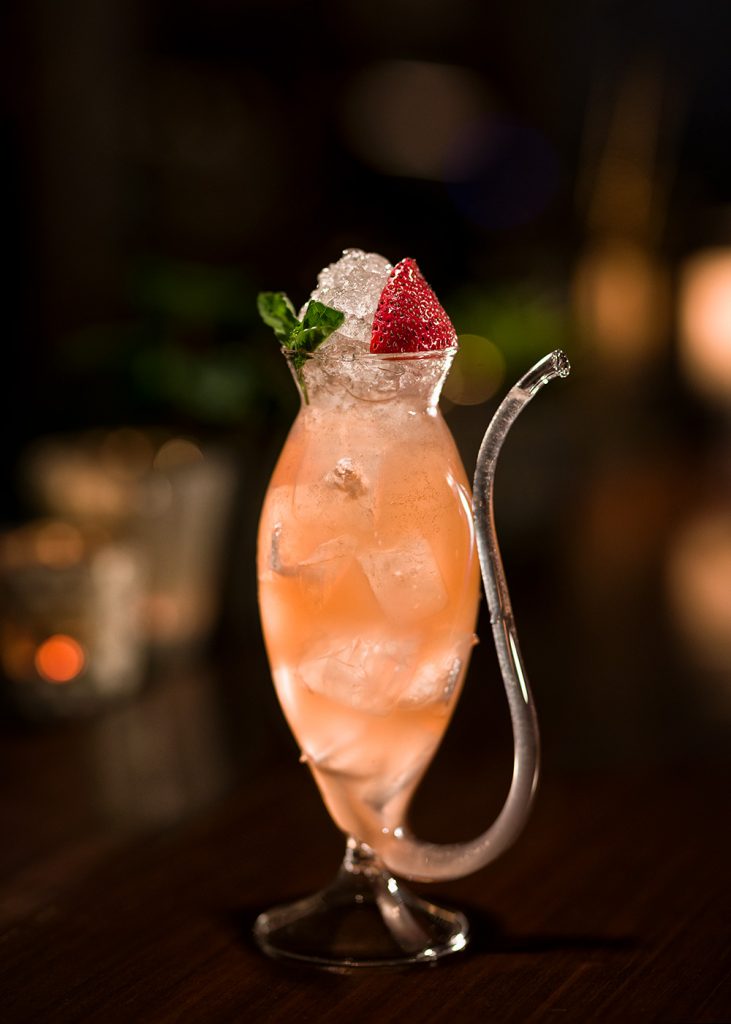 The best cocktails in town may arguably be at Betula upstairs on E. Cooper Ave.; it certainly has some of the prettiest. Janet O' Grady, freelance writer for The Wall Street Journal, Architectural Digest, New York Times & other publications, and the former co-founder and editor-in-chief of Aspen Magazine, raves about Betula's cocktails:
 "A conversation curiosity is the curvaceous glass they serve its refreshing Drink Me from the Bottom cocktail in, with vodka, ginger, strawberry lime, and a kick of birch and basil tincture. I'm also loving its cool drinking Gustavia Secret with pear vodka. St. Germain, grapefruit and lime juice." 
 O'Grady's descriptions make me want to scamper up those stairs and join her at "the long cozy bar" where she often orders Crudos. A favorite of hers is, "The Tuna Ceviche served with crispy black rice and guacamole, as well as the Tuna Tacos and Hamachi Tiradito. And for something a little different I'll order the Elk Carpaccio with shitakes and yuzu soy sauce."  
Maybe by now, you're thinking like I am "I'll have what she's having." 
I also love Betula. Aside from the bar, you can order their Pan-American French cuisine in the lounge. But on a bluebird sky day, I love to sit outside on the patio and drink in the view of Ajax, while whetting my appetite with Pulpo Anticuchero (fresno pepper grilled octopus), a glass of Sancerre in hand.
L'HOSTARIA
Taking the stone steps down to L'Hostaria Ristorante on Hyman Ave., you'll find a pleasant outdoor courtyard.  This Italian restaurant is so popular, there's a line outside by 5 pm.  No doubt it's because L'Hostaria's excellent, reasonably priced bar menu has entrees for around $20. One of my favorites is the Grilled Salmon with vegetables, which usually includes spinach, and the Grilled Steak with mushrooms is consistently good. But, then, the restaurant has had the same chef, Ruben Bonomi, for over 25 years. 
When it comes to bar food at L'Hostaria, longtime Aspen residents Bill and Jane Schaffer admit they are creatures of habit. Bill loves the simply delicious Fettuccini Alla Bolognese, along with a glass of Pinot Noir from the Willamette Valley. Jane used to order the Grilled Salmon too but now favors Tagliolini All'Astice, with lobster, zucchini, and tomatoes from the dinner menu. Jane says "We love L'Hostaria not only because of the food but for the camaraderie; we always see people we know, which makes it special. "  Of note: Bill, who retired over 11 years ago, was awarded a special pin by the Aspen Ski Corp for skiing over a 100 days per year for ten consecutive years! 
CACHE CACHE
Cache Cache is downstairs in Mill Street Plaza. As you enter, you can't miss the large horseshoe bar on the left. Facing you is a wall of wine behind glass, which has an eye-catching lapis-colored background. I like to sit at the bar with my back to the wine looking out. Better still, when it's warm enough, I nab one of the few bar tables by the windows, which open up to the patio and provide endless people-watching entertainment.
Cache Cache used to have an excellent bar menu including Coq au Vin. While it has not been reinstated post-Covid, one can still order off the dinner menu some personal favorites of mine, such as the onion soup and Organic Scottish Salmon Tartare along with Champers or sparkling wine which always elevates my mood. Oh and those lighter-than-air house potato chips.  Yum! Wish I had some now.
ELLINA
Ellina is on E. Hyman Ave., and has outdoor tables both below in the courtyard and at street level. Its eclectic menu includes northern Italian fare. It used to have a bar menu pre Covid, but owner Jill Carnevale says they've now added some bar favorites to the main menu, such as five kinds of tacos, and calamari. The bar itself is three-sided like Cache Cache, but smaller. It's just inside the door to the right with the main dining room visible at the back of the restaurant. The bar seats fourteen so there's a bit of jostling to find a spot, but it's so worth it. 
Unless you 'vant' to be alone, bars such as Ellina's are a convivial place to be. No sooner has one person exited than you have a new dining companion.  I am fascinated by the art form it takes for one bartender to make drinks while the other serves them, both gliding around with precision moves in a relatively tight space.     
Caroline Tory also likes the tacos at Ellina, "The summer squash and halibut are my favs." Tory is the Managing Director at Aspen Words, a literary arts center of the Aspen Institute that hosts writers' conferences, residencies, an author speaker series, youth programs, and a literary prize. She's also an outstanding athlete, I feel tired just looking at her Instagram posts! As for her favorite cocktail, Tory loves La Boca del Diablo. It's a unique take on a margarita—love the cilantro and lime." 
MEAT & CHEESE RESTAURANT AND FARM SHOP
Tory also says, "One of my favorite memories of this past summer was sitting outside of Meat & Cheese with our Writer in Residence Ayana Mathis, drinking  'Plums the Word' cocktail, which is a summery take on a Manhattan. Pair it with the baked ricotta board or beef carpaccio." Sure sounds yummy! Meat & Cheese on E. Hopkins Ave. has a small bar surrounded by a gorgeous wall of flowers painted by Oizi, a Detroit artist. Meat & Cheese features incredible boards, local cheeses, charcuterie, and seasonal produce.
HOOCH Craft Cocktail Bar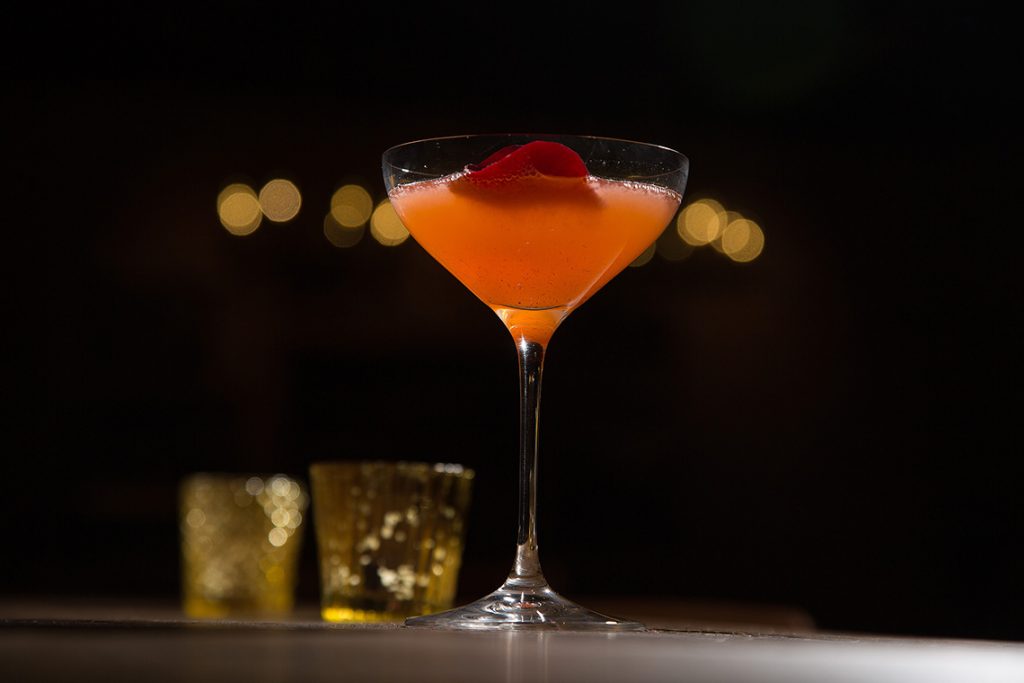 Hooch, in the basement under Meat & Cheese, has terrific craft cocktails. Aspen Word's Marie Chan says, "It's one of my all-time favorite places in Aspen. We've been so fortunate to be able to host our Writers In Residence free public events there. Wendy Mitchell and her amazing team have been the most generous hosts. They love what we do and we love what they do! By far my fave Hooch drink is the Last Rose of Oaxaca. It's made with a Vida Mezcal, Yellow Chartreuse, Habanero Honey, Lemon, Strawberry." 
In fact, Chan adds, "The Last Rose of Oaxaca is such a treat I look forward to it every event." And adds with a wink, "Sometimes in between."
Hooch doesn't have much in the way of food, but enough to keep you happy if you need a bite to eat such as warm nuts, dips, or popcorn – the kind of food you'd have at home watching a sporting event. In fact, a Hooch description says, "It's like being in your living room only more fun!"  Open nightly 5 – to close.
CLARK'S 
As we all know, Clarks replaced Little Annie's, and despite my family's loyalty to the latter, I was fickle enough as soon as it opened to be oh so happy with Clark's seafood menu, especially the addition of clams to their mussels in a fantastic broth of white wine and herbs. More plentiful and substantive than the typical Mariniere, you could easily bring some home to have later as soup. Clark's outside appearance has been retained and the bar area is still to the left as you come in, so if I close my eyes for a moment I can blend the old with the new in a vague kind of way. If you sit at the bar, you can feast your eyes on the blackboard with the day's oyster selection, watch them being chucked, and inhale the aroma of the oh-so-good freshly baked breads further down.
Clarks is also a favorite of Aspen Daily News columnist, Lorenzo Semple III. He has a different approach to bar food—he earns his calories. Semple says, "First I go to the CycleBar Aspen below Clark's for a workout. Afterward, I cool down for a bit and then go to Clark's when they open for lunch. I like to sit at the bar and usually have a grilled oyster appetizer, followed by clam chowder, along with an Arnold Palmer." Semple says for him it's a case of  "Mind, Body, Stomach — A twist on Aspen's Mind, Body, Spirit ethos."
STEAKHOUSE #316
Part-time Aspenite Monica McLeod is a big fan of SteakHouse # 316, on E. Hopkins Ave., "Reminds me of a cozy NYC steakhouse, but with the charm of a classic old Aspen home. I love the ambiance with red velvet curtains and booths and the walls are filled with mirrors and old vintage photographs.  
Whether Monica and her husband sit at the bar or in the dining area, she says "The miso green beans with Shishito Peppers are a must! The Mussels and Frites and Oysters Rockefeller are also delicious and prepared in a way that's different than I've seen elsewhere. We sometimes share the juicy bone-in filet. Don't skip the extensive list of sauce options."
As for cocktails, Monica says "I'm a sucker for anything passion fruit so I usually start with a La Flama Blanca cocktail—a perfect combo of spicy and sweet."  She's also wild about the bread pudding, "Not to be missed! It's drizzled with salty caramel and pecans and served with vanilla bean ice cream. 
7908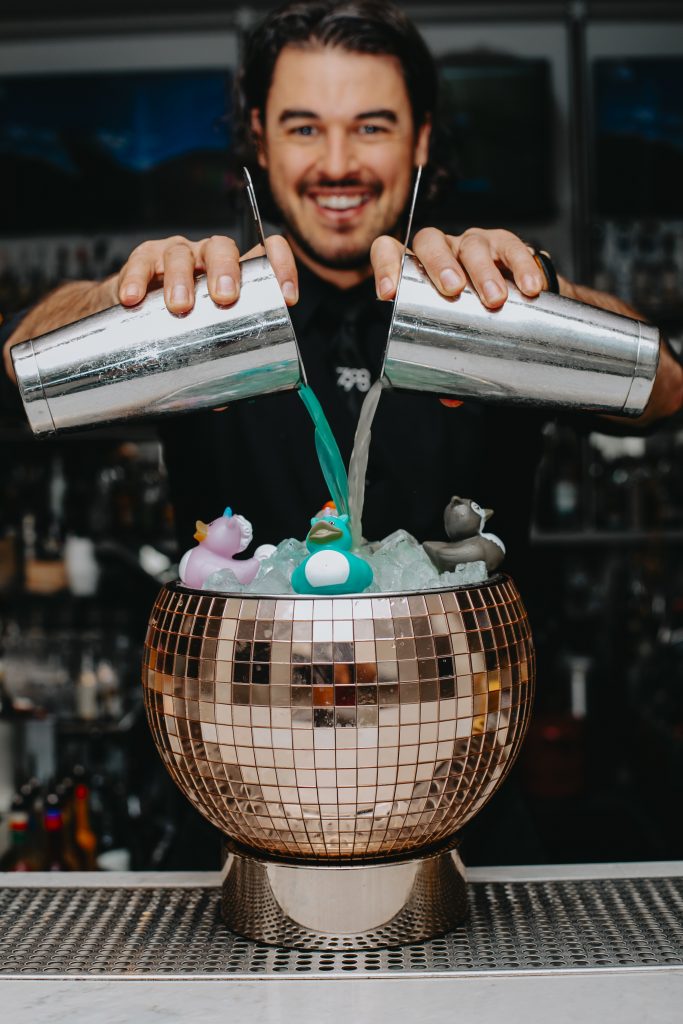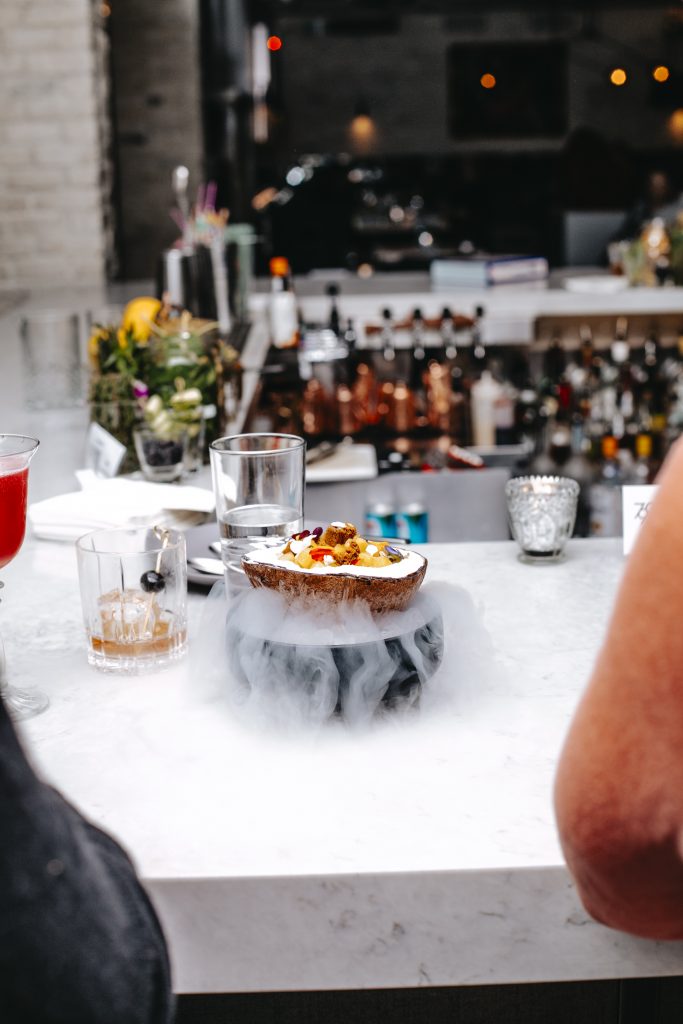 7908 is Aspen's first restaurant and supper club, which has a primo bar scene on E. Hyman Avenue. (7908 is Aspen's altitude.)  Executive Chef Byron Gomez, a recent Top Chef contestant, and alumnus of such NYC restaurants as Eleven Madison Park, says he's never seen anything like the cocktails created by Spirits Director Matt Corbin. "I can honestly say we have the best cocktail program, not only because of taste but the presentation, how fun they are, and how much goes into it behind the scenes. Corbin has so many different ideas all the time it's hard to keep track." 7908 even has some cocktails on draft and a canning system where you have a freshly made drink such as a Peach Moscow Mule in a can to take home
A restaurant that becomes a supper club with a D.J. is likely to have early diners or late night dancers, who want at least an appetizer or two. So while again 7908 doesn't have a bar menu, you can choose from the main menu such tempting appetizers as a Steak Tartare, radish, shallot parsley crumb, Horseradish, Egg Yolk, Dijonnaise or Salmon Crudo, Huancaina Sauce, Jicama ribbons, Puffed Quinoa, Kaffir Lime Leaf Oil. 
Initially, Chef Byron wasn't fond of the idea of a fine dining restaurant having people sit at the bar enjoying the full dining experience, "But I've come to realize that's what Aspen culture is like, people desire to come in by themselves, to come in, spend money, and have a good time. So now we offer the entire menu at the bar."
Chef Byron's point is well taken. Aspenites like to have options. This is a restaurant town, and there are many other restaurants where having a light bite or even a full course meal individually or in a group, at or near the bar, creates a less formal feel, especially if dining alone. 
While it's a pity about the demise of the prix fixe such as the excellent one Pinions had with a choice of three entrees, and the decline of a separate bar menu, I can understand post Covid why they are no longer economically viable for many restaurants. In addition to high rent, restaurants are now faced with sourcing problems for everything put on the plate, and shortage problems in general, especially labor. Cuts have to be made.
As one chef said, "If I add ten more items across the kitchen from the bar menu to the main menu, you are going to have cooks that are going to walk out." He wasn't joking. The upside of ordering from the main menu though, which seems to be the trend now, is you can choose anything you want. And typically, not a multi-course meal as you would have in the dining room.  
I've noticed when a new restaurateur or restaurant group comes to Aspen they often talk about the importance of catering to "locals," though it's not clear who they mean by local. Many Aspen residents and visitors can well afford to keep pace with Aspen's increasingly expensive restaurant scene, where one can easily pay $100 per person just for lunch (It's becoming more of a case in Aspen now of "the haves" and the "have more.") 
But not every "local" can or even wants to pay those prices. And while it's true bar menus can reduce the cost of a nice meal, it shouldn't be looked on as a poor man's feast when often a lighter bite is what one needs and is even an incentive to spend more on drinks – which is what a restaurant wants.  So the restaurant can benefit too.
Jill Carnevale, the owner of Ellina, may have come up with the best solution without sacrificing quality or adding much labor, by adding to the main menu a few favorites from the bar, often requested by diners in the dining room. That way everyone is happy.    
Hanging out at a bar is not mere consumption of food and drink, it helps you unwind, make friends, and relax in a laid-back way–not easily afforded over a multi-course dinner, nor a quick bite on the run.  Writers like Hunter Thomson may not need company: a bar is a perfect place to observe characters and pick up dialogue while ostensibly enjoying a burger.  
However, post the pandemic, we've all learned being able to hang out with friends again to share a beer, a cocktail, and some appetizing food nurtures not only the body but the soul.  Slainte!
CONTRIBUTING WRITER Annette Gallagher Weisman is a freelance writer who has been coming to Aspen for a long time. An award-winning essayist, she writes about food, wine, books, and travel. Annette has been published in several national and regional publications including People, TheWinebuzz, and EdibleAspen. In her spare time, Annette is an avid reader, cook, and tennis player, and was once told by an Aspen ski instructor, "You don't ski badly for an Irish person."