It's time to get your Halloween on in Aspen and the Roaring Fork Valley. Since last year was scary in ways none of us care to revisit, this year we will all for sure be getting dark and spooky.
There are plenty of events happening around the Roaring Fork Valley to creep around to from creeping out your kids in these family-friendly activities to webbed and oozy crawls, like the 5th annual Zombie Pub Crawl that just happened in Carbondale. If you missed it, boo for you, but you still have a chance to get on the bloody bandwagon next week. Here are a few ways to travel to the dark side this Halloween.
Family & Pet Freaky Haunts
Friday, October 29th
Dress in your Halloween costume and make a spooky craft, go trick-or-treating through our artist studios and compete in the costume contest while you enjoy apple cider and Halloween treats. It's hair-raising fun for the whole family!
Costume contest judging will take place at 4:30PM in Schermer Meeting Hall. Awards will be given out for "Most Creative" and "Best Homemade Costume." Free and open to the public.
Saturday, October 30th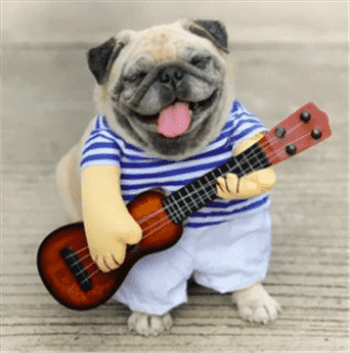 Pet Halloween costume contest in Wagner Park 11

:00 am

 

– 2:00 pm 
Dress your pet to win prizes at this FREE family event for this benefit for the Aspen Animal Shelter. The registration for contestants begins at 10am under the clocktower. Win pet treats and jewelry gifts while enjoying our live local songstress Siam Castillo. Family fun at the park and other guests and sponsors to be announced. Price: Free
Pitkin County Library Halloween Movie "Casper"

4:00 pm

 

– 5:30 pm

:
Kick-off the weekend early at the Pitkin County Library in Aspen by watching Casper the Ghost
Get Your Halloween on in Aspen
For the adults, there is an array of spooky and down-right-party ways to celebrate!
If you want the hair to rise on your back, you must go on Dean Weiler's well-known historical tour where he tells true stories of Aspen's tarnished past of ghosts, murder & mayhem from 1879 to today on an entertaining evening walk. 60 min. Reservations required. Call (970) 948-4349 or visit AspenWalkingTours.com. You must also visit the Hotel Jerome to learn about the haunted spaces that attract people there today.
You can also take a tour with Dean Weiler exploring the overgrown abandon pioneer cemetery first known as burial hill. Participants will hear the stories of those laid to rest there and leave with a greater understanding of life in the mining camp of Ute City. 60 min. Reservations required. Call (970) 948-4349 or visit AspenWalkingTours.com
October 30th & 31st Belly Up Opiuo & The Spazmatics:
This year, Belly Up presents Opiuo, a New Zealand born Electronic DJ. He plays Halloween night, doors opening at 8 p.m. and/or get your spaz on with The Spazmatics on the 30th.
North-40 Subdivision:
If the kiddos are not too old to trick or treat,  North 40 is the place to be. Epic decorations and full-size candy bars await around every corner!
Aspen Pub Crawl:
Aspenites are renowned for venturing deep into their darkside on Halloween and the actual town of Aspen is one of the best and most eccentric ways to celebrate the insanity.
Saturday, October 30th Downvalley Haunts
Anderson Ranch Arts Center and Basalt Library Day of the Dead Art Show at the Basalt Public Library 10:30am – 12:30pm
In honor of National Hispanic Heritage Month, Anderson Ranch Arts Center and Basalt Library are teaming up to present a Day of the Dead Art Activity. Join in and create an altar with mixed media materials including paper, wood and other colorful supplies in honor of a loved one.
This community gathering is free and open to all ages. Drop by the Basalt Regional Library any time between 10:30AM-12:30PM. The event will conclude with a celebration of the altars.
El Día De Los Muertos, honra las vidas de aquellos que han fallecido. En este programa bilingüe hecho posible por la Biblioteca de Basalt y el Anderson Ranch Arts Center, crearemos altares coloridos con madera, papel de seda y otros emocionantes materiales de medios mixtos. Este programa tiene la intención de inspirar a crear sus propias tradiciones y formas de arte que honren los recuerdos de nuestros antepasados incluyendo mascotas. ¿Cómo puede recordar a sus seres queridos que han fallecido? ¿En qué se parece o es diferente al Día de los Muertos? En este programa se enfatizará la historia, formas de arte, cuentos populares y lenguaje de esta festividad mexicana y latinoamericana. Expondremos nuestros altares al final del día con una exhibición de celebración. ¡Las familias son bienvenidas a acompañarnos!
Halloween Bash at TACAW Presented in Partnership with KDNK Carbondale Community Access Radio: Featuring The Petty Nicks Experience 8:00 PM – 11:30 PM
What If… There's a story that Stevie Nicks wanted to join Tom Petty and the Heartbreakers. They had some major hits together; yet, she never joined the band full time. The Petty Nicks Experience is a 'What if…" idea. They combine the very best of Tom Petty and The Heartbreakers and Stevie's solo work along with some Fleetwood Mac. This is just an amazing experience. It's a real Rock N Roll high! From "American Girl" to "Runnin' Down A Dream" to "Edge of 17" to "Landslide" to "Go Your Own Way" – the show is full quintessential American Rock N Roll! This is a true Halloween Bash with costume contests (special categories for the best Stevie Nicks and Tom Petty) and other surprises.
Getting Down On October 31st
There are two ways to participate in this inaugural event. One is to register as a participant to decorate your car and hand out candy to trick or treaters. The second is to attend in costume, trick or treat, and vote on the best trunk designs.
The event includes a BBQ hosted by the Aspen Elks Lodge 224 and sweet treats from the Aspen Recreation Department.
Prizes for best decorated car include:
· One night accommodation at Limelight Aspen
· One family day pass to The Lost Forest for summer 2022
· One adult 20 punch pass for the Aspen Recreation Center
The event will be held in the parking lot of the Aspen Recreation Center. Trick or treaters please take public transportation to the event as the lot will be closed for the decorated cars.
Go to www.AspenRecreation.com to learn more and to register your car to participate.
For teens (13 +), the Basalt Regional Library is hosting a drive-in theater to premier Beetlejuice on Halloween night. Popcorn, candy, and all the coziness of a car while still getting your thrills!
Halloween Open Mic Night with Jeff Rice at Native Son
7 PM – 10 PM