Hiking To Cathedral Lake, Aspen, Colorado
The weekend that Baddy and  I spent together at the Hotel Jerome was nudged inside a brewing storm consisting of days on end of the packing up of boxes all while trying to find a new place to live. Seeking shelter, we joined forces in our hotel room to let go of the stress and to celebrate. It was time to move forward and unwind the tightened knots that had been soaking in anxiety for way too long.
I welcomed the opportunity to be alone with Baddy where we could discuss our true emotions without having to feign optimism. Our friends, overzealous with positivity, left no room for self pity. Millions of people were losing their homes to foreclosures, we were a small percentage of the fortunate few who had found a buyer. We should be elated at our good luck. And we were, only, being one to wear my emotions on my sleeve, it didn't feel right to ignore the pain I felt in my gut.
We walked over from the hotel to watch a special preview film presented by the Aspen Film Festival.  It was good that the title had not been announced  until we were physically seated in the theater or we would have most definitely opted out of watching anything remotely depressing on our wedding anniversary.
The haunting film was "In Darkness", Directed by two-time Oscar nominee, Agnieszka Holland. Based on a true story it was about a Catholic sewer worker who, during the Holocaust, helped a dozen Jews stay alive in the sewers for over fourteen months. The pain in my gut dissolved and my internal whining stopped. We had our health, our love and our family all in tact. We were in control of our lives. We were more than lucky.
The next morning we drove up Castle Creek Road for our hike up to Cathedral Lake. Passing by the majestic Elk Mountain Lodge, the place where we got married, we looked at each other with our hands tightly gripped together and I thought about how our love could not be bought or taken by a bank.
It felt good to be physically active and we hiked swiftly up the three mile trail with a 2,000 foot elevation gain. Our hearts pumping hard we took in the views of the snowy peaks framed by golden Aspen leaves shimmering in the sun. At the lake Wade dipped into the icy cool emerald blue water. Feeling something close to death when he came out he informed me that I am not much warmer than that when I swath myself around him to steal his warmth on cold winter nights. "That bad huh?" I asked him and he nodded yes and planted a cold, wet death kiss on my lips.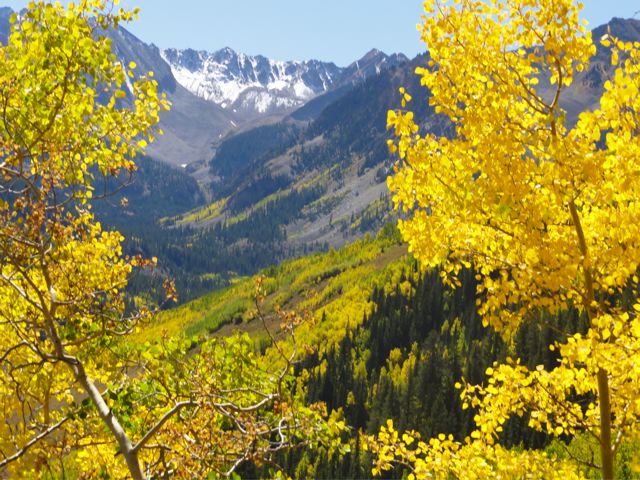 On the way down we could talk more for our hearts weren't in our throats from the physical exertion and we took the time to review what was happening in our lives, the enormous task that lay ahead and the unchartered course we were heading toward. We were ready.
Invigorated, we returned to our room and popped open Dede's gift and proceeded to polish off the entire bottle of 2004 Veuve Cliquot. Waste not want not. Without any time to let the bubbles float us to bed, we raced off to our dinner reservation at one of our favorite restaurants in town, L'Hostaria.
Buzzing from a spectacular day in the great outdoors and high on champagne we waltzed into the restaurant and said hello to all the locals we knew who seemed to be doing the same thing we were doing in the bright and airy restaurant, celebrating.
Sitting down I dove into the menu reading the menu items line by line. I almost cried when reading the description of the Aceto Balsamico di Reggio Emilia, "How can we remain indifferent when presented with a drop of this dark, shiny, thick uniquely and penetratingly perfumed elixer? A refined, exclusive product is obtained after a long maturing period." I had to order the Caprisi salad and taste it for myself and believe you me, there was no indifference coming from this puppy. My next course was a divine plate of Beef Carpaccio with sun dried tomatoes, shredded carrots and caper berries. A power dinner, raw and delicious, I was ready to paint the town red.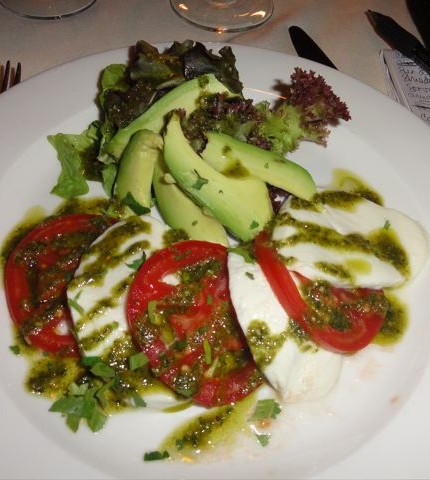 Walking over to the Aspen Brewery we danced the rest of the evening away as our friend gave us all he had on the bongo drums. It was a rocking end to a beautiful weekend and the thought occurred to me that the magic of this valley lies not only within the house from where one dwells but also within the beautiful locals who live here, the cool surrounding western towns where we all run into each other and the magnificent mountains that provide the ultimate playground to help us embrace the storm and play in it when it hits.