It's time to do what we can to feel festive, and one for sure way to get into the holiday spirit is to support our local shops.
We may be in the orange and social distancing, but that should only make us want to reach out more in any way that we can that is safe.
Below are a few ideas to get you into the holiday spirit:
WINDWALKERS ONLINE HOLIDAY AUCTION
WindWalkers Equine Assisted Learning and Therapy Center has a family-centered approach with a mission to provide a variety of equine assisted therapies to aid in the development and growth of those with challenges, be they physical, neurological, emotional, behavioral or psychological. START SHOPPING. Share with others!
Scout & Cellar Clean-Crafted Wines
Local Scout & Cellar rep, Paula Eaton, connected with Scout & Cellar when she was looking for a cleaner wine without pesticides, chemicals, and added filler that leads one to  feel awful after drinking wine. Paula is  passionate about the company and the opportunities for an additional lucrative income. Selling Scout & Cellar wines incorporates everything  Pauls enjoys, and she is grateful for being able to help guide people to a "healthier" way to enjoy wines and support the small family farmers around the world, Scout and Cellar wines are all chosen from small family run vineyards. Our CEO and founder travels, tastes, and lab tests all our wines before placing them on our website for purchase (the wine gets delivered to your front door).
Scout & Cellar is on a mission to disrupt the wine industry so that they can do better for you and better for our planet. Going beyond organic, Scout & Cellar Clean-Crafted™ wine is always free from synthetic pesticides and chemical additives and sweeteners.
SHOP NOW
.
Aspen Dream CO Softest Pajamas
COZY line is a collection made from the softest fabric, that feels like cashmere, but for a reasonable price with minimum care needed. Cozy pajamas and lounge suits keep you cozy and warm and are soft towards the skin, yet breathable to live in them the entire day.
• solid colors are made in soft tones, making it perfect for lounging at home or running around the neighborhood;
• prints are exclusively drawn by hand for Aspen Dream and are suitable for all ages. Great for weekends or pajama parties. Get them soon until they're gone!
• "Hello from Aspen" sweaters inspired by mountain style living. Suitable at home and on streets, making it a great present from someone with mountain spirit. Keep mountains closer with this sweatsuit!
Lilybart Hand Collaged Cards & Journals
Send the gift of journals and notecards, hand-made by the mother-daughter team, Elana and Lily Royer.
The perfect gift to send to your parents, teachers and coaches with a note from you telling them how much you love them and are grateful for them. Send as a boxed card set. Businesses can customize greeting cards, holiday cards or everyday cards with their logo & personalized message. Lilybart's graphic designer will work with their team to create their message on one or more of our over 180 designs. Cards are available in sizes; 5×7 & 4.25 x 5.5  Clients include; Aspen Real Life, Sotheby's International Real Estate, The Gant, Aspen Words, ACRA, Mountain Freshies & more.
Lilybart cards & stationery products can be found throughout the Aspen Valley at these stores:
Aspen Eclectic, Aspen Emporium, Bristlecone, Carls Pharmacy, Roxy's Market, Wholefoods Market RFV, Heirlooms, Susan's Flowers, Summit Canyon Mountaineering, Treadz, Toad & CO, Elizabeth Dean Boutique.
Small Wonders and Red Brick Holiday Art Sale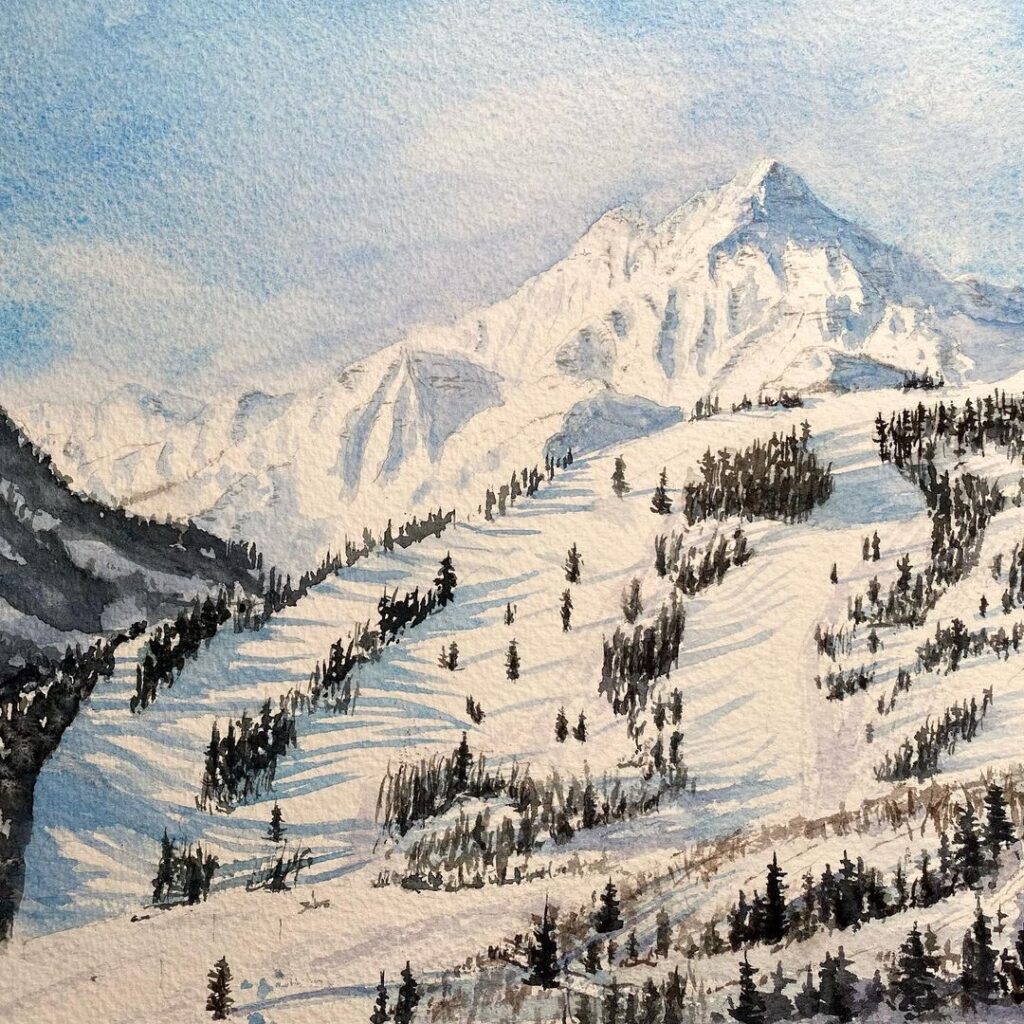 Aspen Times, Nov. 19th, 2020: "Small Wonders" showcases work by local artists, all of it measuring no larger than 12 square inches for affordable prices (most under $200). A popular launch to the holiday shopping season and a beloved annual party, the event is among few remaining venues for budget-friendly original art in the Aspen area.
The 2020 "Small Wonders" show runs concurrently with the annual holiday art sale at the Red Brick Center fro the Arts in Aspen, which showcases work by its 12 resident artists for the shopping season. A cash-and-carry show in the "Small Wonders" mold, the works there showcase ceramics and vases, abstract and representational painting, photography, mixed media, sculpture and jewelry design.
"This is 30 small businesses that are open and that people can support right here," he said. "We are trying to get money back into their pockets. That is important to us."
Deck the Walls Holiday Market: Opening This Week!
Every holiday season, Carbondale Arts transforms the R2 Gallery into a shop filled with artisanal goods created by local and regional artists from all over the Roaring Fork Valley and the state of Colorado. Goods typically include handmade candles and cards, jewelry and jam, ceramics and soaps and more!
Monday-Saturday 10:00am-5:00pm
Sundays 11:00am-4:00pm
Closed Weds-Thurs, Nov 25-26 all day. Open Nov. 27.
Closing early Thursday, December 24 at 2pm
Closed Friday-Sun, December 25-27 closed all day.
While drop-ins are welcome, please note that Carbondale Arts "COVID Mindfulness" hours are 10am-noon each weekday and Saturday. They encourage reservations as R2 Gallery only allows 6 visitors during these "COVID Mindfulness" hours. Be masked, be merry!
The Aspen Art Museum Winterfest
The Aspen Art Museum (AAM) is pleased to announce Winterfest: An Exhibition of Arts and Crafts, a new, seasonal, selling exhibition launching on December 17, 2020.
Winterfest will consist of handmade artworks displayed within an exhibition design by US-based, German artist Veit Laurent Kurz based on a configuration of representations of a cabin, mountains, and a lake. The exhibition will feature works by Kelly Akashi, Kerstin Brätsch, Beverly Buchanan, Richard Carter, Milano Chow, Beau Dick, Olivia Erlanger, Gina Fischli, Rochelle Goldberg, Jonas Lipps, Soshiro Matsubara, Malcolm Mooney, Brandon Ndife, Erin Jane Nelson, Precious Okoyomon, Silke Otto-Knapp, Giangiacomo Rossetti, Lin May Saeed, Cole Speck, Stefan Tcherepnin and Amelie von Wulffen. READ MORE