It is a desire of mine to start cooking more of a Mediterranean, plant-based diet, but not being able to find good recipes has often been my deterrent. As a foodie, the desire is there but the inclination is lacking. Needing an intensive introduction to that world that would move me into action mode over contemplative mode, I ordered from Tuesday Foods; Chef pre-prepared plant-based, nutritionist-approved, ready-to-eat meals delivered to your home throughout the Roaring Fork Valley, Denver & Boulder.
Tuesday Foods
My food was delivered to me on Tuesday at 8:30 am and came packaged in reusable, eco-friendly tote bags made from recycled paper, with a sweet handwritten notecard attached from Lisa and Kelly signed, "with love, light, and a squeeze of gratitude." I had just guzzled my coffee and was racing out the door to be gone all day with nothing but acid and maple syrup in my stomach, but ran back inside and unloaded a Java Monkey smoothie from the bag into my blender to take on the go with me. My system had not encountered anything that healthy in the morning in quite some time and the smoothie left me feeling energized with great clarity as I went about my day.
The Founders of Tuesday Foods, Lisa Cohen and Kelly Hollins, have built a brand that is a natural extension of how they consistently live their lives; Kelly, a certified health coach, and vegan chef, and Lisa, an accredited nutritionist, and weight-loss expert, both live intentionally and sustainably.
We are committed to nurturing healthy individuals, communities in Colorado and the world we live in. Our locally sourced ingredients, plant-based menus and reusable packaging are all designed to be gentle on the environment and supportive to your soul.

Tuesday Foods
Tuesday Foods Menu
Three days with Tuesday Foods was enough time for me to realize my bad eating habits and poor morning rituals. I have been meaning to incorporate healthy and peaceful rituals into my days, but habits are hard to break, especially bad ones. Last week began that ritual, and it was transformative. Working up in Aspen I tend to spend too much money on meals that are not as healthy as I would like them to be. I have a healthy appetite and I wasn't sure if the salads would be enough food for the day, but the organic, plant-based, gluten-free, dairy-free, non-GMO, no refined-sugar meals were completely fulfilling, loaded with fresh herbs and vegetables, and I never felt the need to snack on crackers and cheese, or cookies. In fact, I was fully satiated the entire week with nourishing meals like the Golden Goddess soup, "Like sunshine in a bowl", rich in energizing vitamins and minerals, and the Capellini Noodle Salad loaded with fresh herbs, veggies, and capellini noodles. The sauces and dressings were delicious and inspiring, and the superfood smoothies got me going in the mornings. As for desserts, the Britt's Lemon Blueberry Chia Parfait has me drooling just thinking about it and the Fresh Zucchini Muffin Top guiltless cookies were definitely more than enough to satisfy both my husband and my sweet tooth.
From the handwritten note to the text message sent with the menu for the week and another text for the pickup of packaging, everything was perfectly executed and I am now inspired to try to delve into this world of plant-based cooking, but I definitely need to order Tuesday Foods monthly to keep up the inspiration.
All served in glass jars (we pick up!) and conscious compostable packaging, we love "good clean food" and how it makes us feel. … Our goal is to make plant-based eating not only easy but delicious and rewarding. As on-the-go moms ourselves, we know the extra effort eating fresh, nutritious meals can require, from meal planning and fresh food shopping to meal prep and getting food on the table. That's where Tuesday Foods comes in. We do the work for you so you can enjoy the benefits of eating good clean food without the stress! We create and fully prepare seasonal, plant-based dishes using fresh, organic hand selected ingredients. Every gourmet meal delivered is composed with intention, high vibration, and love and is meticulously prepared by our dedicated team. Our conscious couriers deliver our innovative menus to your doorstep in sustainable, reusable packaging so you can feel good about what you're eating and the positive choices you make. At Tuesday Foods our impact on the planet is as important to us as the meals we create and deliver. We are committed to minimizing our ecological footprint through sustainable practices and eco-conscious business choices. To start, we deliver on this promise with entirely plant-based menus. Plant-based eating is gentle on the planet and can help protect the environment.

Tuesday Foods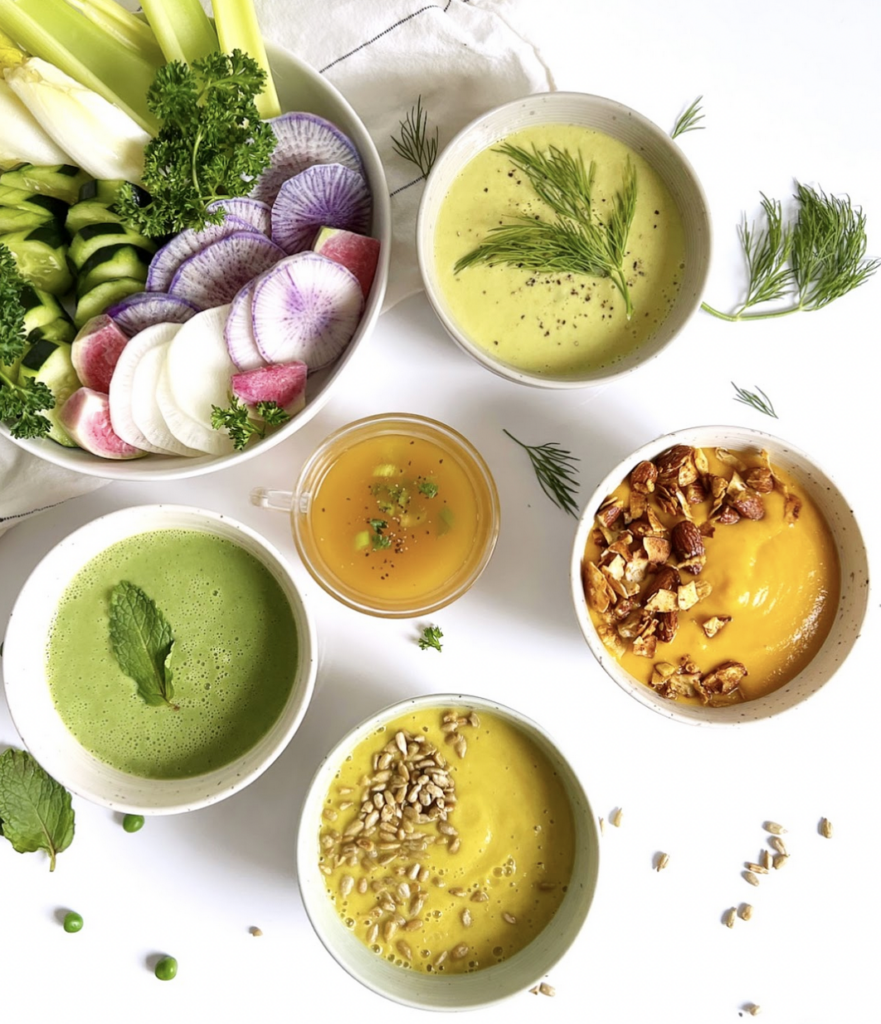 EXPERIENCE THE BENEFITS OF A CLEANSE WITH THEIR 5 DAY FALL RESET!
tuesdayfoods.co | @tuesdayfoods.co