As someone who visited Europe every summer with her British mother and three sisters, I long for the European charm and service I experienced in the Alps as a child. Thankfully, Colorado has a few five star hotels that bring Europe to the Rockies and Sonnenalp Hotel in Vail is one of them, bringing Bavaria to Vail. Bavaria, for those who don't know, is one of Germany's most beautiful regions.  A favorite of ours, my husband, Wade, and I keep going back to the Sonnenalp Hotel, Vail every fall to celebrate our wedding anniversary.
Due to the Pandemic, things were a bit different this fall from last year, but nevertheless the the romantic charm of the hotel still remained and we were greeted by the friendly staff whose eyes we could see smiling behind their masks.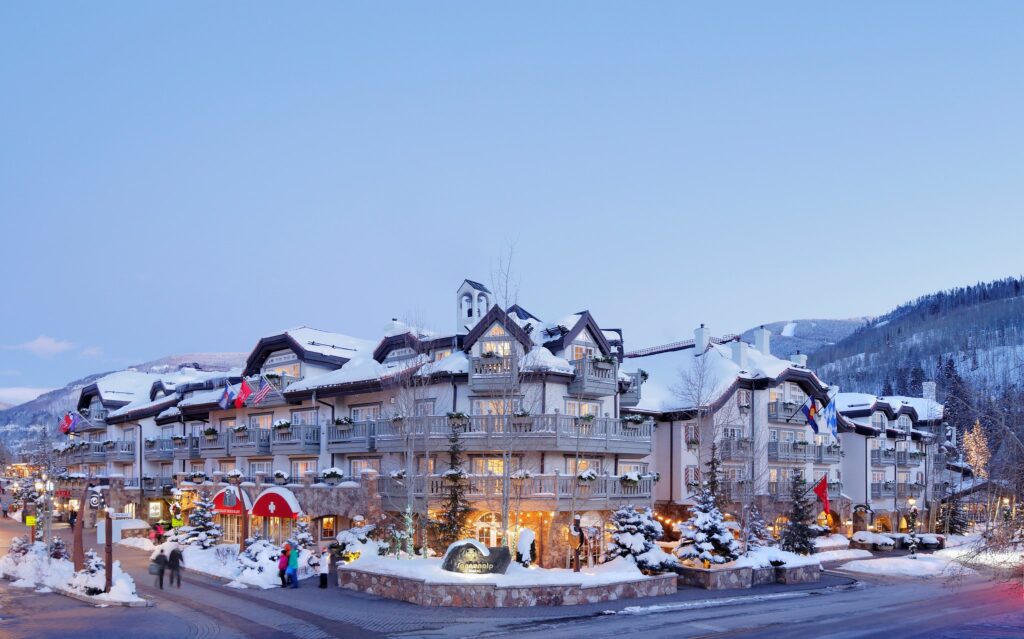 Exhausted from the stress of the Pandemic, the election, and managing remote learning for our boys, rather than have a cocktail in the lounge by the piano after dinner, we drank champagne in our suite by the fire and clinked to our 22 years of marriage, snuggling into the couch to binge watch movies on the large flat screen TV.
Sonnenalp Hotel, Vail Suites
The suites at Sonnenalp are spacious enough to want to stay for weeks on end. Sadly, we just had one night, and still I could not refrain from my daily routine of getting up early to write. Heavy on my feet, and apparently my fingers, as the sun seeped in through the french doors of our bedroom,  I slipped away from our warm cozy bed with a big down comforter and slid into the comfortable hotel bathrobe and switched on the gas fireplace before planting myself at the blonde wood Bavarian desk in the living room to tap away at my heart's content, a cup of hot java just an arm's length away.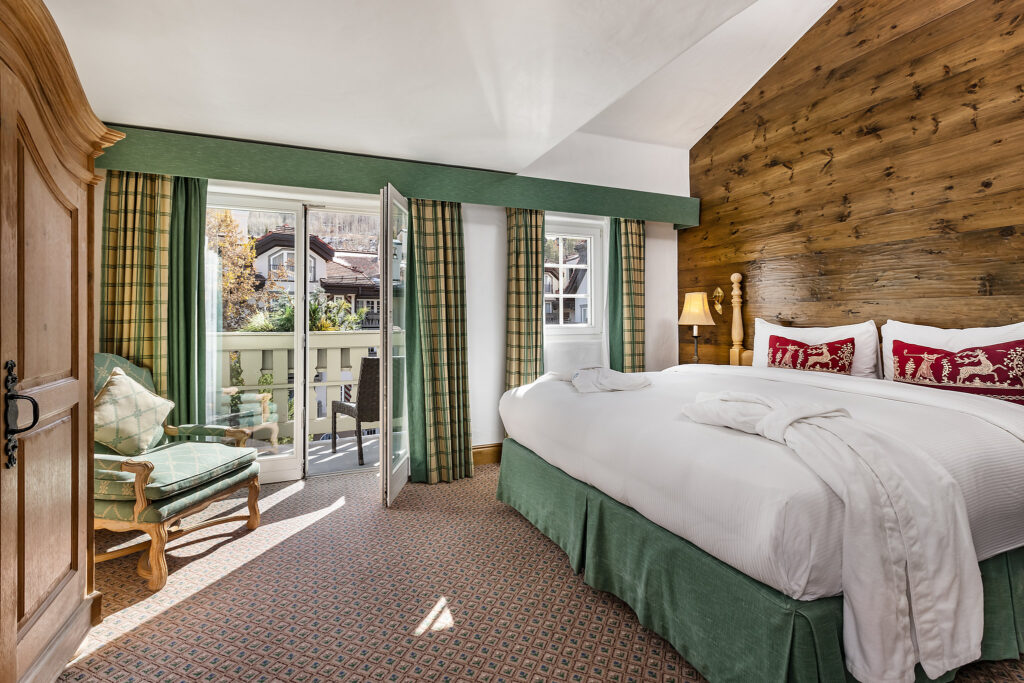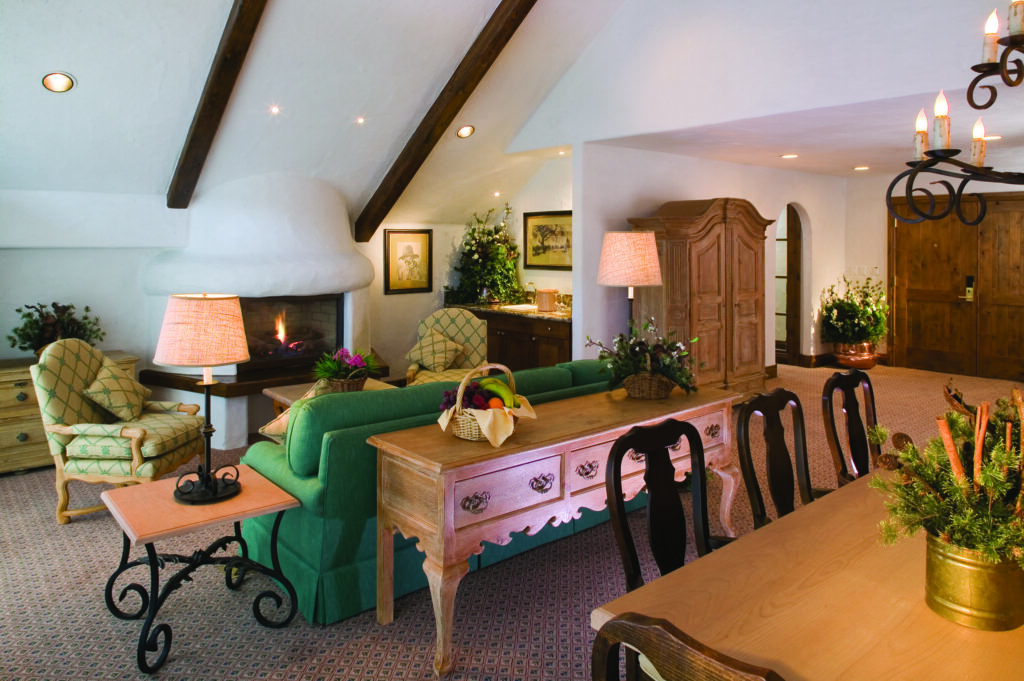 The Sonnenalp features 112 luxury suites and 15 hotel rooms – all with a view of either Gore Creek or Vail Village. Each suite has a bedroom and a well-appointed, delightfully comfortable living room area.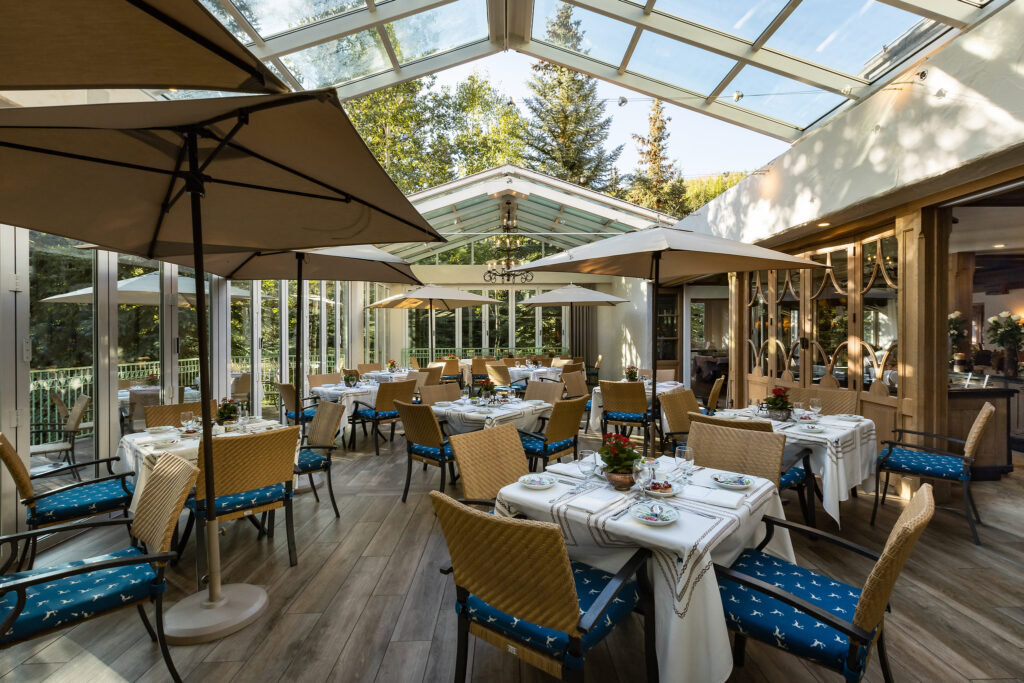 By the time Wade sleepily awakened, my creative juices left me ravenous and I herded him to get dressed so that we could head down to our favorite bright and airy breakfast room, Ludwig's. It was sad that the buffet was not in service due to Covid-19, but we still enjoyed a magnificent breakfast of Eggs Benedict and Lavazza coffee as we chatted with our waitress about the new chef and the Dirndl German dress that she was wearing. I love how they keep the Bavarian spirit alive at the hotel, but perhaps the Dirndl is not the most comfortable of dresses.
Sonnenalp Hotel Vail New Chef
The Sonnenalp Hotel has a new Executive Chef of Culinary Operations, Joshua Marshall. A graduate of the Le Cordon Bleu Culinary Program and Scottsdale Culinary Institute, Josh has over 15 years of experience working internationally at top luxury hotels.
I am thrilled to be joining the Sonnenalp Hotel and bringing my international culinary experience and unique cooking style to their world renowned property and restaurants ~ Joshua Marshall.

A well traveled foodie, Joshua has sharpened his knives at many luxury properties including the Waldorf Astoria in Naples, Florida, St Regis Resort, Dana Point, CA, W Hotel in Taipei, Taiwan, Sofitel in Guangzhou and the Four Seasons in Denver and Jackson Hole. The new menu at Ludwig's features locally sourced ingredients and regionally inspired items with little twists of tastes from the American Southwest and Asia.
With an 11am hot tub reservation, after breakfast we went into the library.  As my husband sat by the fire I browsed the book collection wishing that I could have a week to just sit in that sunny room and read to my heart's content, and possibly even get my boys to read the Agatha Christie leather bound collection.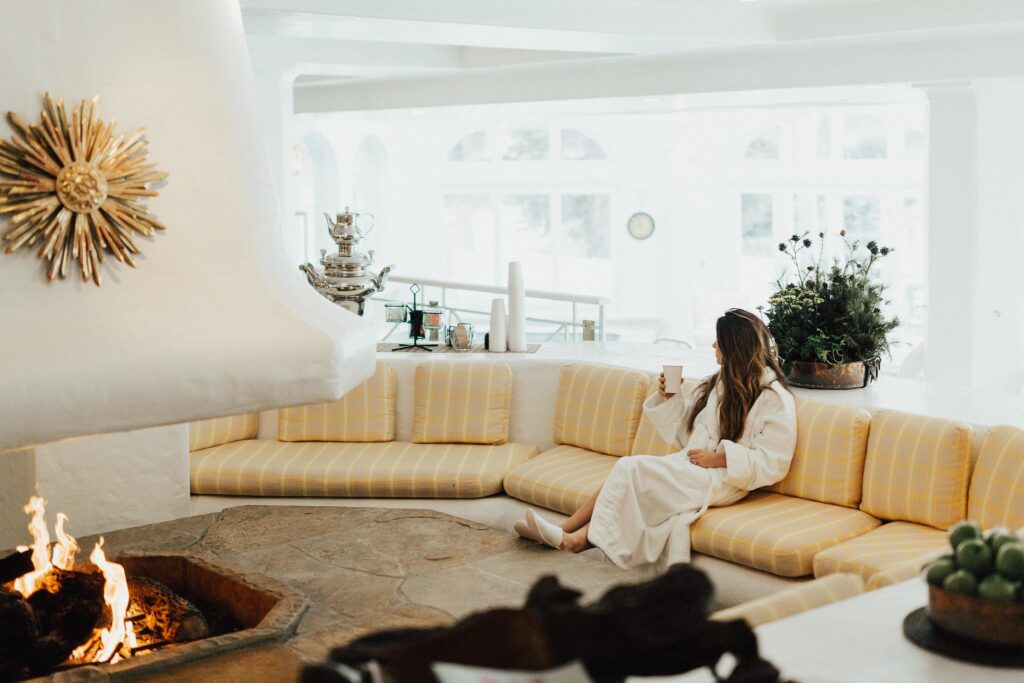 Sonnenalp Hotel Spa
The Sonnenalp Spa has 3 hot tubs and a heated indoor/outdoor pool and although you now need to make reservations for the hot tubs, we were grateful that we were still allowed to soak. Similar to the dining room of Ludwig's, the Spa is cheerful with beautiful natural light filtering in through the glass covered veranda, accented with splashes of bright yellow towels and yellow striped comfortable lounge chairs and couches. Of course, I forgot my bathing suit yet again, and just like the year before I bought another Sonnenalp little black bathing suit that makes any figure look good.
About The Sonnenalp
The Sonnenalp Hotel is a member of the Leading Hotels of the World, an honor reserved only for select hotels that meet high standards for quality and distinctiveness. In addition, the Sonnenalp Hotel has achieved its Luxury Eco Certification Standard (LECS), becoming the first LECS certified hotel in Colorado.
The Sonnenalp tradition of hospitality goes back nearly a century to Bavaria, where the Faessler family opened a hotel that epitomized the finest in personalized service in beautiful surroundings. The spectacular mountain setting inspired the Sonnenalp name – "Sun on the Mountains" – a moniker that translated perfectly when the Faessler family first fell in love with Vail and opened their second hotel in 1979. Five generations after their humble beginnings, the Sonnenalp is a thriving part of the family of Sonnenalp hotels, offering the same warmth and hospitality as the original Bavarian farm house in a setting of true luxury.
Sonnenalp Vail Committed to Safety Protocols
As the Sonnenalp welcomes guests back, they remain committed to providing a safe environment that aligns with expert protocols for working to combat COVID-19. This includes staff following Eagle County's "5 Community Commitments of Containment" which include maintaining 6 feet of social distance, washing hands often, wearing a mask in public, staying home if showing symptoms, and getting tested immediately. The hotel is also encouraging guests to follow these guidelines as well.
Operations have also been revisited to include new check-in and check-out procedures, which require advanced notice for staff to prepare a smooth, quick and friendly interaction. Reservations are encouraged for dining at Ludwig's or Bully Ranch, limiting parties of up to 6, and requiring masks be worn upon arrival and departure.