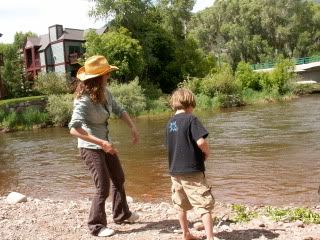 [su_heading size="18″]Summer in Basalt[/su_heading]
Today we went to a "Free Lunch Day," in Basalt, the town closest to us. Baddy was in disbelief that anybody would be giving lunch away for free, but free it was. It was so crowded that we never made it past the first block. I really love living in a small town community where everybody knows one another. Baddy and I socialized as the boys played in the bouncy house. Thumper resisted at first but joined in which made me happy to see.
We descended to the river to skip stones and I proceeded to fall fast asleep. I never nap, but I guess this was well needed. As I dozed I felt little fingers placing rocks on me, a great way for the boys to pass the time. I felt like a Japanese rock garden when I awoke.
Nothing like a day at the river!