The Aspen Food & Wine Classic begins September 10-12, 2021, and, Aspen Summer Words, one of the most prestigious, annual, literary conferences in the country, begins September 26 – October 1. So Aspen is still abuzz this month with talented chefs producing gourmet dishes and writers creating eloquent prose, while others enjoy or partake in related events.
Driving along Highway 82 into Aspen, you can see on either side of the road the aspen and maple leaves beginning to turn, shimmering in the sunlight, many by now cloaked in more opulent shades of red and gold.  September in Aspen is beautiful; a quieter time of year, and a respite from the hubbub and excitement of numerous festivals all summer long. Usually, that is, but not this year.  
Aside from the leaf watchers, Aspen is alive with the sound of chefs' knives chopping and writers tap-tapping on computers. Because of Covid-19 concerns, both the Aspen Food & Wine Classic and Aspen Summer Words were postponed from June to September. 
ASPEN AUTUMN WORDS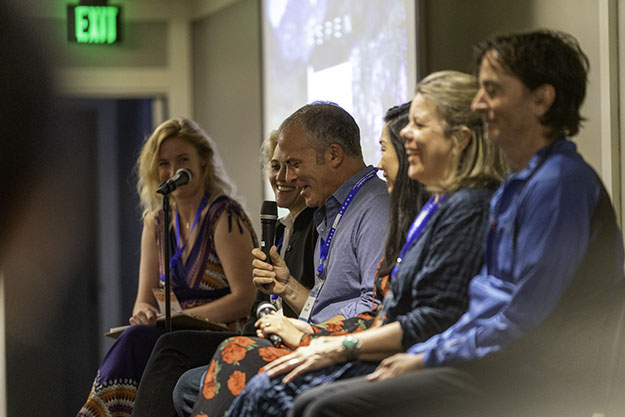 Whether readers or writers, Aspen Autumn Words, whose Executive Director is Adrienne Brodeur, has much to offer locals and visitors who can enjoy craft lectures, talks with authors, publishing panels, advice on writing a book, and more, many of which are open to the public. Not to mention The Book Ball, a Benefit Dinner for Aspen Words featuring Keynote Speaker John Grisham Tuesday, September 28 at the Hotel Jerome. It may be sold out by now, so I'd go quickly to the site at aspenwords.org for details.
And if the name Brodeur sounds familiar, she's the author of the bestselling memoir Wild Game.
ASPEN FOOD & WINE CLASSIC
On the culinary scene, it will be hard to find a restaurant that isn't as busy now as it was all summer. But considering the restaurant world was handcuffed for a year by pandemic restrictions, it is, as Martha would say,  "a good thing."  
Martha Stewart returns to the Food & Wine Classic this year after her Aspen debut in 2019 where lines of people queued up to see her at St. Regis Aspen.  Classic PR Lori Lefevre says, "There 's such a perfect mix of old and new faces coming to Aspen this year." One of the new faces is Guy Fieri, a major star of the Food Network.  And, as usual, the annual Best New Chefs in the US, featured in the October issue of Food & Wine Magazine, will show off their culinary skills for those lucky enough to have tickets. 
Pre-pandemic in 2019, I was one of the lucky ones to have tickets to attend the 37th annual three-day food and wine extravaganza so I know what's involved. There are seminars by epicureans and sommeliers, wine tastings, blind tastings, and celebrities giving culinary demonstrations, more seminars, winemakers, more wine tastings, chef meet and greets, and after-parties, plus a lot of walking around in various "international" tents during the day and consuming a multitude of gourmet bites including ice-cream and chocolates. As well, there are public and private parties held all day long at many Aspen restaurants and local venues. 
That last Sunday morning at the Food and Wine Classic in 2019 we were privileged to taste six different kinds of vintage Champagne. The seminar was located in a tent by the old Art Museum, where through a side opening I had a view of the beauteous Roaring Fork as I sipped a glass of Bollinger 2004 and heard the river babble by. The energetic, handsome master sommelier, Shayn Bjornholm, who hosted this event, said as he danced onto the dais at 10 am, "We are the navy seals of the Aspen Food and Wine Classic." I couldn't have agreed with him more. We stayed the course, took in as much as we could, and enjoyed every minute. This year's Food and Wine Classic should be just as hectic and fun. 
Some of the restaurants involved in the Classic events this year include Casa Tua; Prospect at the Hotel Jerome, Meat and Cheese, and Dante, the latest pop-up at  Chef's Club at St. Regis, Aspen. They are part of a Dine Around in Aspen presented by S. Pellegrino.  As well, three contestants from Top Chef will be cooking at a private dinner on Friday night on the Sundeck at the top of Aspen Mountain: Chefs Dawn Burrell, Shota Nakajima, and Byron Gomez, who is an Executive Chef here in Aspen. www.classic.foodandwine.com
CHEF BYRON GOMEZ 7908 Aspen
Chef Byron Gomez, an alumnus of Top Chef Season 18, 2021, held in Portland, Oregon, came to Aspen a few years ago and stayed. He not only stayed, but he became the Executive Chef of an elegant restaurant and supper club, 7908 Aspen on E. Hyman Ave. (It takes its name from Aspen's elevation which is 7,908 feet.)  The cuisine is elevated too: "A concept in which each ingredient is constructed and delivered in a manner that goes 'far beyond the norm.'  
This year, after coming back to Aspen from Top Chef, Chef Byron and his team decided to revamp the whole dining experience in the restaurant. "We wanted to have guests feel more excited beyond the regular menu, so I came up with the 7908 Summer Series featuring monthly special dinners throughout the summer. " 
The series kicked off in June with the winner of Top Chef Season 18, Chef Gabe Erales, and will end on September 23 when Chef Byron and three other contestants from Top Chef Portland, Nelson German, Chris Viaud, and Jamie Tran, will each cook a course as part of a fabulous meal.  
Chef Byron also has an immersive dining experience taking place at 7908 on September 10 and 11 in collaboration with American Express, featuring another former Top Chef contestant, Chef Kwame Onwuachi deemed "a rising star" by Food & Wine magazine among others.  
Chef Byron has a broad engaging smile enhanced by a distinctive gap in his front teeth, and large dark-framed eyeglasses that make him look studious. I noticed on Top Chef, he was smiling even when the situation was tense, which it often is on that show, and you got the feeling he was well-liked by the other contestants.  Although, later in the competition Padma Lakshmi asked Chef Gomez to "pack up his knives and go," he was a strong contender and said in one episode, "I have the pedigree to win at any level in this competition." And he does. 
Even before he participated in Top Chef, Chef Byron's resume was impressive gaining experience at Michelin Star New York City restaurants including Café Boulud, Epicerie Boulud, and DBGB Kitchen & Bar under Chef and Restaurateur Daniel Boulud, who Chef Byron still calls Papa. "He has for me that mentorship connection. It was a blessing to be working with him, and we still keep in touch." 
Chef Byron is a modest guy at heart. He mentioned going to a restaurant that I knew was hard to get into right now, and I said, "I guess as a celebrity you won't have a problem,"  His response was to laugh and say," "No. I'm going as a normal dude."  
I was struck by something else he said to me, which I found so inspirational: 
"You have only one life and every day you have a chance to do things better than the night before, the day before."  
Originally from Costa Rica, Chef Byron Gomez was eight-years-old when he came to the US and grew up on Long Island.  In 2012 President Barack Obama initiated the immigration policy known as Deferred Action for Childhood Arrivals. Chef Byron became a DACA recipient and remains one to this day. He hopes a provision tucked into a $3.5 trillion reconciliation package if passed, would provide him and other "dreamers" a path to become American citizens.
As a result of Top Chef, Chef Byron is very busy all of the time. "Being on television has given me a worldwide platform and now it's up to me what I do with these opportunities. I'm contributing to the system by not taking anything from it. But to change people's minds, that's the hardest thing. So I just focus on my cooking. The biggest satisfaction is to make someone's day by eating my food, or to inspire others, and that is what a chef is about. A chef is just a line cook who can lead."
Although his creative cuisine spans the globe, he can't travel due to DACA restrictions.  I hope Chef Byron, who has contributed so much over the years to society with his culinary skills, as well as demonstrated concern for others such as mentoring his own staff, will soon have the opportunity to make his own dreams come true.
CONTRIBUTING WRITER: Annette Gallagher Weisman is a freelance writer who has been coming to Aspen for a long time. An award-winning essayist, she writes about food, wine, books, and travel. Annette has been published in several national and regional publications including People, TheWineBuzz, and Edible Aspen. In her spare time, Annette is an avid reader, cook and tennis player, and was once told by an Aspen ski instructor "You don't ski badly for an Irish person."