Happening Pop-Ups in Aspen: Our Can't-Be-Missed-List!
By Ellie Trice
What comes to mind when you hear the word "pop-up"? A food truck, a farmer's market, perhaps an Etsy shop for handmade mittens (looking at you Bernie Sanders) come to life on wheels? For those visiting Aspen, pop-ups add a new vibrancy to town. For the local business owners who have to lock into annual leases and watch as other businesses go under due to jacked up rents, perhaps pop-ups are not as welcome, but as the landlords fill these gaping vacancies, it looks as though these unique, independent retailers and restaurants are here to stay and are opening their doors to the elegantly outfitted and fine-dining crowds that flock here each ski season.
In 2021 pop-up businesses buying space in Aspen and in the Roaring Fork Valley are expanding their horizons and boutiques, art-galleries, international artisans, and wellness brands are all setting up shop on the western slope, offering an array of eye-catching retail opportunities. In ski towns, pop-up season and ski season are synonymous. Finish off a day on the mountain with not just a beer from Aspen Tap, but perhaps a wine tasting at a local pop-up wine shop in Snowmass, or a sushi roll from a Michelin star chef in town to test the waters.
Below, a few highlights you won't want to miss this winter.
The Sled: Aspen Highlands:
"The Sled" is a pop-up kitchen located behind the infamous Cloud Nine restaurant on Aspen Highlands. The restaurant serves all sorts of delicious meals, from carne asada tacos to banh mi sandwiches. The best part? The Sled took "food trucks" to the next level, serving tacos, beers, margaritas and more straight from a snowcat perched up on the mountain. Ski by for drinks on your way to the hot tub, or to pick up a package lunch deal, and enjoy a stunning mountain top view with your meal. Inspired by the old Soup Kitchen window that was in Cloud Nine before it turned into the famously high-spirited party spot it is today, these days you'll get a quick easy meal or drink only found mountain-side!
Shop Brika/The Art of Cozy: 411 East Hyman
In case you haven't heard (or read it before) "hygge" is a "Danish and Norwegian word for a mood of coziness and comfortable conviviality with feelings of wellness and contentment", according to the Merriam Webster, that is. Aspen's newest pop-up Shop Brika, is all things hygge. Open through March 31st, the unique boutique-y pop-up opened it's doors on East Hyman this December, and sells an assortment of lifestyle, beauty, and home picks to make every space feel like the quarantine self-care abode of your dreams. From chunky cow-neck knits, to creamy, high-class nighttime skincare, the space offers products in every category including; hand-picked relaxation supplements, the softest linen sheets, bathrobes, elegant evening wear and even children's pajamas. Cozy up and get your hygge on!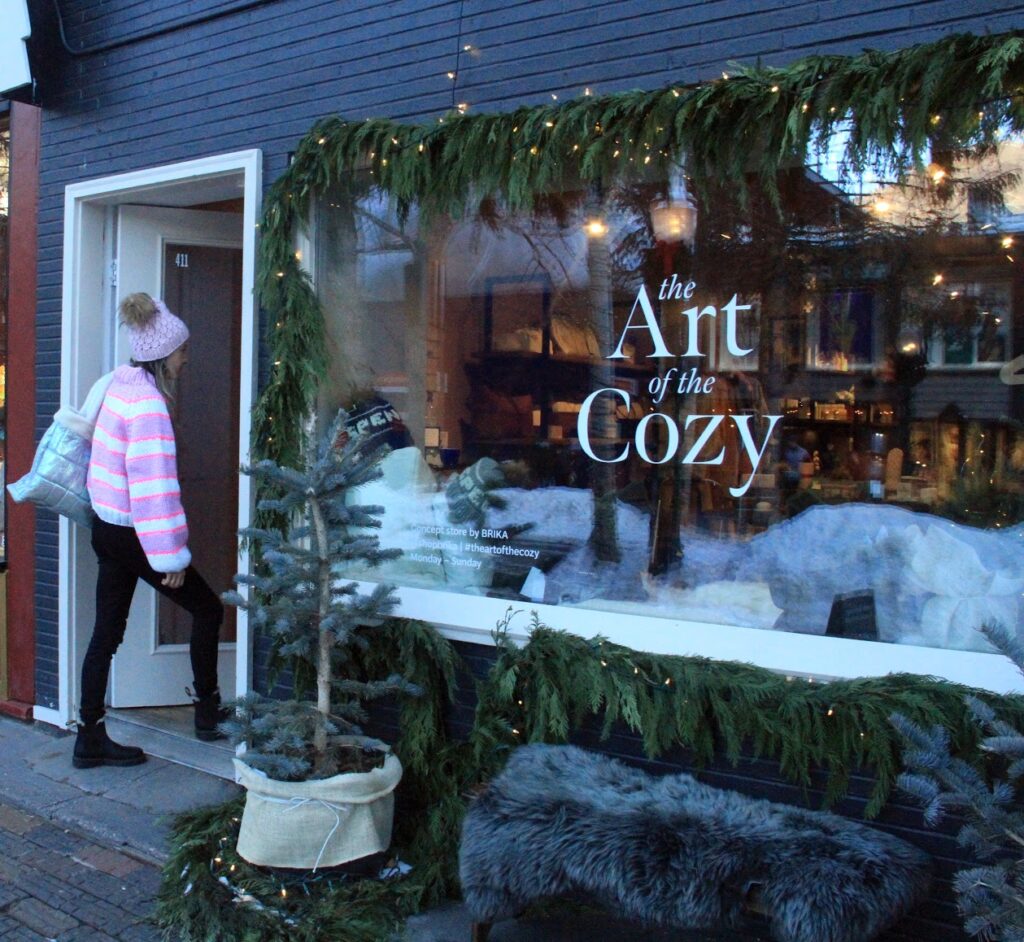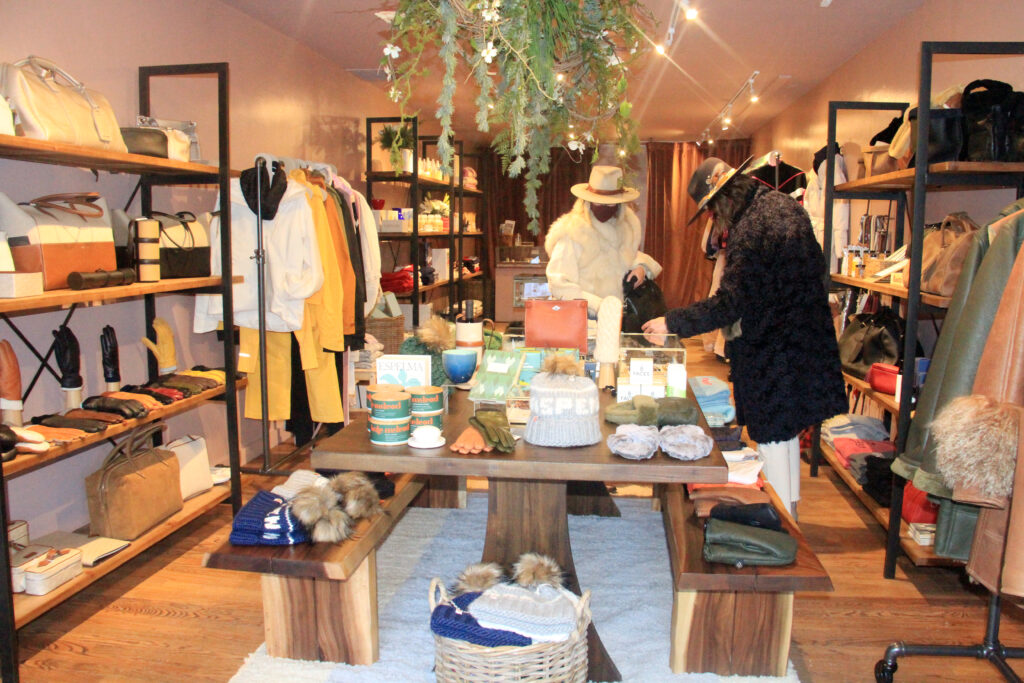 Giorgio Armani: 
Explore the dazzling "World of Armani" at the luxury designer's carefully curated winter-themed pop-up. The boutique took up residence in the heart of town on East Hyman Avenue, and will keep its 3,350 square foot posh space open through March of 2021. Featuring exclusive pieces only available in Aspen, here you'll find not only elegant, stunning evening wear synonymous with the brand, but also statement pieces, and never-before-seen products from Armani's coveted beauty line.  Spread over two floors, if you come to carouse the high-priced aisles, you'll stay for the décor. The shop is decked floor-to-ceiling in artistic luxury depicting a winter-wonderland only Aspen can depict. Fixtures inspired by ski lifts, cable cars, and high-alpine sophistication adorn the walls, where you'll browse through pieces from Armani's Neve collection, a luxury line of winter and après-ski apparel, and EA7 technical skiwear.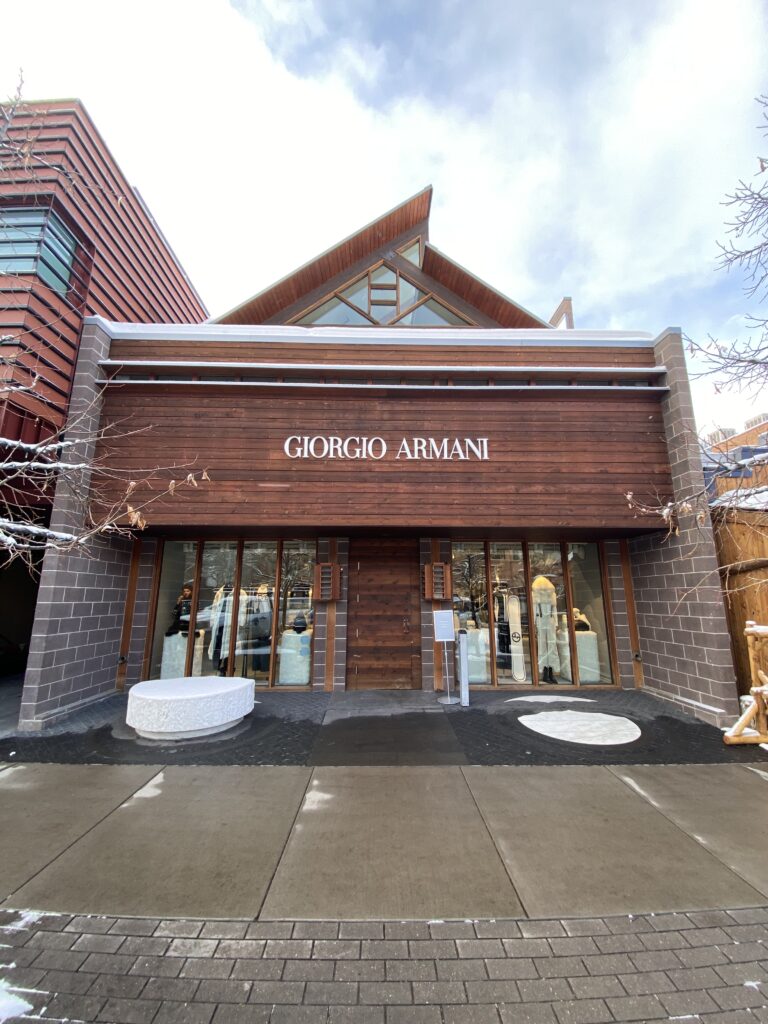 Pitkin Projects:
We guarantee you've never seen a gallery quite like this. A pop-up art gallery, Pitkin Projects has made a home for itself on Hyman Avenue, where it's storefront windows will pull you in with their chic, colorful one-of-a kind products. Owner Jamie Tisch, curated the gallery to reflect the chic style only Aspen can offer while somehow having a foot in international décor from all markets. The gallery features a collective eclectic local makers with hand-crafted ceramics and jewelry, as well as unique artisanal work from all over the United States, Mexico, Italy, UK, Columbia, Spain and more. Designers like Rodman Primack & his team (recently featured in Architectural Digest AD100) have lent show-stopping pieces you'll only find in this colorful space. Limited edition treasures such as chairs shaped like cacti, South-American textiles popping with vibrant colors and plush textures, and stand-out custom made jewelry line the tables and walls. Stop by for a look, and you may just end up leaving with a new centerpiece, too.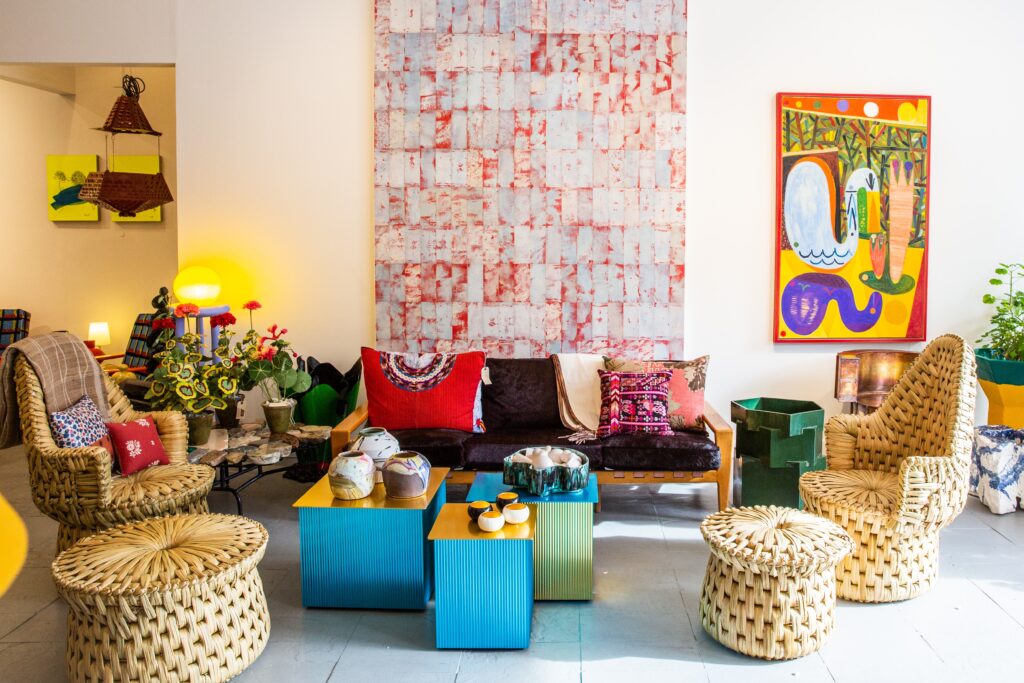 Village Tasting Room at Base Village:
The famous and highly-frequented après-ski stop of Base Village in Snowmass, State 38, took a turn this winter when the owners realized they would have to be shutting their doors. Pivoting from their usual offerings, executive chef Andrew Helsey, and SkiCo culinary director Jim Butchart, put together a pristinely focused menu featuring only the best wines, small plates, and specialty cocktails for the opening of a new seasonal pop-up venture that's come to be called the Village Tasting Room. Stop by to speak with master sommelier Brandon Tebbe to sample a Ganay Noir from Burgundy, or an imported Italian lager, but don't forget to save room for a bite. Helsey narrowed down the world class menu of State 38 to include the All-Stars, including: a yellow tail tostada, chicken liver, butter leaf salad, bean soup, steak burger, fried chicken sandwich, grilled flatbread and more. The all-veggie mushroom buns with pickled vegetables and hoisin sauce is their version of Vietnamese bánh mì. I know I need to come back and try the coffee-cured skirt steak with chimichurri. You can also grab a bottle of wine to take back to your condo, or customize a charcuterie board for a warm night in.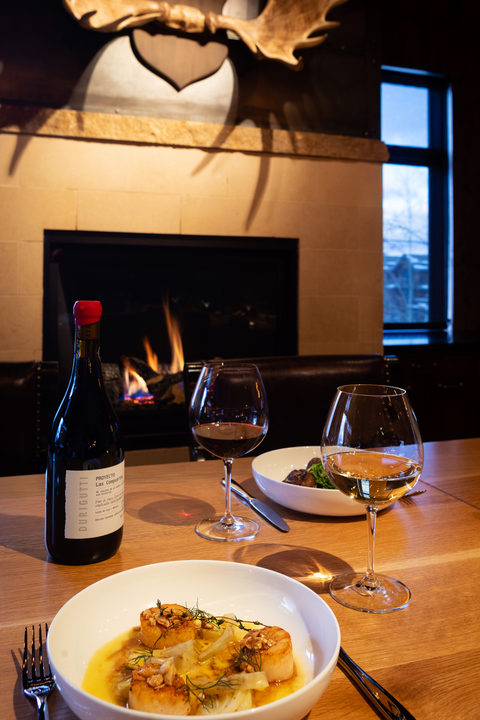 Sushi Nakazawa:
Experience the flair and pomp of New York City, at world-class sushi pop-up Sushi Nakazawa. Award-winning chef Daisuke Nakazawa, and Aspen business owner Ryan Chadwick teamed up in the time of covid to produce a show-stopping eatery. Meet: Sushi Nakazawa. The lovechild of the Michelin star winning chef, the restaurant is inspired by Nakazawa's world-class training. You've probably heard of Jiro Dreams of Sushi—well, Nakazawa trained under the Jiro, working for almost a decade to create the perfect steamed rice. After opening up his own restaurant in New York, he found a pandemic home in Aspen, where locals now flock to choose from a 50 page sake menu, and a complex, and richly detailed sushi menu featuring any and all type of seafood (we recommend the Omakase).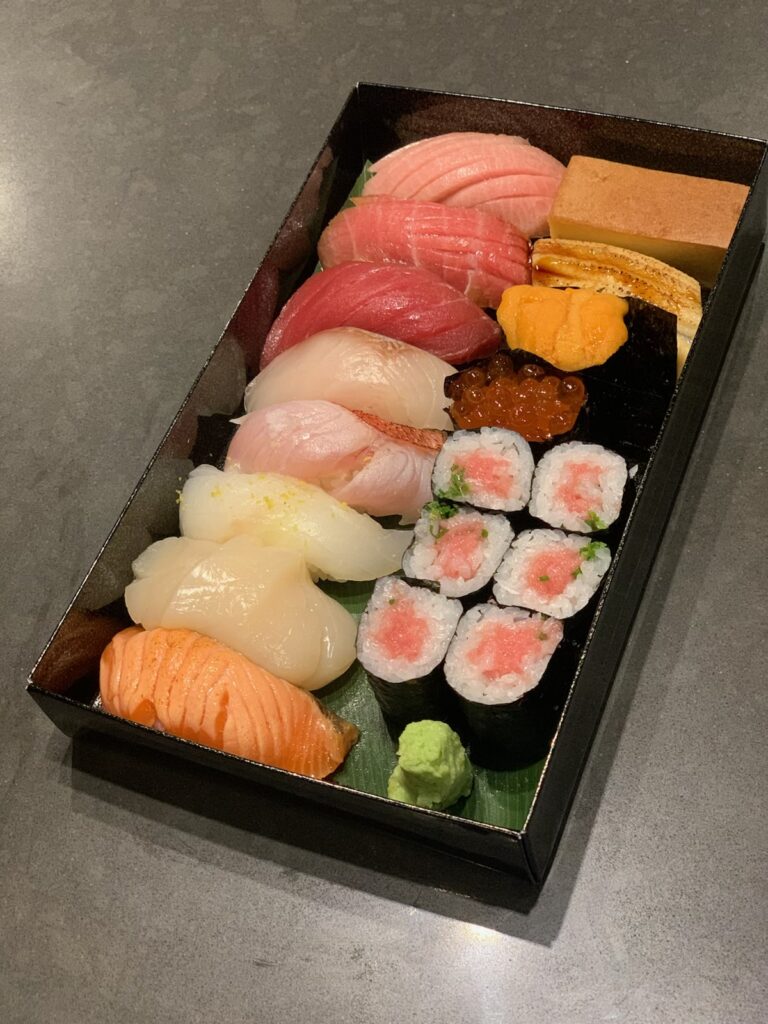 Winterfest: An Exhibition of Arts and Crafts
Get your art fix, too! The Aspen Art Museum has officially opened its doors to: Winterfest: An Exhibition of Arts and Crafts. The new, seasonal, for purchase exhibition launched on December 17, 2020, and will remain open through February 21st. Featuring handmade artworks displayed through design curated by US-based, German artist Veit Laurent Kurz, the tone of the exhibit is based on different representations of cabin, mountains, and a lake. The exhibition will feature works by Kelly Akashi, Kerstin Brätsch, Beverly Buchanan, Richard Carter, Milano Chow, and many other world-famous artists. Winterfest garners its inspiration from the German annual selling tradition of jahresgaben (try saying that three times fast). This certain style of exhibition, dates back to the 1800's, and is specially designed to support artists, as well as to help fund the institutions' programs, bringing attention to Aspen's thriving art scene.