Having three teen boys of our own, we know that it is difficult to get to the core of finding activities for teens in Aspen and the Roaring Fork Valley that they won't yawn at, or if you are needing a guide to take them on adventures, it's difficult to know who to go to. We have made it easier for you to choose by eliminating the guesswork. Below are some of our top ideas.
Mountain Biking in Aspen
Sky Mountain Park Loop has very fun mountain biking terrain for parents and teens. Visit the MBT Project website for all the important information and details.
Downhill Mountain Biking in Snowmass
Rent or demo a bike and head up the gondola to the Snowmass Bike Park, which offers something for every level of downhill mountain bike rider. Get them padded up and send them on their way to the nearly 3,000 vertical feet of purpose-built downhill trails. -We suggest getting broken in on the greens and blues like; Viking and French Press, before hitting Valhalla and Vapor. It's so much fun that your kids will want to be there all day.
Snowmass Bike Park Lift Ticket
1-DAY LIFT TICKET $45 In-Resort | $36 Advance Purchase. 3-DAY LIFT TICKET $119 In-Resort | $95 Advance Purchase. Season passes also available
Guided Hikes or Mountain Bike Rides
Go on your own or hire a guide from Aspen Center for Environmental Studies or Aspen Alpine Guides and take a hike or bike ride up into the mountains.
Northstar Preserve River Float
Take a gentle float through important wildlife habitat in North Star Open Space with RFC and Pitkin County Open Space & Trails. They will provide some history of North Star, discuss wildlife highlights, and recent restoration activities along this mild two-hour float, or book a stand-up paddle boarding lesson with local SUP/kayaking legend Charlie MacArthur of the Aspen Kayak and SUP Academy.
Have Your Teen Rent a Stand-Up Paddle Board
If your teens are adventurous, peaceful and respectful of wildlife, rent them a stand-up paddle board from Aspen Bikes or Shaboomee. Be forewarned, there have been moose and bear sightings in the preserve. Leave your dog at home.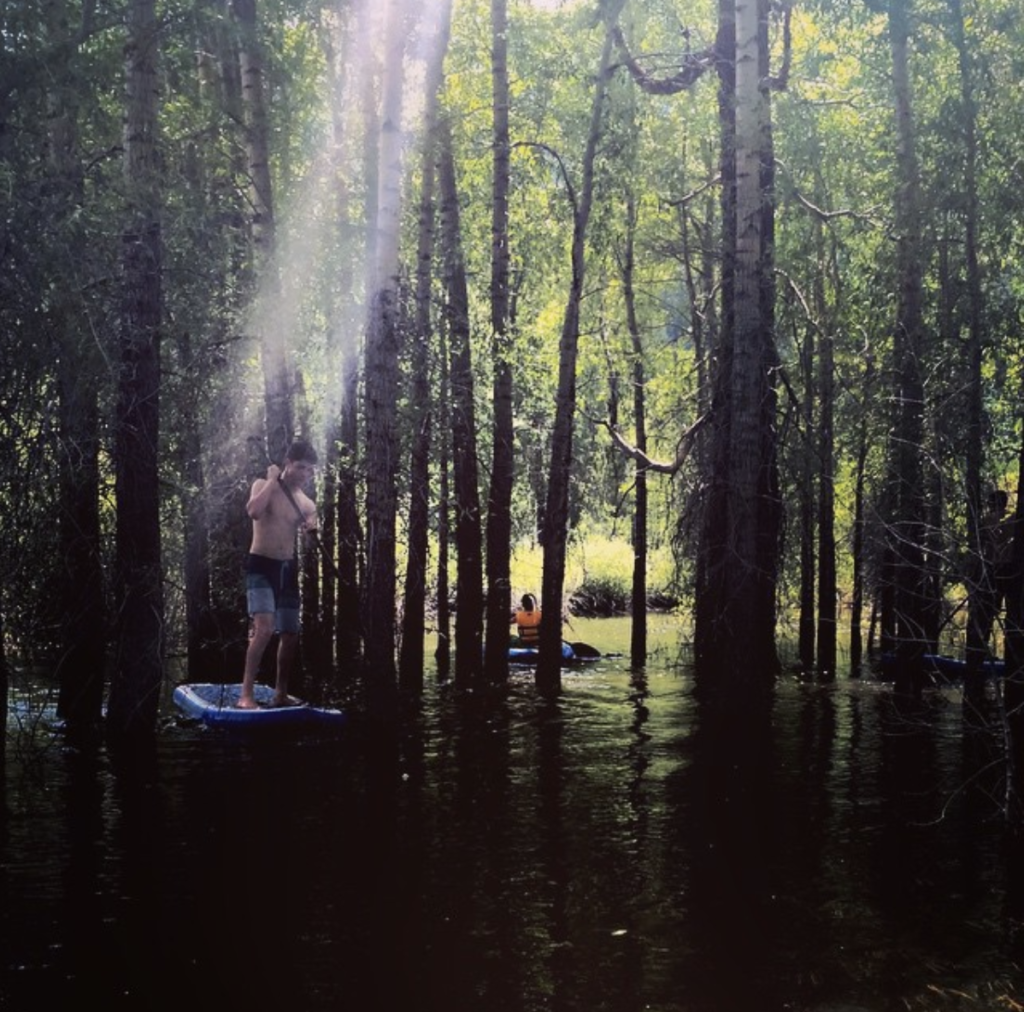 Aspen Historical Society Free History Tours
Participate in the Aspen Historical Society free history tours happening monthly, or just go by there and check out the archives. Tours include; exploring the maze of tunnels and former mines; downtown Aspen in a unique electric vehicle; exploring examples of bauhaus principles; stroll through Aspen's Victorian West End with a focus on history and architecture; and our favorite, a guided tour of Aspen's historic haunts to explore each establishment's history, legendary libations, and local lore. Click here to find out more.
Aspen Ghost Town Tours
Visit Ashcroft and Independence ghost towns with the Aspen Historical Society.
Book a court or take a lesson at the Aspen Tennis Courts. Court Rental › $32/hour. Private Lessons › $80 – $100 per hour. Ball Machine › $32/hr. All-Access Tennis Pass › $29 (at the club house) Summer Hours: Monday – Friday › 8:00am – 7:00pm. Saturday & Sunday › 9:00am – 6:00pm
Go Adventurous Backpacking, or Climb a Peak with Professionals at Aspen Expeditions
Since 1977, the mountain guides of Aspen Expeditions Worldwide (AEW) have been recognized as among the most trained, experienced and credentialed in the country.  The history of mountain guiding and AEW is rich with personal accomplishments, as well as national and international certification credentials. Founder Dick Jackson was the 15th American ever to receive the coveted International Federation of Mountain Guide Associations (IFMGA) "pin" and was one of the first Americans to guide in Europe, where the history of organized guiding is as old as the USA. 
Book a Tandem Flight with Aspen Paragliding
Aspen Paragliding is the premier paragliding school in the country and a full service dealer of paragliders and equipment.  We provide professional tandem instruction, certification, mountain & thermal soaring clinics, glider inspection & repair, accessory installation and international adventure travel excursions. Aspen Paragliding was established in 1990 and was one of first paragliding school to get permission to fly from a  ski resort.
Hiking in Aspen
Hike to all the lakes and dive in but before you go, since many of our trails in the high country have debris and rubble on them now from the numerous avalanches that occurred from our incredible winter, be sure to check the reviews from other hikers on Alltrails.com. Perhaps recent accidents could have been prevented had the hikers gone to Alltrails prior to climbing. Also visit here for a guide on hiking in our area.
Iron Mountain Hot Springs
Iron Mountain Hot Springs is situated alongside the beautiful Colorado River and surrounded by Rocky Mountain views that soothe and inspire, our 16 geothermal soaking pools offer guests a pure soaking experience—the way nature intended. Our freshwater family pool is cooler and ideal for all ages. An attached elevated jetted spa provides yet another opportunity to relax. Thoughtful amenities are built in throughout: towel tree sculptures at each soaking pool, changing rooms stocked with complimentary shower products and a restaurant that serves food and drinks adds to the ambiance.  Welcome to Iron Mountain Hot Springs. We invite you to relax, restore and rejuvenate. Read about our experience there.
The Artificial Wave in Glenwood Springs
According to Endlesswave.net, "With the right flows, the Glenwood Wave is a world-class river surf wave. It's an artificial wave that is surfable at basically any flow, but things change significantly based on flow since the flow can vary from around 2,000 cfs to 20,000 cfs." Read more here.
Free Concerts in Aspen
Bring a picnic and a book, and sit on the lawn outside the Benedict Music Tent to listen to the 4pm Sunday evening Aspen Festival Orchestra concerts.
Free Snowmass Thursday Night Concerts
Each Thursday evening, head to Snowmass for a FREE concert on Fanny Hill. Bring your picnic basket and blanket and enjoy a wide variety of music throughout the summer. At select shows, kids can romp through the Family FunZone, which is complete with a bouncy house, face painting, hula hooping, and more, while mom and dad kick back and enjoy the sunset as acclaimed artists take the stage.
Please utilize public transportation (RFTA & Snowmass' Free Village Shuttles) when attending the free music series as parking is limited. Free parking is available at the Brush Creek Intercept Lot and at Town Park Station. Snowmass' Free Village Shuttles pick up & drop off atTown Park approximately every 10 minutes on concert nights. Food and drinks sold on site. No outside alcohol permitted. Non-alcoholic outside beverages must be in a sealed container. Water bottle refill station located inside the venue. No glass. No smoking. No pets. For more information, visit gosnowmass.com.
Hike Aspen Mountain for a Yoga Class
For the ultimate Aspen experience, hike the Ute Trail and continue up to the top of Aspen in time for an outdoor yoga class overlooking the Elk Mountain Range at 11,212 feet.
Aspen Shakti will be offering classes five days a week. For beginners and advanced practitioners.
Aspen Mountain Yoga Deck
Catch a ride on the Silver Queen Gondola using your season pass or you can purchase a sightseeing pass for the day.

Walk, Hike, Run, or even Skip up the foot trail on Aspen Mountain. Allow 1-2 hours to reach the top depending on your pace. Bring water, a sweater, and a raincoat, and make sure to visit alltrails.com for directions so you don't get lost.
Aspen Mountain Yoga Class Schedule
Mondays: 10:30-11:30am
Tuesdays: 10:30-11:30am 
Wednesdays: 10:30-11:30am
Thursdays: 10:30-11:30am
Fridays: 10:30-11:30am
*All classes $10 (exact cash please)
**Mats available at the top
** Although our recommendations come from experience, or reviews reported to us from people we trust, we at Aspen Real Life are not liable for experiences gone wrong. Feedback is always welcome and appreciated.