This is a collaborative feature on the best of Breckenridge based upon my explorations while there and recommendations from Holly Battista-Resignolo, the Owner & Editor In Chief of MTN Town Media Productions which includes; Mountain Town Magazine, Mountain Women Magazine, and MountainTown: Breckenridge magazines and their digital components.
Cozy and Affordable
Holly made reservations for us at Rootstalk, a charming restaurant located in a Victorian on Main Street in the town of Breckenridge.
What a treat it was to experience fine dining without combusting our wallets. It has been a while since I enjoyed the restaurant experience with a girlfriend and I was so happy to experience great service and delicious food in a cozy environment with beautiful light streaming in the windows.
The evening began with a glass of Champagne paired with the Cured Steelhead appetizer with grilled baby beets, crispy shallots, watercress and the most unbelievable preserved Meyer lemon yogurt that almost tasted like a sorbet.
For our entree we shared the perfectly tender Alaskan Halibut with crispy dashi potato risotto, Crème Fraîche, artichoke, and an exotic flavor popping Escargot & mushroom salad. That mix of flavors and textures still lingers on my palate.
Patrick Murphy, the General Manager of Rootstalk, took very good care of us, at the ready for our requests, and filling us in on the crew who came with Chef Matt Vawter from Mercantile in Denver to open Rootstalk in 2020.
From indiechefs.com, "During Matt's tenure with Fruition and Mercantile, he was recognized as Zagat's 30 under 30, Star Chefs Rising Star, and Eater Young Guns. In 2018, Matt was the chef de cuisine when Seidel won the James Beard Foundation Best Chef: South West. Matt's experience and the opportunities he was afforded during his time with Mercantile, Fruition, and Fruition Farms gave him the confidence to bring his family home to Breckenridge and grow new roots at Rootstalk."
"It's an ode to upscale comfort food featuring dishes such as Vawter's French onion soup (which will ruin you forever on other versions), dreamy duck cassoulet, and the most perfect of house-made pastas, situated in a small Victorian house built in 1889."
-5280 Magazine
118 South Ridge St., Suites 5 & 6 (also in Frisco)
The temps were quite frigid while we were there and with all of the powder I had been skiing in March, my body needed nurturing. It was a rare phenomenon for me to have an entire day by myself and I was ready to wander the paths where the locals steered me, which began with Holly's suggestion to take a yoga class at Meta Yoga, right on Main St.
The room was warm and cozy with soft lights, wood floors, and glazed amber walls. My teacher was Hjordes Robinson and she led the perfect Vinyasa class awakening my travel bug and compelling me to break out of my routine and visit more teachers and yoga studios when I got home.
When the class was over Hjordes graciously shared her local gems to visit on my journey to find the soul of a town that I used to visit when my husband's family had a cabin up French Creek, but never explored because of the crowds. Thankfully, this week was quiet with many locals traveling for spring break. With the weather so frigid the streets were empty and the town was mine, if just for a few hours.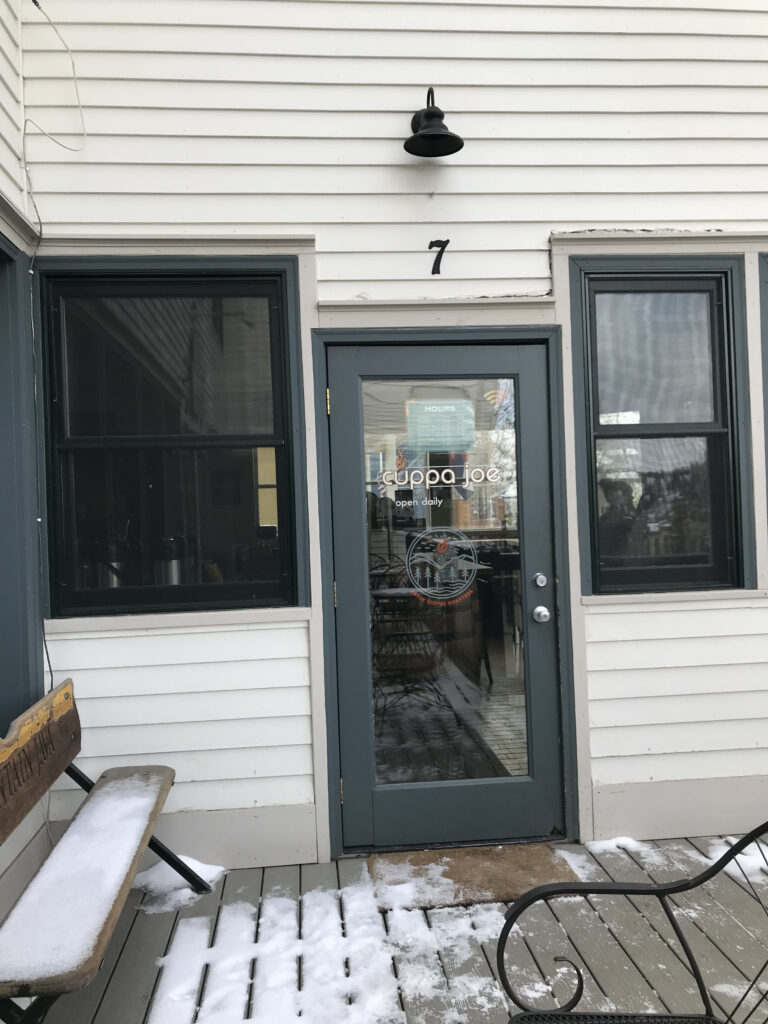 118 South Ridge Street, Unit 7
After yoga, I entered the adjacent coffee shop and immediately felt welcome as mountain chic professionals smiled at me from their computers while the Barisata and I shared stories about our changing mountain towns. Founded by a few friends with a passion for sustainability and a love of incredible coffee, Breck Coffee Roasters started out small, committed to quality and producing "Summit Worthy" coffee.  Today they are proud to present delicious, authentic mountain coffee with 100% compostable packaging and minimal waste generation. 
Favorites of Hjordes:
Amazing Grace
Cozy up to their wood-burning stove in this historic cabin, grab a coffee, and contemplate all of the delicious breakfast and lunch items on the chalkboard. This is a local hub for conversation and community.
Modis Restaurant
Fusion food, craft cocktail
Apres on Main St.
Craft cocktails, wine, music, and games
RMU
Local bar with ski shop attached. See and be seen at RMU. The vibe is high with skiers, snowboards, and locals all getting in on the party right there along Main Street.
Kingdom Massage
Hjordes recommended that after my massage I try to book a massage with Erika Tobias at Kingdom Massage. While sipping my absolutely needed hot and steaming coffee I texted Erika and discovered that she miraculously had just gotten a cancellation in her schedule that seemed to be bulging at the seams. She came out into the cold to meet me on the street and took me back to her studio to give me one of the best massages I have had in a while. I had never experienced her technique before, which seemed to reset my muscles and bones that I had no idea were so out of wack. When I asked her what her technique was she replied that it was something she made up over 13 years ago. She received her degree in massage therapy from the Colorado School of Healing Arts and has been a practicing certified massage therapist for 13 years. She has continued her education in ortho-bionomy and is certified in sports massage, neuromuscular massage, neck and head pain management, and Ashiatsu deep feet bar therapy.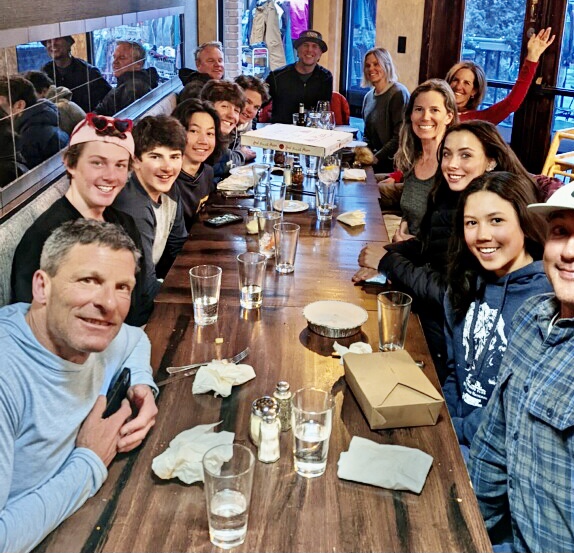 When I asked Holly which pizza place to go to for the "kids" Holly instantly replied, "Giampietro," which proved to be the perfect place to take a large group of big mountain skiers and their parents.
"At Giampietro's, we make everything in-house, from our balsamic vinaigrette to our pizza sauce. We strive for food full of clear, genuine flavors."
The last night we were there we met at Mi Casa, a Mexican restaurant with big windows framing the snow squall that was blowing sideways, threatening to cancel nationals. We sat at a ten-top circular table, sucking down our margs to calm our nerves. The plates were plentiful and my steak fajitas were delicious.
Holly's Picks
Aurum continues to Wow! with its American cuisine restaurant on Ridge Street. The elegant, casual atmosphere allows for an intimate dining experience inside their stylish dining space or on their outdoor patio. We love everything on their seasonal menus. Be sure to check out their Happy Hour too.
There is a distinctive aroma of grilled dry-aged beef, freshly baked breads, garlic, candles, and the starch of white tablecloths fused together in the air of a fantastic steakhouse. That is the first thing you will experience when you enter The Briar Rose Chophouse and Saloon in Breckenridge. The restaurant has been in the business of preparing the finest aged beef and fresh wild game in its landmark restaurant for over 40 years. The unique building is named after the old Briar Rose Mine on Peak 10, which began operation in the late 19th century. The building had originally operated as a boarding house serving meals to tired miners.
If a full meal is not in your plans then a visit to the back bar/saloon is highly recommended. Their bar menu is filled with a great selection of appetizers and snacks. I always order their Shishito Peppers and Parmesan popcorn when I hit the restaurant's Happy Hour. Try the Beef Short Rib Egg Rolls, Carolina Short Rib Sliders, or Rosemary-Skewered Shrimp Romesco. All of it is delicious and well-prepared. Please note that the bar is very popular amongst locals and visitors.
The Hearthstone Restaurant is located within a cozy, historic 125-year-old Victorian home on Ridge Street. With spectacular views across town to the slopes of the Breck Ski Resort & the Ten Mile Range it is a go-to for special occasions. Offering world-class cuisine this farm-to-table restaurant features local produce from family farms around Colorado. Start with a house-infused martini, choose a wine from over 200 selections from their Wine Spectator award-winning list, & enjoy the friendly service & hospitality they've been famous for over 30 years.
There is inspiration cooking up at Ember every day in Breckenridge. Chef/Owner Scott Boshaw is a culinary artist who combines international textures and flavors for the new American palate. Their motto is "Uncommon food for the common man". The restaurant will warm your soul with professional service, contemporary décor, and inspired drinks in a beautiful Victorian home. His meals are more than sustenance; they are works of art.
Anna Sones started selling her handcrafted Ice Cream with her children from a mobile stand at Colorado farmer's markets and a location in Silverthorne. For over five years now Anna has been churning out fresh ice cream at her Main Street location featuring both traditional and seasonal flavors alike. Honey Lavender, Pumpkin Pie, Peanut Butter & Banana, Nutella, Eggnog, and more. Exceptional!
Come in, sit down, and select from a large list of authentic Mexican street taco fillings. We love the ala carte selections, Order one or ten and wash it all down with a great margarita. Tacos and Tequilas are served up in their Breckenridge La Cima Mall location.