X-Games always launches us into extreme mode after watching the incredibly talented athletes hit Aspen's terrain park, touted as one of the best in the country. To keep us in the adrenaline rush, we have put together a round-up of all the fun and exhilarating opportunities in Aspen and our surrounding mountains and towns that can keep your endorphins rushing. From dog sledding to paragliding, to ice skating and axe throwing, there's something for everyone.  Here are a few of our favorite things you can do NOW to get your adrenaline up! 
Dog sled at Krabloonik in Snowmass
This might just be one of  the most historic and culturally "Colorado" ways to explore the backcountry. Traverse untouched snow through towering trees behind a crew of expertly trained snow dogs through the Snowmass backcountry. Krabloonik is a local and tourist HOTSPOT, and for good reason. Your sled, which you have the option to share with a co-pilot, will be pulled by anywhere from 8-10 Alaskan huskies and a well-equipped musher. You'll likely fall in love with the pups as much as the terrain in this hour long adventure. While it's one of the more pricey extreme expeditions (tours start at $345), it's also one of the most incredible–with options to sled morning, afternoon, or by the light of the morning moon at Twilight. Woof. 
Ski, Ice Climb, or Hut trip with Aspen Expeditions
Aspen Expeditions is a company as varied in offerings as it sounds. First to mind is backcountry skiing, though. You'll have access to untouched snorkel-deep powder, tree lines, and cliffs along the backside of Aspen Mountain, Snowmass, and Highlands, too. For the daring and more experienced, the extreme style experience can be found along the giant 4,000′ to 7,000′ lift accessed lines they offer off of Highlands and Snowmass Mountains. We're talking real hardcore. Pick a local 14er or 13er and they will take you there. What's more, once Independence Pass opens, so does a whole 2nd season, and access to the "really big stuff" says general manager Dirk Bockelman. The fun doesn't stop there–they also offer ice climbing minutes outside of Downtown Aspen, and stellar hut trips for any level of skier, any time of winter.
Axe throwing at AXD Babe: 689 Main St, Carbondale, CO 81623
When did "axe throwing" become a leisurely activity? All we know is nothing feels better than hurling a sharp object at a hard surface to get any aggression, stress or energy out at the end of a long quarantine week. Get a squad together and head on down to Carbondale to throw out any of that pent up energy, get out your at-from-stressors stressors, or just add a twist to your regular Friday night routine. After target practice, you're invited to imbibe in local beer or cocktails, and treat yourself to food from the Rolling Fork by the fire at the AXD Babe's lounge.  
Ice Kart Racing on the Water Ski Lake, Carbondale, CO
This little-known treasure just north of Willits in downtown Basalt is also home to one of the most exhilarating outdoor sports on the western slope. Think: Mario Kart meets Ice Skating. Frozen in the winter months, the lake is hidden behind a tree farm that just so happens to moonlight as an ice kart racing rink too. It's exactly what it sounds like! Jump behind the wheel of an ice kart and glide along the ice-covered lake–race your friends, go at your own pace, or just take in the scenery behind the wheel. Whichever you choose, we guarantee you'll be glad you came. Operating hours are from 9 am – 2 pm, 7 days a week, weather permitting. Reservations are required and you can make them by calling or texting 970-404-0633 or 970-404-0665 or by email at [email protected].
Ice Skate Ruedi Reservoir
 Like seeing a shooting star, it only happens every once in a blue moon that you can skate on this hidden treasure of a lake. In most winter months,  the snow covers the ice, so skating isn't an option, but in that sweet in between period of clarity, you'll be able to taste the thrill of some of the best raw and real ice skating this side of the Mississippi. Grab some buddies, pack a cooler, and rent some skates from one of the many shops in the valley, and drive down the FryingPan River to set up for a day. Whether it's ice hockey, figure skating, or learning to skate for the first time, you'll find it on Ruedi. 
DIY Ice Hockey Tournament
It's no secret home workouts are booming–the YouTube craze and Peloton era is here, and let's face it–like many things to come from the pandemic, it's here to stay. But with vaccinations ramping up, there's a definitive light still shining for social events to come. Getting outside and being active is a wonderful solo experience, but when it's done with a group (and in the snow), expect that high to be magnified. This applies not only to your après ski group, or your camping squad but also your very own sport team. Who says you have to quit hockey post-high school? Build an intramural team and make the most of these winter conditions. Pick up a hockey stick, form your team, and make a facebook group to get the competition started and get out there. Here are some lakes we recommend to get the team hype for the "W": Maroon Lake, Aspen Ice Garden, Aspen Recreation Center, Aspen Sports/Silver Circle Ice Rink.
Snowmobile at T-Lazy-7-Ranch
Fulfill your need for speed and channel your inner James Bond by renting a snowmobile at T-Lazy-7 Ranch, one of Aspen's premier snowmobile tour operators. Safe and fun for the whole family, riding through the mountains on a snowmobile offers an escape and view of the wintry landscape, unlike anything you've likely seen before. While not as taxing as skiing, hiking, or snowboarding, the rush you'll get behind the wheel of a snowmobile is just as satisfying as it is often leisurely. Tours are led by experienced guides who know everything there is to know about Aspen and the White River National Forest. Make a reservation now, because they book up fast! 
Sled One of the Many Hills Around The Valley 
This one's a little more traditional, a little less dangerous, and a little more dependable. If you're looking for the rush of speed and snow, but don't want to spare the expense of hopping on a pair of skis or getting behind the wheel of a snowmobile or ice car, head over to Basalt high school and sled down ARC, a local and little known gem of an excursion. You can easily buy a $25 sled, and carouse the area for a powder-fresh hill to slide down. This one's free, it's easy, and it's GUARANTEED a good time. Some hills worth checking out: "Whoa Nelly Hill" at the Aspen Recreation Center, Snowmass town park at Snowmass Village, River Valley Ranch Driving Range in Carbondale, Marion Gulch in Carbondale, Crown Mountain Park in El Jebel, and Four Mile Park Sledding Hill in Glenwood Springs Just remember, slow and steady wins the race, Griswold. 
"Hike the bowl" and go to Cloud 9: Aspen Highlands
Let's be honest, it's all fun and games here. That's it, that's the sentence. You can have your cake and eat it too. So why not get a day of skiing in and top it off at the funnest champagne party on earth? Odds are you've seen it all over the gram'–the good news is you can still hit it up in person too! If you don't know the terminology, "hiking the bowl" is a local's way of saying they plan to drive to Aspen Highlands,  and ascend a 782-foot bootpack trip from the top of the Loge lift.  Slow down. Take a breath. Take in the vista—Pyramid Peak, The Maroon Bells, and fourteeners like Castle Peak and Conundrum are all within eye range–you won't want to skim them over! 
Snow Cat Skiing – Aspen Powder Tour
Nestled in the heart of Arapahoe National Forest, you'll find Jones Pass Wilderness, a premier spot for one of the coolest and most unique experiences this side of Denver. Snow Cat Skiing offers snowcat ski tours across 2,600 acres that range anywhere from 10,500' to 12,800', and some of the most stunning views you'll have the chance to see in Aspen. This is a journey we recommend you prepare for by getting a good night's rest and eating a hearty breakfast. You're destined to walk away at the end of the day with some tired legs but eyes full of wonder and an experience you'll remember for a lifetime. The well-trained guides here offer a slew of options for ski rental, gear, safety equipment, and more. They'll even provide a photographer to capture the sweetest moments of your tour, so you don't have to lift a hand from your poles. To top off the end of what we promise to be a stellar day, après with a cold one,  compliments of Steamworks Brewery.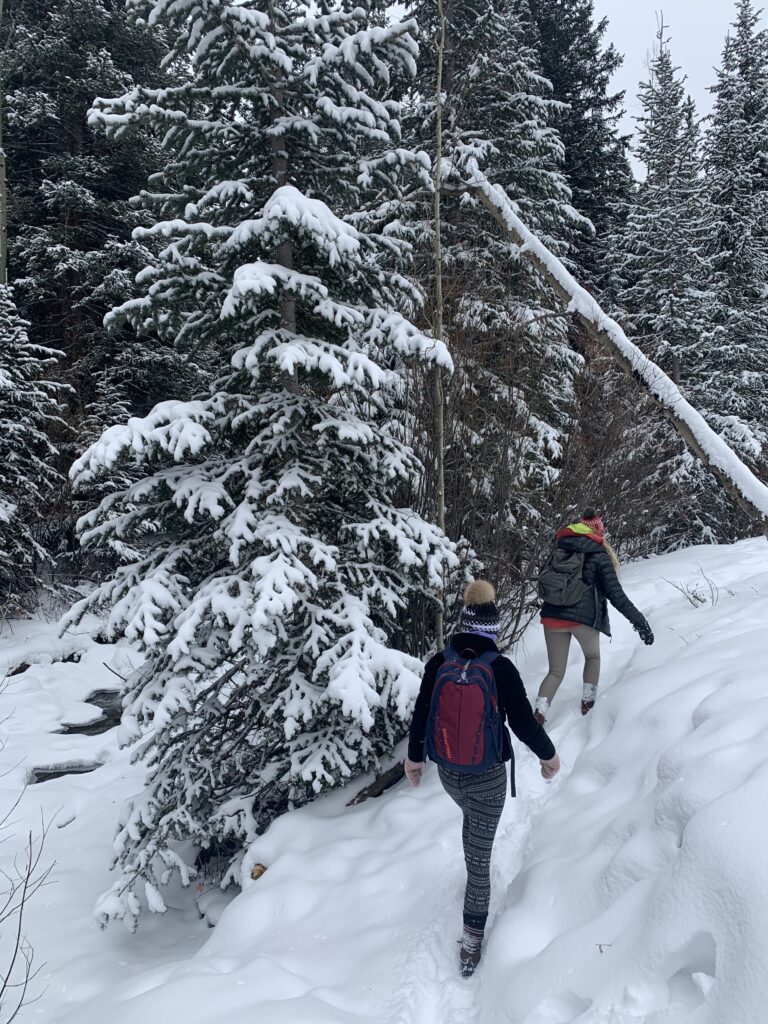 Paraglide in Aspen or Snowmass
Their website claims "Aspen Paragliding is the premier paragliding school in the country" and we are here to back that up. Established in 1990, visitors have flocked here for views of the town and the Rockies you can only experience by air. If you're scared of heights, you don't need to be here. The USHPA certified pilots have years of experience and are pros at making your experience equally as thrilling as comfortable. If you aren't familiar, paragliding is comparable to flying (not in a plane, but more-so on bird's wings). It's a silent, stunning tandem journey through the air. All you have to do is look down to get the full experience!
A glider takes off from Sam's Knob in Aspen: Aspen Paragliding. Photo Credits: Aspen Paragliding