Welcome everybody in town for the 2019 Food and Wine Classic in Aspen. While you are here, we want to help you to escape for a bit and get out into the mountains. Earn your fun!
Five Aspen Hikes Near The Grand Tasting Pavilion
Hunter Creek – Miles one way: 6.5.  Elevation: 8,900 ft. – 10,400 ft. The trail begins just east of the apartments on Lone Pine Road or directly off of the Rio Grande Trail extension.  This is a beautiful gradual uphill climb along the Hunter Creek towards Hunter Valley.  To access the upper trail, drive north on Mill Street, veer left onto Red Mountain Road and follow for 1.1 miles to Hunter Creek Road.  Turn right onto Hunter Road and follow the signs to the parking lot.  Upper portions of the trail pass through alpine meadows scattered with several abandoned homestead cabins. (EASY – MODERATE)
Smuggler Mountain Trail – A local dog owner's favorite, this dirt road is a well trafficked road popular amongst the locals for those that only have an hour to get outside for reprieve from work. It is a short (1-1/2 mile) walk, run or mountain bike ride with great views of Aspen from the look-out point at platform. You can loop into the Hunter Creek Trail or continue up to Warren Lakes. (EASY – MODERATE)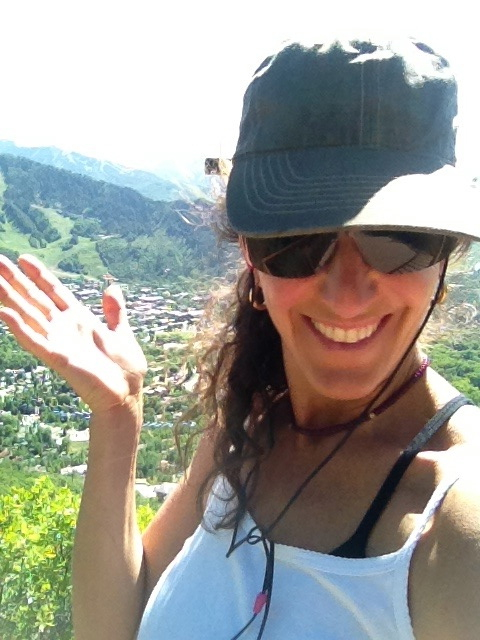 Sunnyside Trail –  Miles one way: 6.3. Elevation: 8,000 ft. – 10,000 ft. The first part of the trail contains a series of switchbacks through sagebrush and scrub oak. If you make it to the top the trail joins with the Hunter Creek Trail in the Hunter Creek Valley. As there are many spurs that can lead to one getting lost if you continue on a topographical map, or bringing a local along is recommended. (MODERATE – DIFFICULT)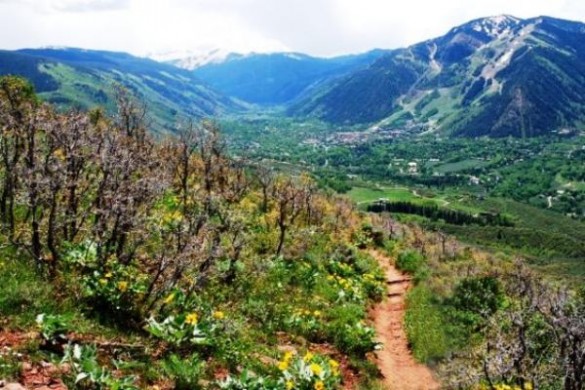 Ute Trail – Trailhead to Ute Rock Overlook – 0.9 Miles. Trailhead to top of Aspen Mountain – 3.1 Miles #dogfriendly. Starts close to town on Ute Avenue. The sign for the trail is approximately 0.4 miles up Ute Avenue on the right if you are headed east. It is steady uphill with switchbacks, 0.9 miles and 1,000 vertical feet to Ute Rock. The reward? A quick heart-pumping (or stopping) workout with incredible views looking up and down the  valley. You can also continue to to the top of Aspen Mountain (for the acclimated and fit it takes under two hours. Make sure the gondola is running to take you back down). (Difficult)
East of Aspen Trail – A 3.1 mile trail with dirt and paved sections. One of Aspen's most gradual and scenic #dogfriendly trails. This trail parallels the Roaring Fork River Southeast of Aspen for over 3 miles. There is an interpretive wildlife-viewing stand along this trail at the North Star Nature Preserve. (EASY)

So there you have it. No more excuses. Get out there and earn your vino!
Remember it's the mountains and the weather changes rapidly. Bring water, rain gear, snacks, your phone and a map, and let people know where you are.
Tag us on Instagram, Pinterest, Twitter and Facebook. We want to see your pictures! #fwaspenarl @AspenRealLife
For a map on hikes in our area, click here.