About 40 miles down valley from Aspen there is a growing mountain town known for its healing waters and friendly business establishments. It's also where many of us travel through on our way to other destinations and it has been a mission of mine to find the treasures to visit while passing through. Join me on a FAM Tour to Glenwood Springs and get tuned in to the fabulous restaurants we visited while there. Visit Part 1 to learn more about the sacred waters of Glenwood.
Hotel Colorado
After a quick change from river to luncheon attire, Solomon Liston and I entered the courtyard of the Hotel Colorado to meet our hosts; Glenwood Chamber Director of Tourism Promotion, Lisa Langer, and Tourism Promotion Project Manager Marlene Neidert, of Visit Glenwood.
The introductions were warm and real and we bonded over Chef Franz Garcia's Shrimp Bang Bang Tacos and Caprese Chicken Sandwiches. The Executive Chef at Hotel Colorado is Aaron Haga who was Executive Sous Chef at The Broadmoor back in 2015.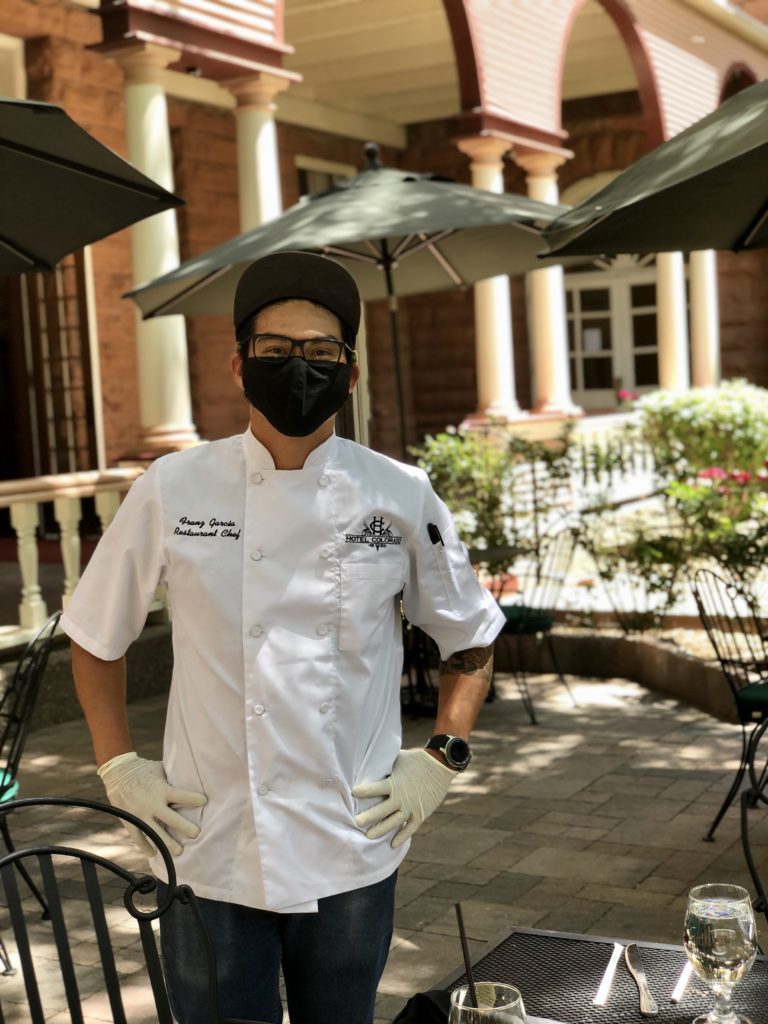 When I think of Hotel Colorado its rich historical characters who visited in the early 1900s come to mind. No doubt it was an exciting time back then with guests staying there like; Teddy Roosevelt, William Taft, and the "Unsinkable" Molly Brown. According to VisitGlenwood.com, the 26th U.S. president ran the country from The Hotel Colorado in the summer of 1905, earning it the nickname, "The Little White House of the United States." What drew President Roosevelt to Glenwood Springs was the Grizzly Bear hunting (yes, they used to live here). They were overhunted.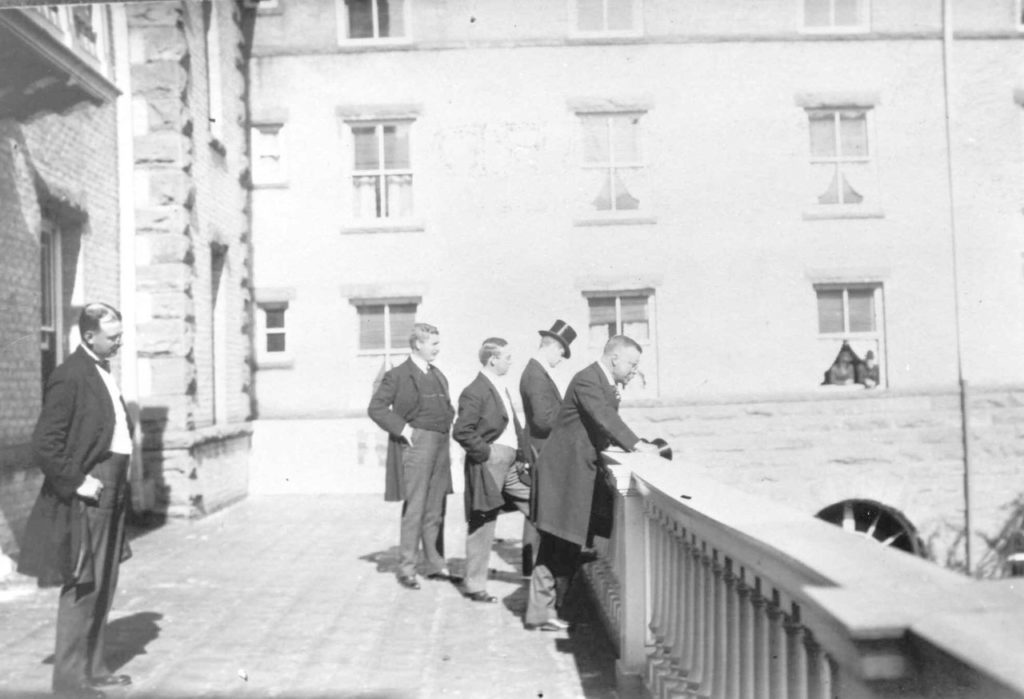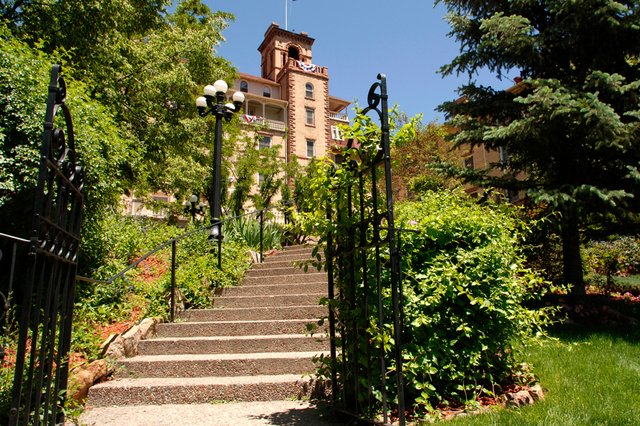 The locally loved Melville family took over ownership of the Hotel Colorado in 2018, they also own the Mountain Chalet across from St. Regis Aspen, and the Cristiana Guesthaus bed and breakfast lodge in Crested Butte.
With a great location by the river, Hotel Colorado is in proximity to the historic railroad station as well as to The Glenwood Hot Springs, Iron Mountain Hot Springs, Yampah Spa, and Glenwood Caverns Adventure Park. LEARN MORE
Glenwood Springs Food Scene
This part of the evening was sponsored by FirstBank. FirstBank is a sponsor of Aspen Real Life and they also sponsor others throughout the valley who support the community. Stacey Novak, Glenwood Springs FirstBank Vice President, and one of Solomon's closest friends stayed with us after rafting, and together we made the rounds to their favorite places for cocktails and appetizers. As we hopped from one place to the next, I saw in action how Solomon's motto of building businesses off of relationships worked in his circles. With every business owner and Chef we met, the love was real and I bared witness to the tight network of support they had with each other, a network that I would like to see radiate throughout our valley.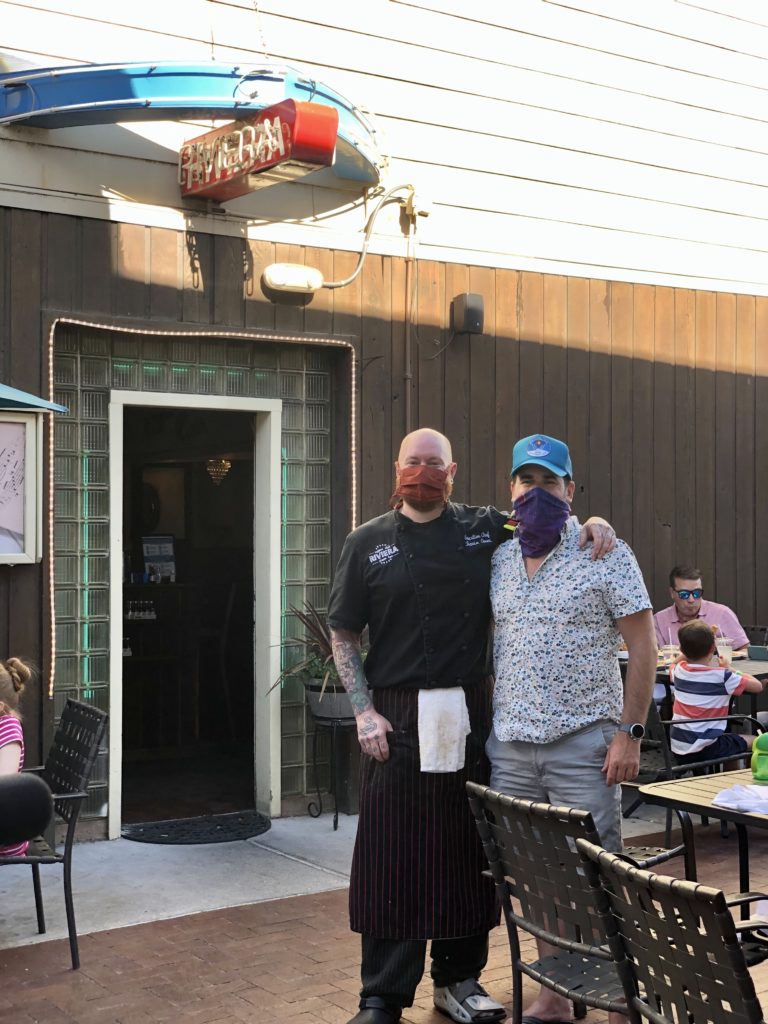 Riviera Supper Club & Piano Bar
First on Solomon's agenda was to get his favorite cocktail at the Riviera Supper Club, the French 75, which he gets served to him in a sippy cup rather than their fun cocktail glasses, apparently too fancy and fragile for someone who expresses himself through his hands.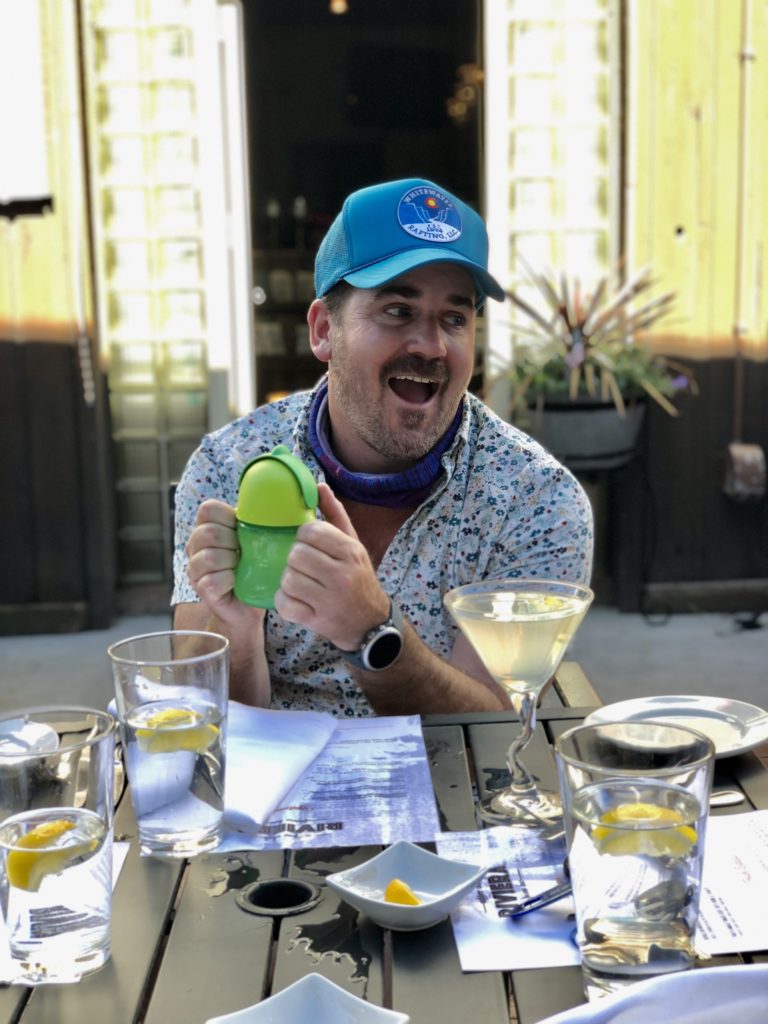 Riviera Supper Club Taste Menu
The Executive Chef and Owner of Riviera Supper Club, Travis Owen, another Glenwood Springs native, has been in the industry since the age of thirteen. Known for his playful culinary techniques we experienced his infusion of cultural flavors, beginning with The French Baked Brie appetizer with house-made orange marmalade, accompanied by a preserved lemon vinaigrette dressed salad and sourdough crostini. The other dishes offered a peek into Owen's love for the mingling of flavors. I was surprised by how much I enjoyed the Char Siu (a traditional Chinese BBQ sauce) on pulled pork that had been sauteed with their house Kansas City-style BBQ sauce. On the same plate was a honey-marinated garlic-crusted grilled shrimp with soy, fish sauce, and lime, and the combination was surprisingly incredible.
Our final dish was a play on Franks 'n' Beans with grilled Snake River Wagyu Beef Frankfurters nestled into a bowl of Trav's famous baked beans, accompanied by Wisconsin white cheddar cheese curds and garnished with pickled onions. For someone who tends to stick with light food, my palette was reawakened from my time lived in NYC where I had a more exploratory stance on food.
The live music and theatre at The Riviera Supper Club began with Phantom of the Opera Musical Director Jonathan Gorst. Kyle Jones is the current musical director. Since he is unable to play inside with the social distancing measures, he's been playing under the bridge. I can only imagine the incredibly intimate evenings that transpire in there once they resume their "normal" programming. Riviera Supper Club is on my list to go back and experience the entire production.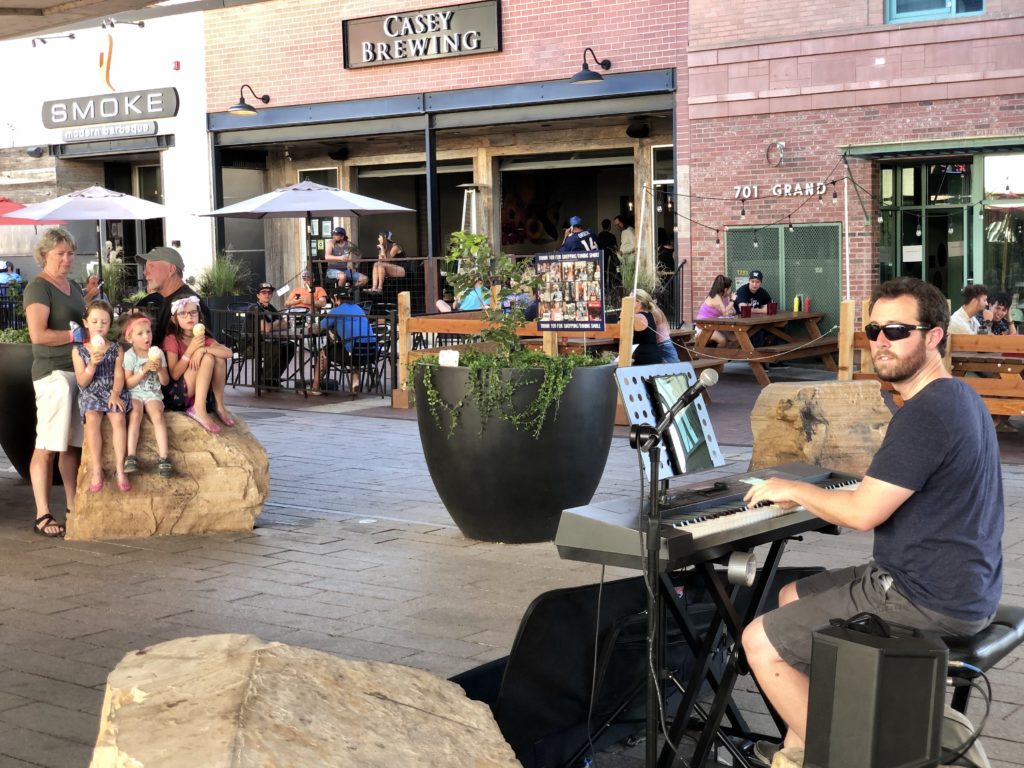 CO Ranch House
The owner of CO Ranch House, Krissy Clary, caught my eye as she rode in on her town bike, wisps of blonde hair flying and bright blue eyes speaking many an adventurous tale, she let us know that our table was ready.
With a western-inspired menu including locally sourced beef, Rocky Mountain Trout, sustainable salmon, and local craft beers and spirits decorated with fresh basil pulled from the garden, Krissy served us up everything "House Made" as we sat on the patio enjoying the intimate and private setting. Of course, the Fried Chips with House Made Ranch was set right before me and I delicately devoured all of them, along with Duck Wings and House Smoked Trout Fillet, the perfect fare to enjoy after flyfishing on the gold medal waters all day, or after a long day of horseback riding out in the wilderness.
The restaurant has been around for over 70 years. The previous owner, Tony Rosa, lives upstairs and comes down for coffee every day.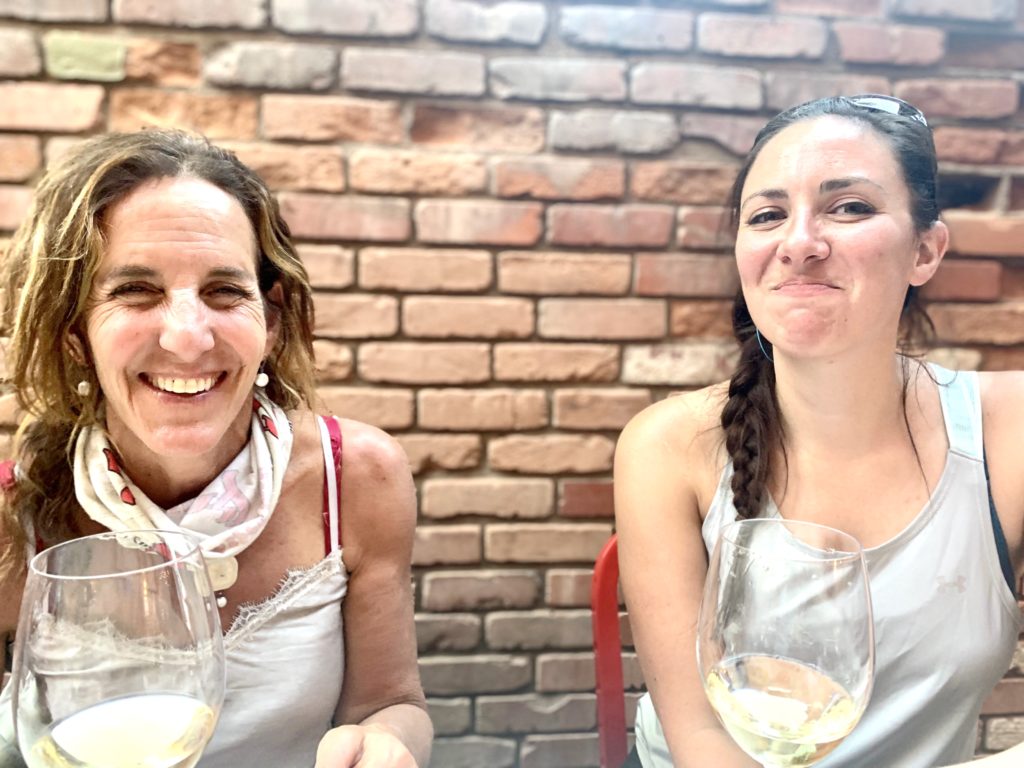 Brava Modern Trattoria
And now it was time for dinner at Brava Modern Trattoria, the newest modern Italian restaurant in Glenwood Springs focused on house-made Italian cuisine. When I tell you that I love sharing the treasures I find in my travels, Vinny, Owner of Brava Modern Trattoria, is one of them. With a history of being a Chef at Cache and Cache and Pinons in Aspen, Vinny brings vibrancy and charm to Glenwood with his romantic Italian restaurant. Visiting our table and pouring our red wine from a beautiful decanter, Vinny moved with a Latino grace sharing how he moved away from Aspen because he didn't like "the show". What Vinny does love is everything sexy, from the divine food to the pouring of the wine, and his international flare transported me to somewhere more exotic than a Colorado mountain town.
All the incredible reviews on trip advisor about Brava Modern Trattoria are so true, the dishes were so fresh and exciting to the tastebuds, and Vinny's charm and grace were as enticing, but perhaps not as angelic, as the house-made Tiramisu and Crème Brûlée. It is difficult to find any information on Vinny, I guess to know him, you just have to go in there and experience him. With the tagline of, "where friends become family," you will quickly feel as though you have found your home away from home. The atmosphere is one that entices you to sit and talk for hours over wine and traditional dishes like Brasato and Saltimbocca, but I am out of practice and my room at Hotel Denver was awaiting and so we left and walked under the moonlight back to my hotel.
Hotel Denver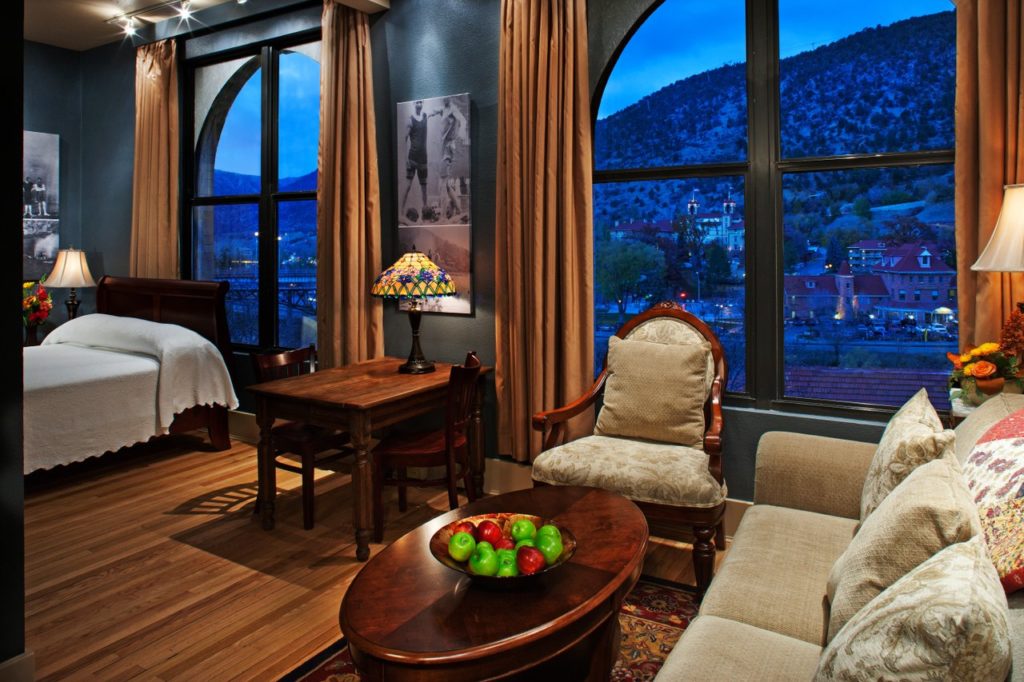 I can't count the number of times I have passed by the lobby of Hotel Denver wanting to go inside to check it out and I was looking forward to finally experiencing it. Originating in 1915, Hotel Denver surprised me with its old-world charm combined with a modern flair with wood floors in the hallways rather than carpets to give it a light and aesthetically clean feel.
I could have camped out in that room for weeks, exploring Glenwood during the day and writing about it in my spacious room in the evening, but my real life consists of boys who need to be fed and a blog that needs tending to, and so I had to pack up and leave the following morning after awaking to views of the sun rising over the mountains.
Special Thanks
BIG HUGS AND KISSES to the fabulously fun, informative, and most loved "Man About Town," Solomon Liston, as well as to Stacey Novak, VP FirstBank. To connect with you two made my FAM Tour everything I had envisioned, and so much more. You are my new "plus two" and boy what fun are we going to have together.
The videographer for the Tour was Nicolas Rojas of Tank Media. Follow Nico at @Iamnicorojas on Instagram. Nicolas believes that everyone has a story and his passion is to tell it. Nico's expertise includes; brand building, video production, photography, and graphic design.
Glenwood Springs is a nature lover's paradise. Long prized for its healing natural hot springs, the town is encircled by the White River National Forest and is located just miles from world-class fishing, skiing, hiking, and more. This blog post does not even come close to covering all that Glenwood Springs has to offer, but it's certainly a start. For more ideas, go to Visit Glenwood. If you visit any of these places mentioned, tell them you heard it here, and be sure to tag us on social media with your photos.