When I turned 47 I started to hear an expression that has increased in volume and magnitude every year, "When you get older." When you get older your ovaries dry up. When you get older you start shrinking. When you get older your hair thins. When you get older you get sunspots …. Have I really needed those reminders? What I haven't heard is that when you get older you will start looking more like your father as your ears and nose grows and your eyebrows get bushier and curlier, which only made my father look more distinguished by the way, but on his youngest daughter? Not so much.
Permanent Makeup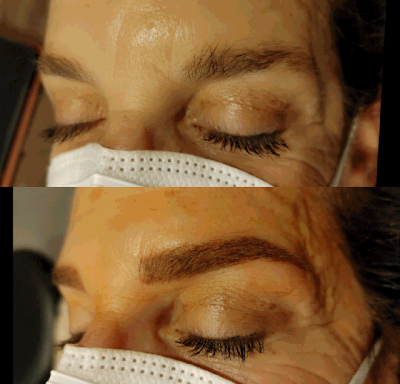 Before having my eyebrows done, with little interest in high maintenance, on a good day, I would glimpse into the mirror, smile, throw on some mascara, and give myself a wink. On my bad days, I would examine myself with disdain, pull out the tweezers and start plucking and trimming with abandon until my brows were practically non-existent, using an eyebrow pencil to fill in my butchering.
It's one thing to learn how to put on makeup to improve one's looks but my brows are a beast I have never been able to control. That is until I met Krystal Welch, Aspen Vida Medi Spa's visiting permanent makeup artist. Krystal travels from Arizona several times per year to bring her skills to Aspen using Microblading and Microshading to create perfectly manicured brows. With special measuring tools and high-quality pigments, Krystal creates a full and balanced set of brows customized for each individual. With a wide range of skills, she artistically creates natural-looking brows, beautiful bold brows, or permanent eyeliner. Krystal's technique with me was "shade & blade," a combination of the popular "microblading" and "old school Polynesian style tattooing" done with a tap tool. She also does lip blushing and eyeliner with an electric tattoo machine. She uses high-quality organic carbon-based pigments made for the face.
Knowing that new brows may be too much of a shock to the likes of me, Krystal started me off with a Henna brow to get me used to the idea. The Henna only lasts a few weeks and I loved it so much I booked Krystal's next appointment to get the real deal.
The procedure takes about an hour and involves hundreds of tiny strokes that build a texture that looks like your own eyebrow hair, it can last 12-18 months or you can get touch-ups to keep it going longer. Click here for more information.
Before & After Microblading & Lip Blush
Does Microblading Hurt?
As somebody who is not good with pain, I was nervous about the procedure. Microblading cuts into the skin in the area of your eyebrows and implants pigment into the cuts. The first time meeting with Krystal is more involved as she shapes and color matches the brows and I am not going to say that it didn't hurt, but Krystal applied numbing cream which definitely helped before she tapped in the color. It was mostly the tapping at the end of the brow that caused discomfort, but just when the pain was feeling intense, she would lift her instrument to offer relief.
I have loved my brows from the onset. For the first time ever, they are perfect and I love how they frame my face. My eyes also feel so much greener, but you don't have to go as dark as I have, you can choose whatever color you want. You can also go out that night if you are bold but be prepared that the brows will be red and there is some aftercare involved by applying a cream twice a day for a week to lessen the scabbing and crust off. It sounds gross but the scabs do peel off in the following week. Although I did go out the week I had it done, feeling like Groucho with new intense and dramatic brows I wore lots of hats. The brows fade about 50% over the following weeks.
The true test came when I visited my mother back east. She always reprimanded me for plucking too thin as a teenager and I braced myself for the horrifying recognition that I was still fiddling, but she loved them! The second test was my sister, who also approved, and then of course the friends, many of who are going to book their own appointments. And the best part of it all? I feel younger. As someone who throws herself in the limelight often, I am grateful to no longer have to add my brows to my coiffing, and I don't suspect I'll be hearing that statement about getting older …. as much. Krystal has been the best thing who come my way in a long time and I am so glad I found her for myself …. and for all of you.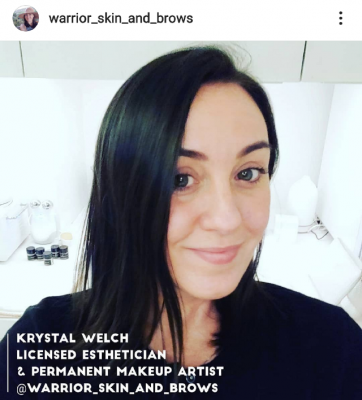 Krystal will be coming to Aspen in January 2022. Contact her to schedule your appointment or to set up a consultation: 808-747-9404
Eyebrow Pricing: $650 for the initial visit
1-month touch-up is $150. Annual touch-up $150-200
Eyeliner Pricing $300 for the top $250 for the bottom. $500 both
Follow Krystal on Instagram @warrior_skin_and_brows