"One minute I'm playing Pickleball the next minute on the court I'm consenting to wear the same Oliver Charles sweater every day for an entire week. Now you can't keep us apart." ~ Jillian Livingston
There is nothing we love more than to meet somebody new and learn about their entrepreneurialism, especially when they live in the valley. As will happen while playing Pickleball, our publisher Jillian Livingston, met one of these entrepreneurs on the Pickleball court right before Food & Wine. His name is Jack Paley and he is the co-founder of Oliver Charles and also the founder of Aspen Crunch. Oliver Charles is, "a brand that believes in owning less, owning better, and enjoying the little things in life that bring happiness."
When Jillian discovered that Oliver Charles had a One Week Challenge to put the sweater to the test by wearing it every day for one week and posting the journey to social media, she stepped right up to that challenge. Below is her journal for the week:
DAY ONE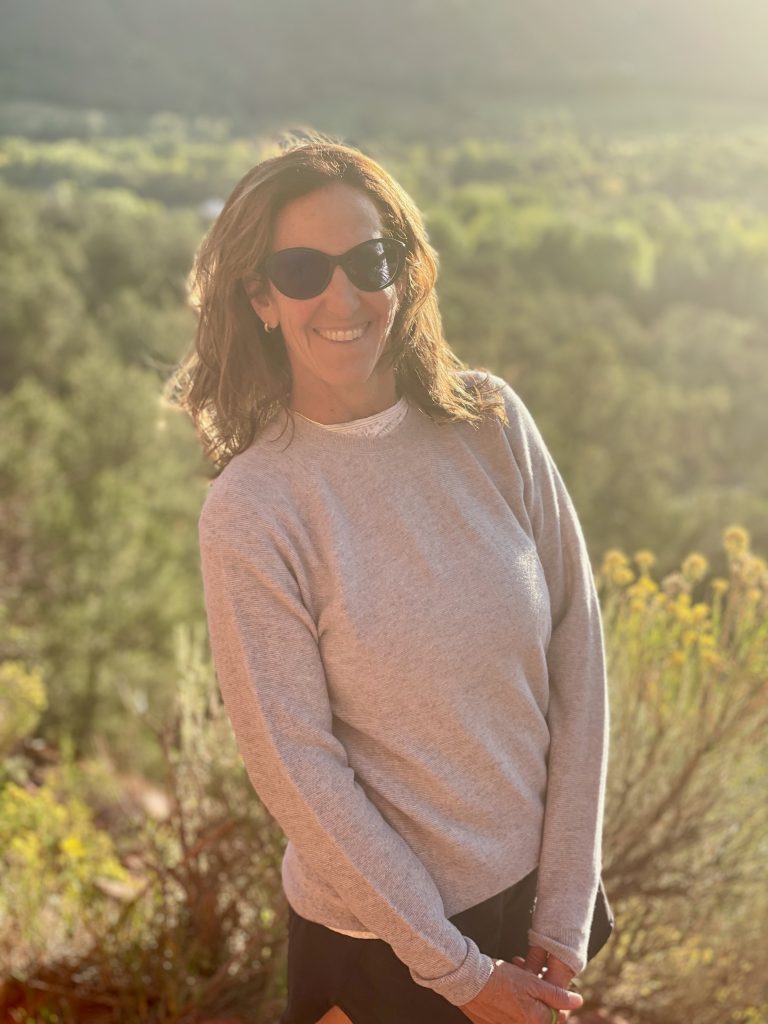 With a message that repeat wear is the new now, rather than overconsuming, I was all over Oliver Charle's one week challenge and so I visited Jack at the Saturday Aspen Farmer's market, picked out my sweater right off the hanger, and away I went to experience their one stitch 3D printed sweater made from "The World's Best Natural Wool. Ideal for #repeat wear because of its comfort, durability, and antimicrobial properties."
Immediately upon putting on the sweater I was transported back to college wearing my boyfriend's favorite sweater.  Soft and cozy on that crisp fall day, I immediately switched into comfort mode and remained in that state of mind for the entire week.
On the first day of my One Week Challenge, I hiked up the Arbaney Kittle trail in the early evening and was happy to have my sweater as the sun began to set behind the mountains. Made from the sustainable soft down wool of high elevation Tibetan Khullu (from the Yak family) the sweater is soft and breathable, and while not quite as buttery soft as cashmere, it sure came in as a close second as I pulled it out of my backpack and slipped it on.
NOTES: I like my sleeves and my waist long on my shirts and sweaters. Oliver Charles delivers in that department!
DAY TWO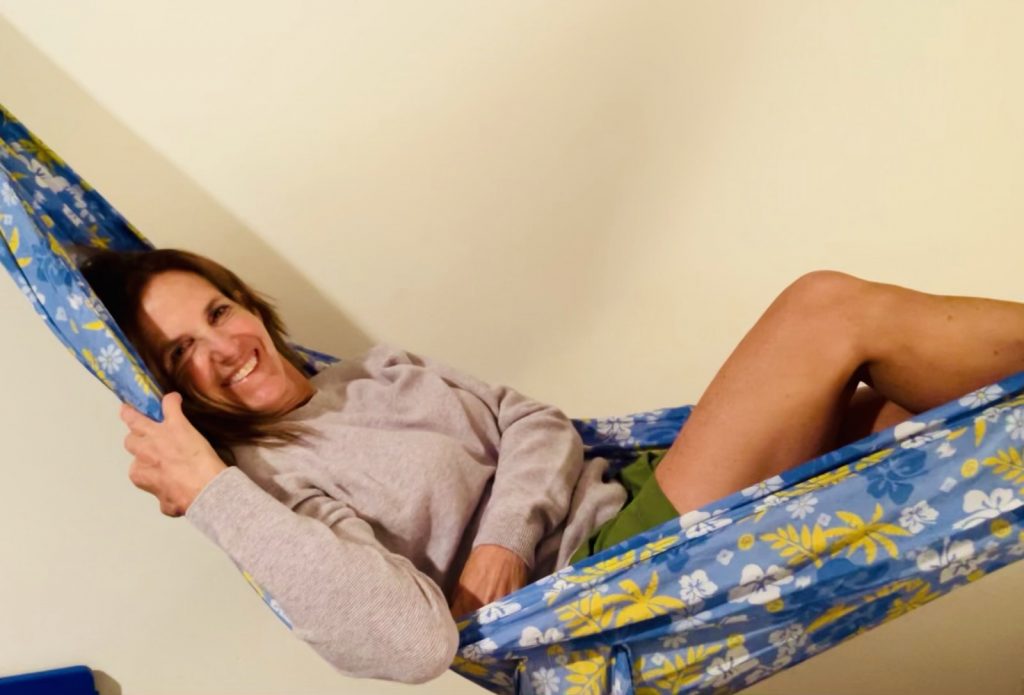 Not every day can be an adventurous one but I sure did get a whole lot of work done on day two. In fact, I'm still working, but feeling cozy in my @oliver.charles.clothing sweater. Somehow, as soon as I slip on my sweater everything gets rosier, like drinking a London Fog on a rainy day.
DAY THREE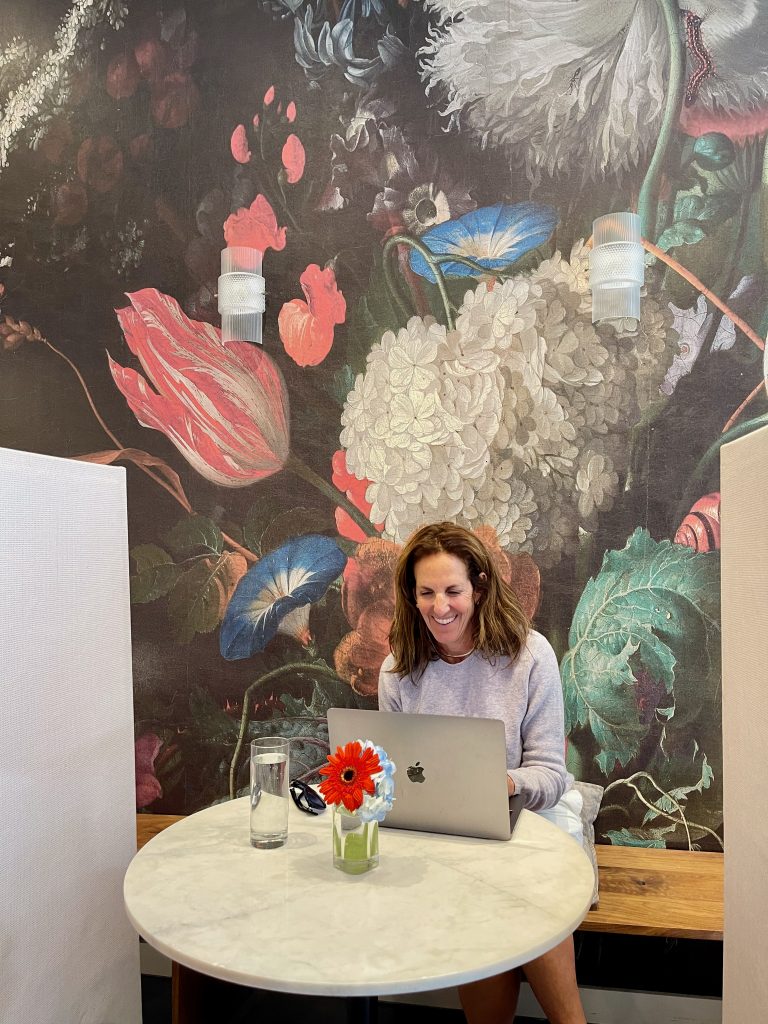 This week was absolutely spectacular, but even in Paradise one has to have full-on workdays.  Full disclosure, I live for the sun and the outdoors and it is very difficult for me to be inside, especially in an air-conditioned room. On this day I spent the entire day working inside and was so glad to have my Oliver Charles sweater to keep me from needing to dash outside every 15 minutes to warm up my body in the sun …. I'm thinking that all those new business professionals who leaped quickly to move here after being in lockdown were looking to me to show them how we locals do it here in Aspen, joining classic elegance with comfort … cashmere and pearls or bust … or in this case, Khullu and gold. Anyway, whether they noticed or not is irrelevant, I felt good, and isn't that all that really matters?
Don't worry, my week gets more exciting on Day 4.
DAY FOUR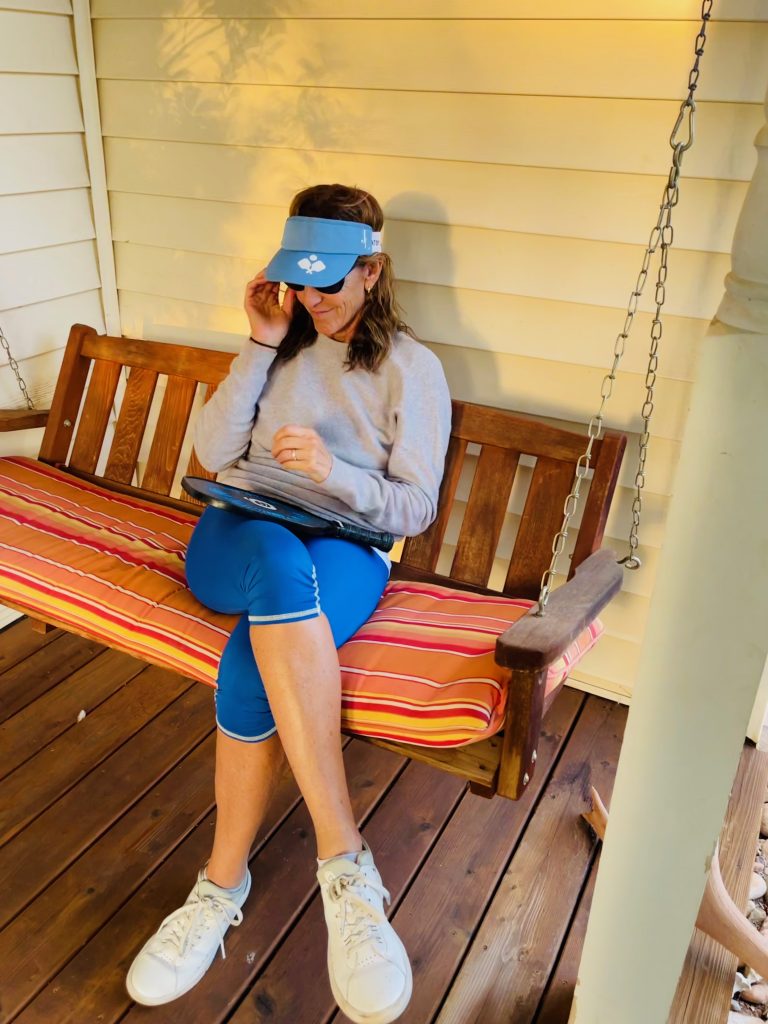 As you may have gathered, Pickleball has become a staple sport in my life and the second the sun goes down it gets chilly where we play in the mountains. I was so happy to have exchanged my scrappy sweatshirt for my Oliver Charles sweater in my Pickleball bag. It kept me at the perfect temperature, which for me is around 77 degrees (I'm an island girl at heart).
This is how my fam found me after, enjoying the last rays of the day on our porch swing, too exhausted to get off after a gorgeous mountain bike ride into the changing leaves and ending just how I like it …. with Pickle Ball …
Reply from Oliver Charles on Instagram: Love this! No better way to up your pickle ball game than by wearing a sharp-looking OC sweater to the courts… this way the other team knows you mean business 😉 Hope you had an amazing day!!
NOTE: I love the texture of the sweater, almost like a tight waffle weave, and I noticed that the grey has an ever so slight pink tone to it.
DAY FIVE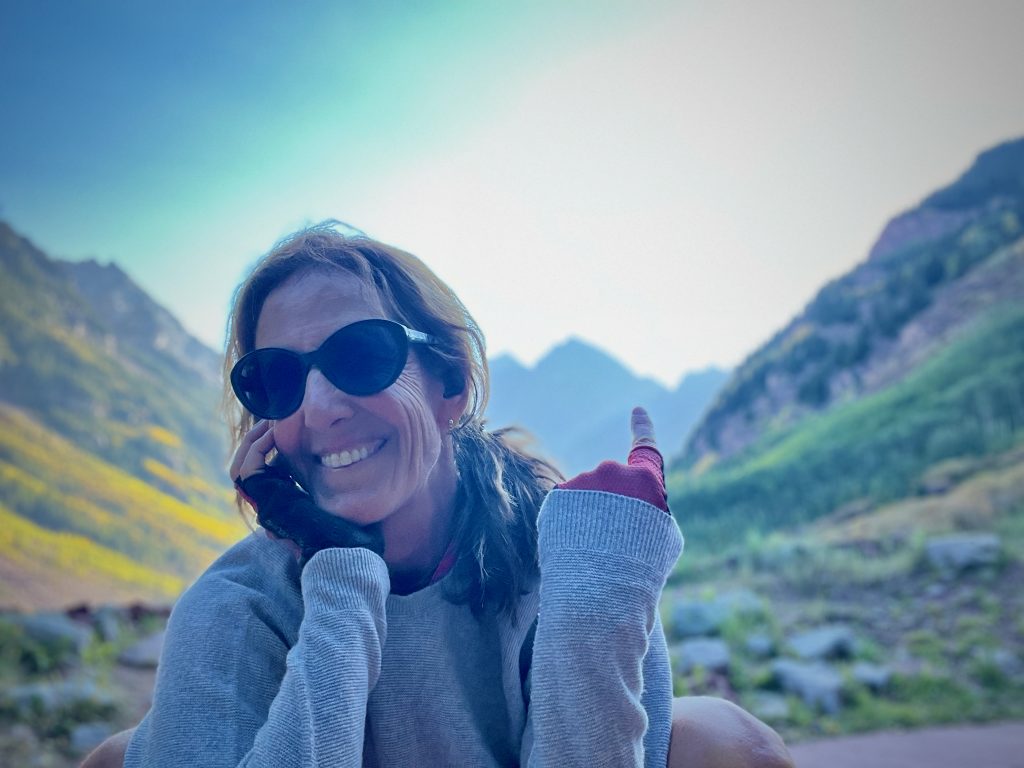 I felt the calling to ride up there … and yes, I brought my sweater with me, and what a good thing I did. The crowds of people had cleared and I had the famous Maroon Bells all to myself and so I spent longer than I should have up there in the quiet, absorbing the energy of the mountains as I sat in the natural amphitheater while watching the sun slowly sink behind those glorious peaks. I wouldn't have been able to stay there for so long had I not had my sweater with me. When the sun drops behind the peaks so does the warmth and the temperature drop is extreme. I would have been completely frozen on the descent if not for my Oliver Sweater to save the day once again.
Made some T Lazy 7 Llama friends at the bottom who I just know were admiring the wool of my 3D printed sweater …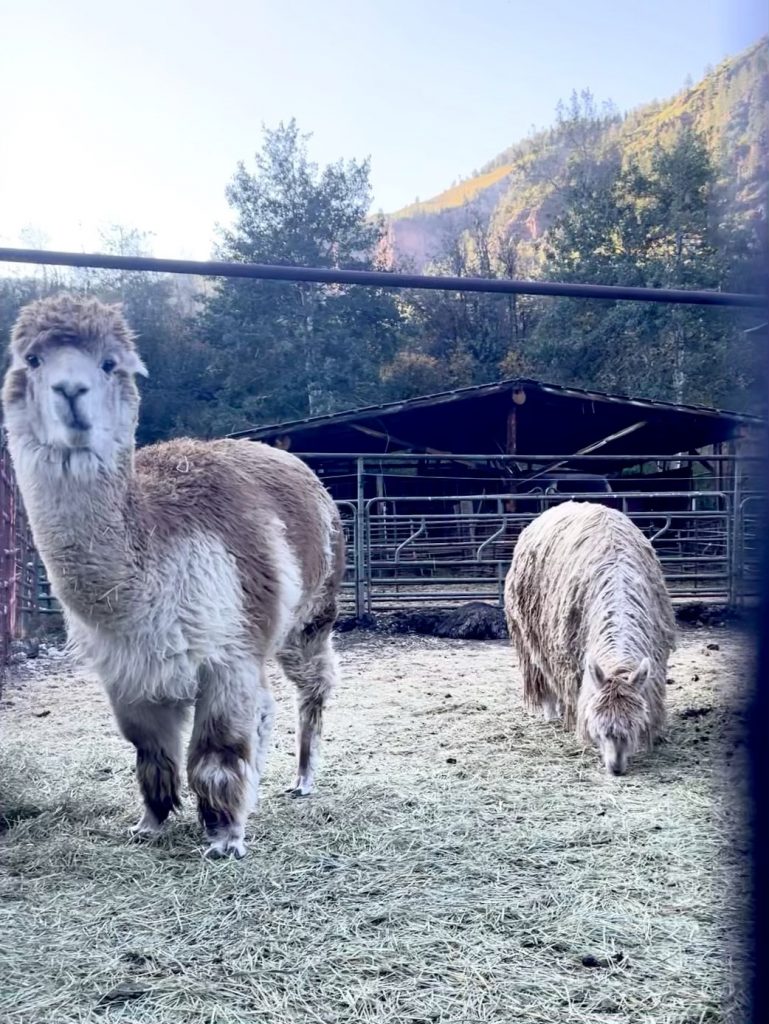 DAY SIX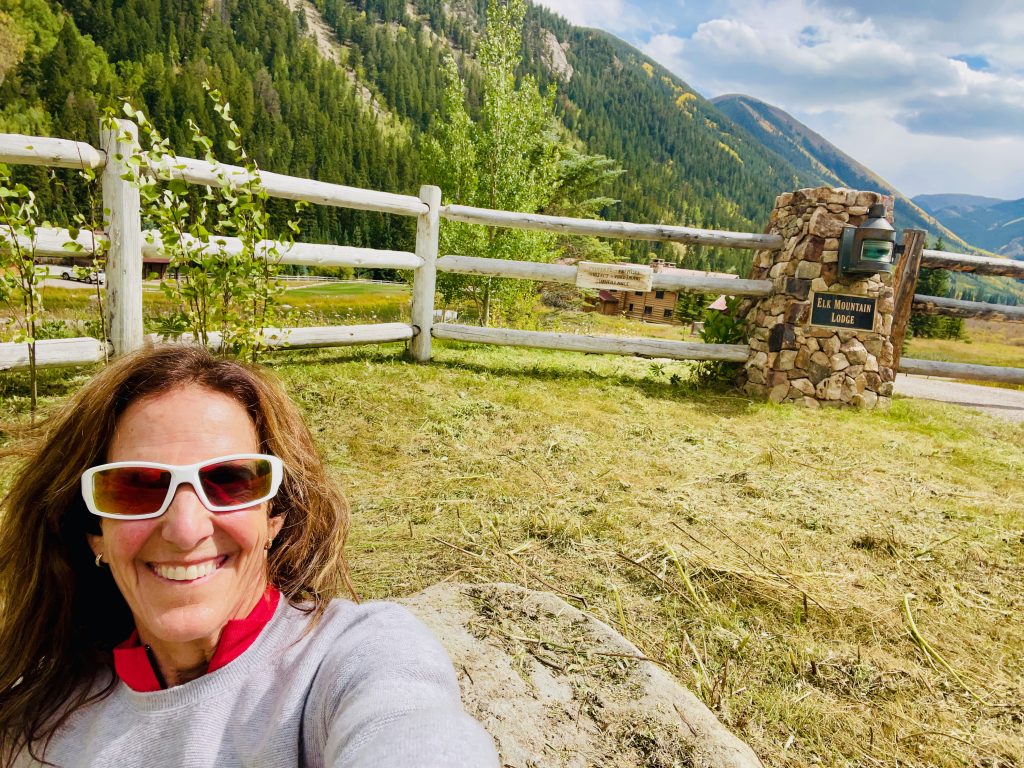 Rode up to Ashcroft to the lodge where my husband and I got married on Sept 26th, 24 years ago. As I rode up the flood of memories came back, the gold leaves peaked on that day in 1998 and the sun rays shrouded us in absolute gold as we walked down the aisle, my father's light shining down on us from up above – we lost him the year before but Wade had already asked his hand in marriage. Harold was just so absolutely overjoyed to know that this handsome badass of a man had asked his very unserious daughter to marry him.
Once again the weather changed and the clouds came in bringing big gusts of wind. Thankfully I had hauled my sweater up there just for the shot … in fact, after two hours of Pickleball and legs tired from my ride yesterday, I probably would have gone home but this field test keeps me going and I was so glad to have my sweater which kept me warm as I rode down in very cold temps.
NOTE TO SELF: If biking up to Ashcroft, ALWAYS stop at Pine Creek Cookhouse for a glass of bubbly and to say hello to my buddies John & Juliet Wilcox.
DAY SEVEN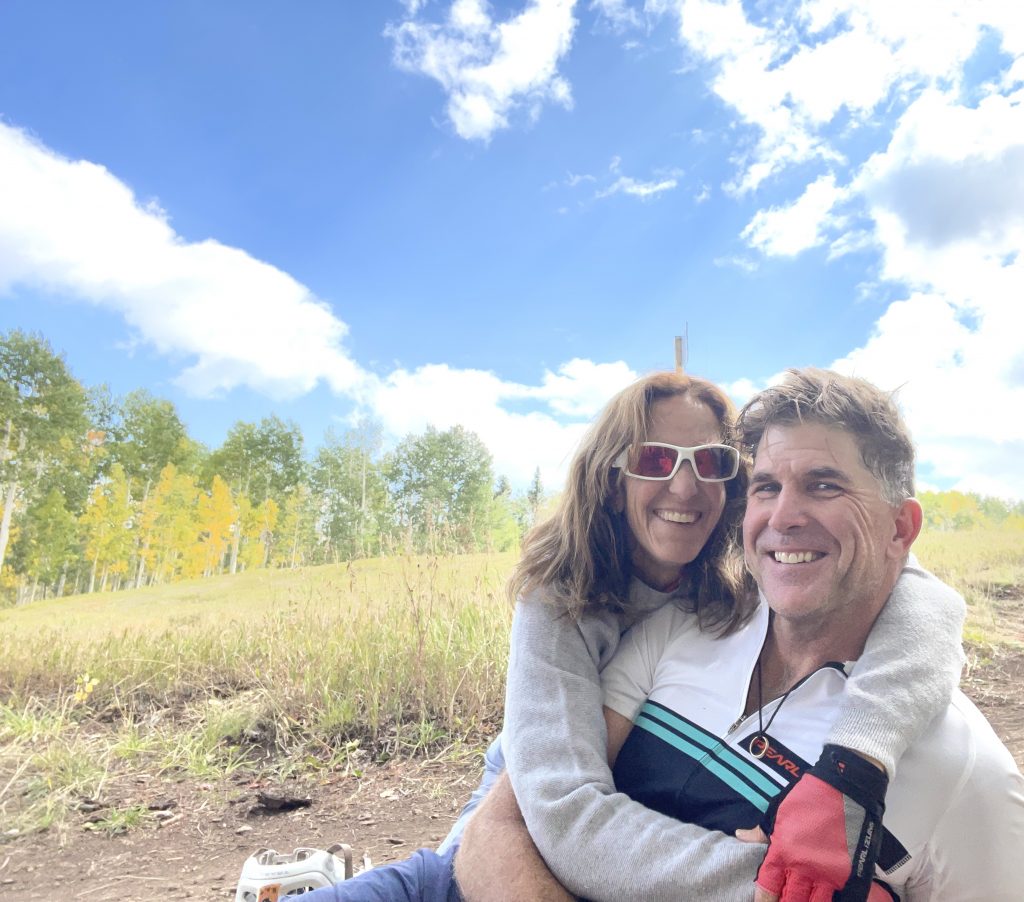 Admittedly, this past week I have felt a little like that gorilla in the 1971 American Tourister commercial. I guess if someone is going to put something to the test, it's me, always on the go … everything in my life needs to be durable and made well to keep up with me.
When I could finally break away from work, and to make my challenge more exciting than it has been for the past three days, I went mountain biking with Wade up the Discovery Trail in Snowmass.
When I pulled my sweater out for a photo opp he laughed at me for hauling it up in my tiny pack for the love of the blog. He examined the sweater in disbelief at how good it looked after a week with me, his gorilla wife.
I kept the sweater on while zipping through leaves of gold, and once again it kept me at the perfect temperature. Oliver Charles sweaters definitely run cooler than cashmere but kept me warm and cozy on the downhill as we rode through the forest.
SWEATER WRAP UP
To wrap it all up:
After one week of shoving my sweater into little backpacks and pulling it out over and over again I'm not going to say that it didn't pill up a little, but nobody should be cramming their good sweaters into bags, and perhaps you don't need to take it road and mountain biking with you.
I am not a stinky person, so it is difficult to gauge the odor-resistant claim, but I have not washed the sweater yet and it indeed still smells good.
All in all, I give the Olive Charles sweater a big thumbs up, in fact, I think I know what I am getting Wade for our anniversary next week …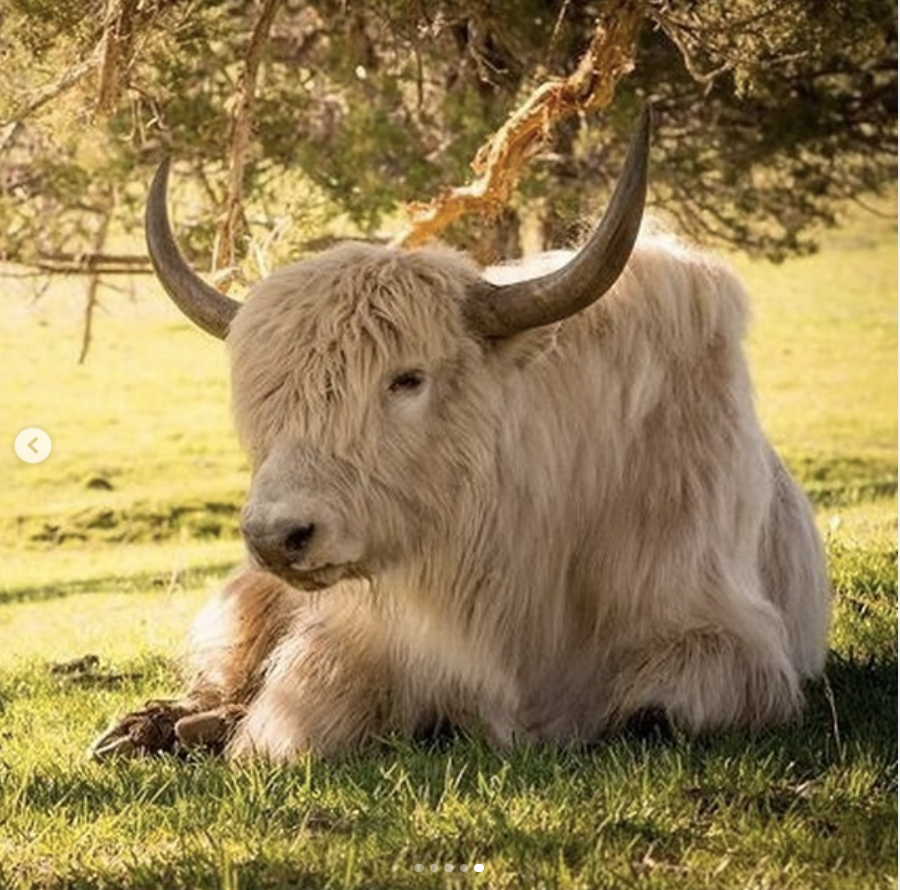 Visit Oliver-charles.com. Also visit @aspencrunch!
| | 3D-KNITTING | CUT & SEW |
| --- | --- | --- |
| COMFORT | Forms to your body. | Irritating seams interfere with stretch/fit. |
| WEIGHT | 10% lighter without seams. | Reinforced stitching is heavy |
| DURABILITY | 360° stretch + no faulty seams. | Error-prone stitching = tears. |
| SUSTAINABILITY | <1% waste. | 21% waste. |
| TECHNOLOGY | Future of knitwear. | Century-old, but improving. |
WHAT IS 3D-KNITTING?

3D-knitting machines create completely seamless garments that are made as one continuous knit and don't require either cutting or sewing.
Removing cutting eliminates wasted fabric. Removing sewing eliminates error, bulk, and even the need for inventory.
3D-knitting requires less raw material, produces less waste, and opens the door to an inventory-less future. 3D-knitting plays an important sustainability role because 35% (36 billion lbs) of material in the global supply chain ends up as waste.
The numbers speak for themselves. According to Tailored Industry, one of the leading 3D-knitting manufacturers in the United States, their 3D knitting approach reduces CO2 emissions by 50%. It also reduces their electrical usage by 43% and their material waste by 93%.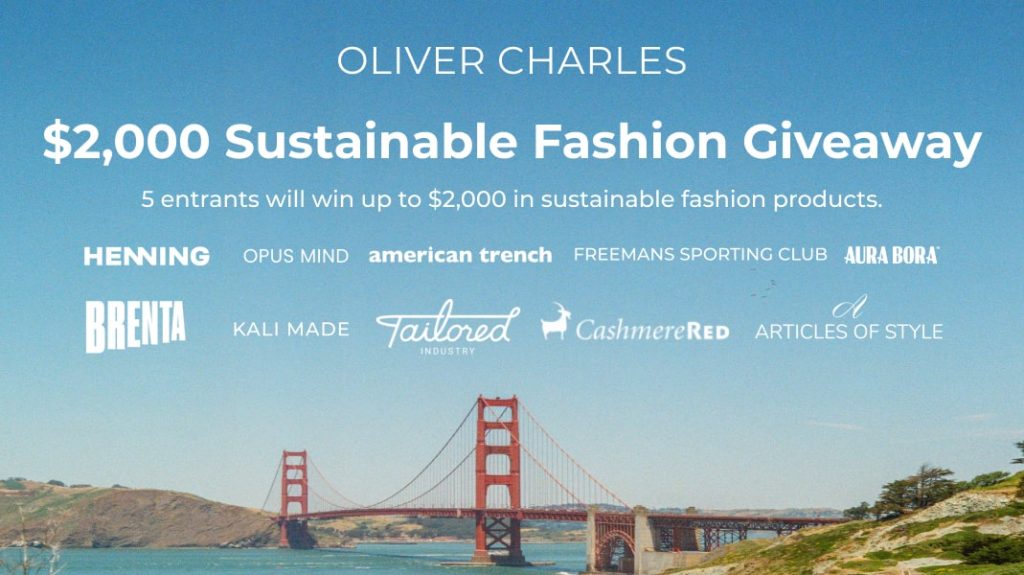 Fun fact pulled from @oliver.charles.clothing on Instagram:
Yaks live at the highest altitude of any wool-bearing mammal. Because yaks can thrive at high elevations, they are essential for humans who've maintained a lifestyle in the mountains. Not only can yaks help plow fields or carry essential supplies to remote communities, but they also shed both strong, coarse guard fibers and soft insulating down fibers in the spring used for clothing and shelter.