Glass gas firepits centered in intimate seating areas, dangerously delicious margarita pitchers, and, of course, the pool and hot tub! The W Aspen WET deck is *the* spot for the Roaring Fork's young adults. With 360° views that include the face of Aspen Mountain, this rooftop experience supersedes its predecessor, Sky Aspen, and is like none another public venue in the valley.
The W Aspen is an experience all its own; upon entering through doors opened by friendly staff, you encounter a foyer that is a well-curated mix of trendy elegance. Designed by Rowland and Broughton Architecture, the hotel has a funky-chic sophistication without feeling stuffy.
R+B sought to design a modern interpretation of a traditional chalet reminiscent of its skiing legacy.

The architecture of W Aspen expresses a sense of a gradual evolution of form and space, while remaining grounded in the chalet vernacular.…W Aspen is a great example of how the true spirit of a property can be maintained while elevating the experiences of the next generation of travelers and residents." ~ Rowland and Broughton Architecture
At this point, you may be thinking "rooftop pool, hot tub, strong drinks, firepits, beautiful design, blah, blah, blah. What is the real scoop on The W Aspen WET deck?
Well, on a given Sunday afternoon, you can vibe out to local and world-renowned DJs getting the party started at the WET deck, making it a premier après mountain biking, hiking, paragliding, and soon skiing, adventure spot.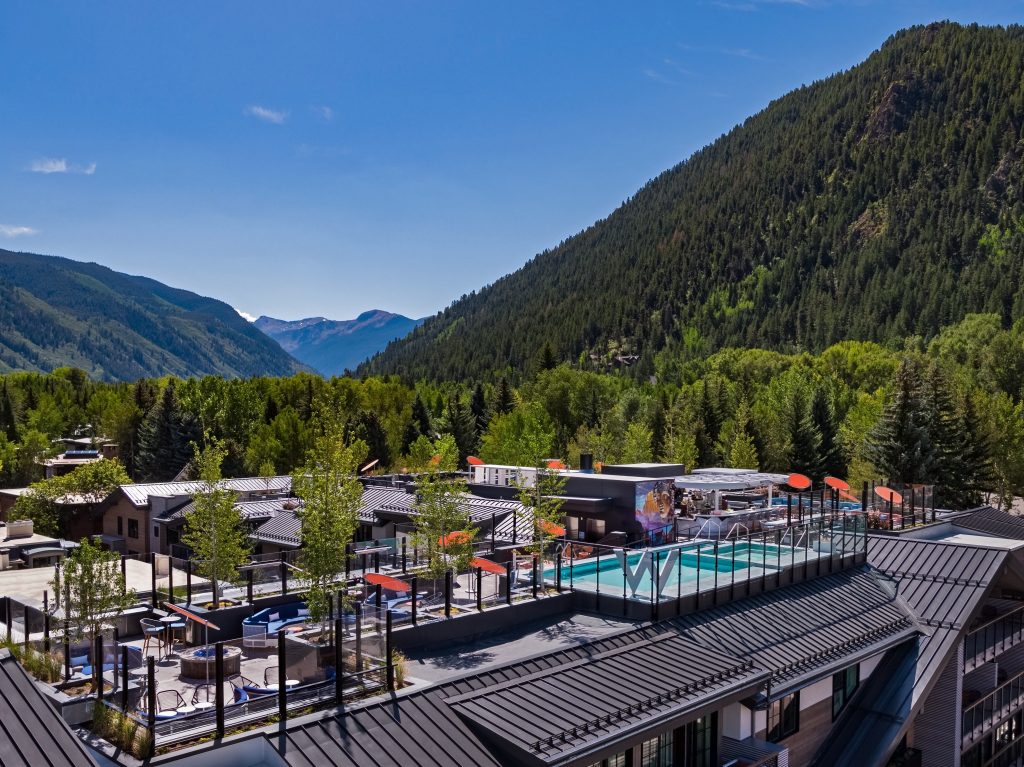 Interested in spending time at the WET deck, but seeking something a little more elite? Look no further – for $250 per cabana you can enjoy all-day access and infused water with two drinks and treats amid the atmosphere that makes the W one-of-a-kind! To book a cabana, email [email protected].
During the winter months, you might find X Games Gold Medalist, Alex Ferreira, and other local celebrities winding down after a day of training on the slopes. If you find yourself in Aspen on the closing day of Ajax Mountain, The W Aspen hosts a close second to the Aspen Highland's Alehouse for mountain closing day parties!
Overall, the deal with The W Aspen is that it's where the valley's talent and professionals turn to unwind and party down, and if you want to be where it's at, we'll see you there!
Included in your stay amenities, hit the town by taking a BMW X7 + X5 to explore where Aspen's famous red-light district one thrived, or any Alpine adventure you wish. You just contact Whatever/Whenever to book. ~ W Aspen Website
Hungry for more? Subscribe to this blog to keep up with our favorite places to hang in the valley. Follow and tag us on Instagram @aspenreallife to be featured (no selfies).
Author: Alexandrea Rager