Aspen: come for the skiing, stay for the celebration. While plenty is still uncertain this season, one thing is for sure: our beloved snow sports are very much still alive and well, and with them, the undying ritual that is après. For those who may be unaware, après in Aspen is a seasonal custom which consists of so much more than just a glass of wine or a cold beer on tap. Conde Nast Traveler recently recognized Aspen as having the best après ski scene in North America, and with outstanding options not just in Aspen, but in Snowmass and all throughout the valley as well, it's easy to see why. A proper après consists of yes, drinks, but throw in truffle fries, fondue and Raclette, coincided with show-stopping views on a heated patio with a fur blanket, and you've got an end of the day wind-down to make even the most well-traveled skier's heart stop in amazement. Options range from heated mountain igloos, to individual Swiss chalets in the heart of downtown. To get a taste of the best Aspen has to offer, make sure to plan your weekends around visits to each of the below:
Cloud Nine
You'll want to monitor how many glasses of champagne you consume for this one, seeing as it's 10,825 feet up on the slopes of Highlands mountain, and you'll need to ski down post-après. Cloud Nine is not just an Aspen staple, but dare we say, one of the most beloved party spots in the country. If you don't believe us, just check out the video above. This year, the champagne popping will be kept to a minimum to reduce the Pandemic spread but that doesn't stop the party or make the views any less gorgeous, in fact, many locals prefer curtailing the waste of Champagne spraying (we'd rather drink it thank you very much). Situated just below Highlands Bowl on top of the Cloud Nine lift, Cloud Nine sits on the ridge of the mountain with a breathtaking backdrop of the Elk Range Maroon Bells. Enjoy breathtaking views of the renowned mountain range while you sip on an award-winning list of international wines, and feast on true Alpine cuisine. Local favorites include; Gruyère Fondue, Caviar, Steak Tartare and the Seafood Plateau with Golf Shrimp, Crab and Lobster. Top it off with Apple Strudel and assorted Dessert Truffles et Voila, you will have the ultimate Aspen experience, but only if you hike the Highland's Bowl first. What's more, this year, in response to Covid-19, Cloud Nine opened The Sled, a smaller, less rowdy option just next door. A pop-up food truck, the sled serves everything from Lobster Rolls, to Truffle Fries and beer on tap around a fire-pit. Lunch begins at 11am and ends at 2:30, with private Snowcat dinners also available seasonally. Reservations are recommended and can be made as far as 14 days in advance.
Dante at The Snow Lodge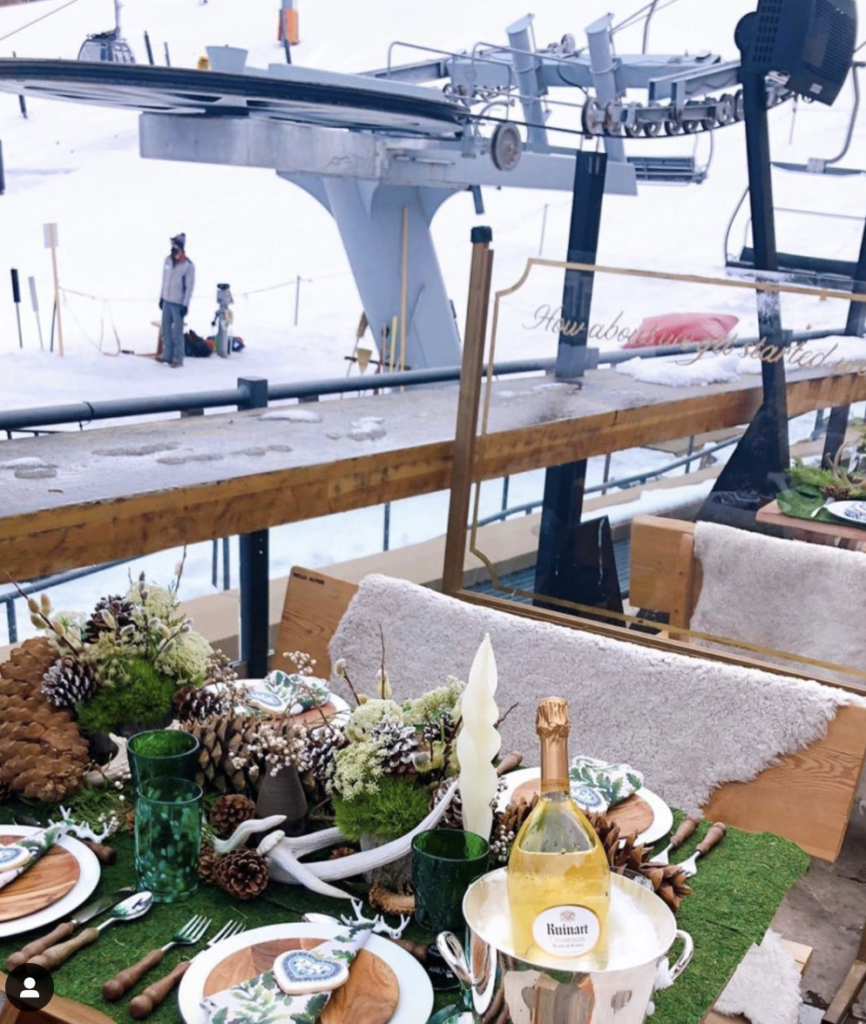 The Snow Lodge comes from the mind of the same folks who brought the Hamptons the Surf Lodge, a world-renowned, celeb-loved favorite club and bar on the island of Montauk. A similar concept, the Snow Lodge, formerly Shlomo's, is the snowy version of Surf Lodge, with world-class top-shelf cocktails, chic and exotic decor reflective of ski seasons past, and all day food. Located at the base of Ajax, you're likely to spot many a Gucci belt here, but the indoor restaurant still maintains an unpretentious yet lively vibe. With wonderful views of Ajax, and excellent people watching, the après outdoor patio is the most buzzy spot in 2021 to see and be seen in Aspen. With show-stopping menu items like the Aperol Spritz on tap, the Hot Smoked Hotty Toddy, and all-day small bites, share-ables and dinner items like Roasted Branzino and Mushroom Lasagna, they offer it all. Come for the drinks, but stay for the party, because the Snow Lodge is now open seven days a week from 12pm-10pm.
French Alpine Bistro
This truly unforgettable restaurant chalet, also known as La Creperie du Village, has all the makings of dining at a chateau in France. This winter season, the heated outdoor patio opened up to transport guests into an ambience reminiscent of a wistful log European ski chalet. Complete with high ventilation heating, candlelit wooden tables, warm fur throws, quirky antique art, and a warmth that extends beyond just the heaters and candles. The food at French Bistro is similarly Alpine themed—with fondue and raclette, an extensive wine and beer list, and the most truly unique and gorgeous cocktails. If you're looking for a special experience post-ski, or are looking to impress visitors with how unique your hometown is, French Bistro is a no-brainer. If you are not comfortable dining inside, dine in their outside area beautifully designed by local architect Jeff Halferty.
Bonnie's
We'd be totally remiss if we didn't mention Bonnie's. A beloved mid-mountain lunch spot, with seasonal igloos and amazing daily specials like Curry Chicken and Pork Schnitzel, Bonnie's is a local favorite with a sturdy reputation. What the locals consider the heart of Ajax, this restaurant is ski-in-ski-out, and can't be missed if you're looking to experience Aspen like a real après pro. This season, they are offering personal igloos on their outdoor patio for $50, which can be reserved weeks in advance—they fill up fast so we recommend securing your spot ASAP. Again centered around true high-Alpine cuisine, Bonnie's is famous for their homemade Strudel and White-Bean Chili, along with their awesome wait staff and storied history. Make sure to say "hello" to the queen of strudel, Muffin Dole, and thank her for her mouth-watering desserts, or Sally Oates for putting together your salad mix of grains and veggies, and if you can find her, Brigitte Birrfelder, the queen poo-bah of the restaurant who took over operations from Bonnie Rayburn in 1998.
Pro tip: ski up first chair to get a few runs in before heading to breakfast any time before 11am to experience Bonnie's world-class Pancakes—complete with strawberry compote and homemade syrup, they're the real showstopper.
The Wet Deck Bar at the W Hotel
Talk about views. The Wet Bar at the W hotel sits smack-dab at the base of Ajax, and features views of all of Aspen and the entirety of the front of Ajax mountain. A rooftop bar, this spot is a great escape from the booming Alpine scene, while still offering everything you'd want from an après experience and more. You can also book your own private "Grotto", a dome inspired outdoor dining experience with unique and delightful offerings like the Truffle Mushroom Swiss Raclette Burger and Pork Belly Steamed Buns. The W's "Chef Jackie" has prepared a globally inspired menu that keeps visitors and locals consistently coming back for more.  Complete with a rooftop-length fire pit, big comfy seats, and heaters, this is a perfect spot to go if you want to get a killer view of the entirety of Aspen's kingdom and enjoy the mountain from new heights. Perhaps the coolest part about Après-ing at the Wet Bar? The heated pool and giant-hot tub. That's right, here you can enjoy your après drinks and treats while relaxing your skied-out muscles from a heated whirlpool while the waitstaff refills your glass. Even cooler? Due to high demand, the WET Deck and bar is now fully open to the public from 1-8PM on Thursdays-Sundays. You need to be patient though, you may be put on a waitlist with 30-minute increments in either the pool or tub. Pro-tip: Come in the evening and catch the sunset against Ajax and see the town light up—just don't forget your camera.
Lynn Britt Cabin
If it's true old-school Western ambiance you're looking for, start at the Lynn Britt Cabin. Located mid-mountain in Snowmass just off Velvet Falls, this unique après spot offers a the rustic western ambience of Colorado with a dash of elegance and chicness that only Aspen can offer. Come hungry–Lynn Britt is famous for it's shared plates and drink list, and you'll also not want to miss the Potato and Caramelized Onion Fondue "Tartiflette", a true local favorite. Ski-in and ski-out, this quaint and romantic cabin is not just another après spot. Its spectacular setting offers unparalleled ambience alongside an understated elegance of its dining room. You can also sip on drinks or share plates on their sunny and heated outdoor patio alongside a fire. Open through April 4th, with the exception of Tuesdays and Wednesdays, it's the perfect place to start or end your week. Make a reservation by heading to their website as far as 14 days in advance.
New Belgium Ranger Station
Snowmass doesn't play around when it comes to the après scene. If being tired, cold, or out of time isn't enough to lead you down the mountain, the New Belgium Ranger Station will. It's a slope-side, snug and heated bar and restaurant sponsored by New Belgium (fun-fact: their signature beer "Tremens" was recently named the best beer in the world). The Ranger Station offers 12 craft beers on tap, straight from New Belgium itself. If it's not beer you're craving, the friendly bar staff also will serve us a plethora of cocktails from their locally-sourced fully stocked bar. In the realm of food, the Ranger Station is well-known for their mouthwatering Savory Bison Chili and Cheese Fondue, a can't be missed hit after a day on the slopes. Ski on down the mountain after a full day of skiing, as they're open day from 3pm–6pm. Tell Wendy we sent you!
Base Camp Bar and Grill
Tried and true, and always reliable. Base Camp is an iconic and can't be missed spot aptly named for its location at the base of Snowmass Village. Feet away from the Village Express chairlift, Base Camp Bar & Grill is a classic, and a great spot for people watching too, if we might add. The indoor bar offers fully stocked liquor shelves for any kind of cocktails, as well as two levels of seating. It's the outdoor deck though, that you won't want to miss. Kept warm by space heaters as well as a huge outdoor fire pit, you'll be warm and cozy here as you finish off your day on the mountain with Bison Nachos or Truffle Fries. Thanks to its  casual atmosphere and large space to seat any number of guests, it's a solid can't-be-missed-pick if you're wanting to spend a full day at Snowmass.
Venga Venga
We'll start by saying that this is the perfect place to take your first shot ski (ICYMI, that's a communal round of shots from glasses glued to a ski). Situated at the end of the Snowmass Village Mall, this one-stop-shop appeals just as strongly to locals as it does visitors, and just as much to kids as it does adults, thanks to stunning panoramic views, it's upbeat Latin-inspired atmosphere, and  it's far-stretching tequila list (75, to be exact). This is a great place to grab a margarita, and indulge in a well-portioned plate of authentic nachos while you toast to a day on the slopes. In a town full of amazing Mexican food, many locals often claim this place offers the very best of it. Thanks to its heated outdoor patio, views of both the mountain and fellow skiers, and its lively ambience, it's no wonder Venga Venga is a hit with young and old folks alike. Thanks to famed globetrotting chef-owner Richard Sandoval, the cuisine here is what you come for, but the pitchers of margs is what will make you stay. Venga Venga is open daily from 11am to 9pm, so stay for the sunset if you can!
Ajax Tavern
At Ajax Tavern you're just as likely to bump into a Kardashian as you are an old high school classmate (we spotted Orlando Bloom and Katy Perry here not too long ago). That's because there's nowhere that screams "après" quite like it in all the valley, probably because it captures the late afternoon sun and is easily accessed. This restaurant and bar has an All-Star drink menu but also a world-famous indulgent dinner and lunch menu. Offerings include the world-famous Ajax Double Cheeseburger and Truffle Fries tossed with Parmigiano-Reggiano with fresh parsley and a truffle essence, a local mouthwatering favorite that tastes just as good as it looks. The patio comes alive as soon as the restaurant opens, right at 11:30am every day, and doesn't die down until it's closing hour, at 10pm. Steps from Silver Queen gondola, you quite literally can't miss Ajax Tavern—it's at the heart of Ajax, and the music from its outdoor heated patio speakers will keep you entertained while you wait in line for the gondola. If you say après in Aspen, Ajax Tavern is likely first to come to mind, not just for visitors, but also locals, celebrities, kids and non-skiers too. It's an establishment with a strong reputation for fun events, and a chart-topping cocktail list.