Unwind after a day on the slopes with a hot stone massage or a hydrating facial…and maybe a glass of champagne, too.
By, Ellie Trice
According to Google Trends, at the end of last year there was a 30% spike in searches for "best products for dry, winter skin." And for good reason. Winter air can wreak havoc on your skin cells, causing them to dry out, get itchy, irritated red, and sometimes lead to even more extreme health concerns like severe cracks, flaking and peeling, according to the Mayo Clinic. When  temperatures drop it spells trouble for our skin, which might already be experiencing a loss in moisture due to elevation. This is a perfect storm for skin to be at its driest and most vulnerable to sensitivity, irritation and free radical damage. All that to say, now is the perfect time to amp up your skincare routine with antioxidants, rejuvenation, and let's face it, a professional "glo-up", (pun intended). 
But dear reader, be aware, your muscles deserve just as much extra TLC. While living an active lifestyle has endless perks, it's no secret it drains your body of much needed rest. Luckily, science has come a long way since the days of Vaseline, drugstore moisturizers, and a good ole' nights sleep. The culmination of the modern world's craze towards wellness can be found right here in town, via some local spa offerings. And let's face it, when in Rome (Aspen), you'll be tempted to indulge in many-a bar, restaurant, spendy shop and gallery, so why not throw in the towel and treat yourself to a world-class facial while you're at it? Polish those toes. Relax your shoulders. ultra-hydrate that wind-burnt skin. You deserve it.
Below you'll find some of the best spas and treatments that specialize in keeping your complexion clear, firm and hydrated, and your muscles and mind strong, relaxed, and ready to take on tomorrow's snowy slopes. 
The Best Spas and Unique Signature Treatments In Aspen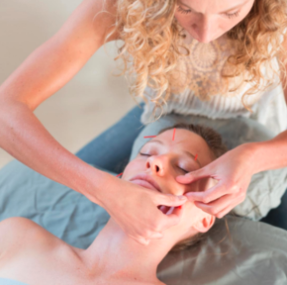 What puts this spa at the top of our list is its unique approach to holistic wellness. In fact, it's not really fitting to call it a spa, it's more of a mind, soul and body rejuvenating and treatment center. Comprised of a collective of Holistic and Integrative Healthcare and Wellness Professionals, the aestheticians, acupuncturists, facialists, therapists, yoga teachers, masseuses, and all-around educators at the center seek to "treat the root cause of disharmony in the physical and emotional body," to quote their website. Thanks to patient-centered, individualized care and always natural products, Aspen Elevated Health has the capacity to treat every physical, emotional, mental and spiritual ailment in the book, including using BioMeridian Testing to get to the root causes of your health issues to create a robust immune system. From torn ligaments, infertility,  to panic attacks or something as simple as  clogged pores, their staff of  7 has someone educated and ready to meet your needs. To hone in on an extra-special offering from founder Brittany Buffalino, a jedi in the world of alternative medicine.
Signature Treatment: Buffalino's signature treatment is in fact nowhere near a spa treatment. She specializes in acupuncture, most notably acupuncture plus cupping, "a type of suction therapy that relieves muscle tension and pain, opens up fascia, boosts immune and lymphatic function, and detoxifies the liver and kidneys". In this signature experience, which is customized for each client based on their health history, concerns, and goals, for anywhere from 75 to 90 minutes you'll receive acupuncture, followed by simultaneous cupping. To top off the relaxing and pain mitigating experience, your treatment can also include anything from an additional massage, gua sha, reiki, or sound healing, based on Brittany's professional observations of your needs. Prices range from $175-$225 per session.
The Fix Aspen: Obermeyer Place
Similar to Aspen Elevated Health, The Fix Aspen offers everything from physical therapy, to oxygen facials, to hangover IV's in case you've had one too many tequila shots at Silver City the night before. A favorite among local athletes for it's recovery therapy, the Service Menu has everything from novoTHOR, laser therapy, and PRP injections, to sculpsure to slim you down, nutritional training to better your diet, blood labs to help you stabilize your hormones. 
Signature Treatments: 
Electrons+ PEMF Therapy:

You've probably never heard of this fancy acronym, neither had we. PEMF stands for "Pulsed Electromagnetic Field Therapy".  "The Electrons+ treatment is different from most PEMF treatments in that the electric charge is funneled through the therapist's hands and enters your body through touch. Much like a battery, the human body is electric.  Our cells carry voltage.  The electric charges necessary to maintain optimum health in our cells can decline from age, injuries, and illness.  PEMF helps restore this healthy electrical balance within the body and stimulates the healing process at the cellular level.  We have seen amazing results with this treatment for joint and muscle pain, inflammation, and nervous system relaxation," says business manager Patsy Kurkulis.

IV Therapy/Micronutrient Testing:

IV therapy can help treat altitude sickness, is a great preventative measure against virus' and the flu, and is a great way to help your body run at its optimal health. "With our Micronutrient Testing we are able to offer personalized IV Infusions tailored to each person's deficiencies. All of our IV's are administered by a CRNA, BSN, or RN and are overseen by a doctor," Kurkulis says. 
Fahrenheit Body Spa: Basalt/Willits 
The hottest (pun intended) thing about Fahrenheit might be the story behind its birth. The Frisselle brothers, Brian and Burk, are former professional race car drivers who also have developed a lifelong love of physical and mental wellness. Their passion for staying fit and maintaining pristine holistic health stems from not just racing, but also a love of strength training, skiing, biking, hiking, and just in general being badass elite athletes. In order to keep up their rigorous cardiovascular and weight bearing exercises, they came to understand the extreme importance of therapies to make sure they (and their clients) continue to reach for optimal fitness, performance and recovery. Located in Willits, Fahrenheit has everything from float therapy, where you literally lay in an epsom-salt filled water pod lit by blue light for relaxation, to cryotherapy, to full-body massages and facials.  
Signature Treatment: Salted Massage with CBD Oil. After speaking exclusively with owner Brian Frisselle, we found out the top, most sought-after treatment this winter comes from a pairing of products from local CBD company Sopris Health and Wellness and a fancy machine called a Halo Generator. In this 60 to 90 minute experience, you'll be placed in one of the spas 2 "salt rooms" where, during your full-body CBD-oil based massage, a halo generator grinds, then blows up into the air perfectly pure chemical chloride salt, to cleanse the lungs, humidify the skin, and fully relax the body and mind. This experience is so popular for how truly great it is on the lungs, especially during the winter months. A 60 minute massage will cost you $135+$16 for salt+$30 for CBD, for a grand total of $181 for the ultimate rejuvenation. 
Heaven on Earth Spa: Aspen
Heaven on Earth founder and one-woman army Pila Xian started her business in the heart of Aspen after having worked in some of the most reputable spas throughout the country after seeing a need for a personal experience between aesthetician and client. She promises "you'll remember her" after dropping in for a treatment, not only because of the top-grade level experience, but the personal relationship Xian aims to build with her clients, who continue to return visit after visit. In Xian's words: "If you are someone who does not prefer padding around total strangers in nothing but a robe and some rubber shoes but still wants an experience that is five-star, Heaven on Earth is for you." She offers experiences she knows her specific clientele will love. Like Intraceuticals Oxygen facials, (a celebrity favorite made popular by Madonna), custom facials based on your skin's needs, as well as a dreamy long line of massages and spa packages.
Signature Treatments: 
"From Head to Toe". A 50 minute massage and 40 minute Oxygen facial, built into one heavenly treatment, this 90 minute experience treats everything from your face to your feet.

Xian's most popular offering will leave you looking as relaxed as you will feel. Oxygen facials are proven to leave you with glowing, dewy skin, while also minimizing signs of age, stress, and toxicity by infusing the delicate skin of the face oxygen. When paired with a customized serum based on skin type, whether it be dry, oily, or combination skin, you'll walk away feeling replenished and years younger. To top it off, a 50 minute, thoughtful and careful massage can precede your facial, where Xian focuses on tight, problem areas, addresses the damage, and relieves physical signs of stress, tension and soreness.
Virtual Facials: During these tough times, many of us just don't feel called to the spa. Hopping in the car to pay for a custom facial can seem like a bit of a hassle when YouTube is booming with at-home honey hair treatments and egg wash masks. She'll send you a skin analysis quiz, which she'll use to customize a facial based on your needs, followed by a specially curated box of products. You can invite friends and family from across the world to join in via zoom, for an extra fun added bonus of watching each other apply the products to their own face for the ultimate educational and equally rejuvenating experience.
The St. Regis Spa Remede Spa: Aspen 
This one was simply a given. The St. Regis…nothing says Aspen quite like it. A hotel known for its lavish accommodations as much as it's pristine service, the spa here is no exception to that standard. The Remède Spa at St. Regis is all over the internet. One google search of "Aspen spas" will lead you here immediately. That's thanks to its state of the art, world-class comprehensive list of decadent and unique offerings. Previously named the best hotel spa in the country by Travel & Leisure, one step through its glass doors into the wooden, zen oasis and you'll see why. The spa is not only gorgeously designed with waterfalls into a dimly lit infinity pool, and individual world-class steam rooms, but also has a long list of treatments led by expertly trained aestheticians. From body wraps, to massages, to sexy couples massages like the chocolate truffle and champagne body facial. It's pricey, but for the experience, we think it's a bang with your buck. 
Signature Treatments: 
Rocky Mountain Vibes Massage:

A combo of invigorating and recovery focused, this massage stimulates circulation,  and improves flexibility, relaxes the tendons,  helps prevent injury, and is said to make your muscles feel as though they've "melted away." Curated specifically for the active lifestyle that comes by way of Aspen, this massage combines stretching, acupressure, and vibration for the perfect experience. Primarily a sports massage, it includes the healing properties of CBD oil, paired with the ultra-muscle soothing medicine that is the Hyperice Hypervolt. You'll feel relaxed, renewed, and ready for another day of skiing, hiking, ice-climbing, or anything else that strikes your fancy. 90 Minute Rocky Mountain Vibes Massage: $425. 90 Minute Rocky Mountain Vibes Massage: $740, which includes a Hypervolt at 10% discount.

Champagne and Chocolate Truffle Decadence Body Facial: Are you feeling a little risky, and maybe a little thirsty too? Take a dive into this one-of-a-kind "you'll only find this in aspen" facial. Not for the shy, this facial is exactly what it sounds like. You'll start by being covered in an exfoliating champagne oil and brown sugar scrub, followed by a full-body wrap into a warm, somehow still hydrating chocolate mask cocoon. While you marinate in sugary sweetness your therapist will massage both hands and feet for an over-the-top ending to a very decadent experience. After a hot rain shower, next up is a 30-minute massage in brownie-batter-scented chocolate lotion to leave you soft, smooth, and smelling sweet as ever. Don't be fooled, sugar may be known to create breakouts, but this experience and the products involved are anti-oxidant rich and hydrating to a T. 
Vida Medi Spa: Aspen 
Revered by many to offer the best facial in all of Aspen, spa owner Eden Henschel knows a thing or two about treating her client's skin with the utmost care, especially with its high-altitudes and cold harsh climates. Henschel, who previously was the lead aesthetician at Remède at the St. Regis and O2, another Aspen spa and wellness center,  has her facts on skincare straight, and sticks to them. She is diligent on moisturizing her clients faces with oil-based moisturizers and repair balms, which protect from the windburn of chilly days on the mountain. A science based aesthetician, she believes in treating her clients during their experiences as much as educating them. She knows her stuff and it shows, as is evident from the caliber of her service menu, which includes facials, massages, injectables, and skin lifting and tightening procedures like the non-invasive plasma pen. 
Signature Treatment: 
The signature "Love My Face" facial ($210) is a mainstay and hugely popular, for good reason.  All together, the facial is designed to cleanse, tone, and exfoliate. As part of the package, you have a choice of two of the following heavenly additions: dermaplaning, enzyme/acid peel, extractions, mask, massage, red LED light therapy, microcurrent, Oxygen Blast and a relaxing hand and foot treatment and scalp massage. As nourishing and healthy for your face as it is relaxing, this treatment allows you to get multiple benefits in one sleek package deal. 
** Whilst we endeavor to provide information on available services in our valley, ARL makes no representations or warranties of any kind, express or implied about the completeness, accuracy, reliability, suitability or availability with respect to the website or the information, products, services or related graphics contained on the website for any purpose. Any reliance you place on such material is therefore strictly at your own risk.