We have chosen for you our top five favorite rides that are just plain fun, without the stress, but there are sooo many more. The information comes from the Mountain Biking Project. Click on the links to get incredibly detailed information such as; maps, directions, elevation, mileage, degree of difficulty, and pictures (you'll definitely want to download their app to your smart phone).
And huge hugs and kisses to the RFMBA, Roaring Fork Mountain Biking Association, who lovingly create buffed out trails for us with just enough challenging terrain to make us work for the downhill.
Top Five Mountain Biking Trails in the Roaring Fork Valley
Rim Trail Loop: We love this trail in Snowmass because of the views and the quick grunt to the Yin Yang platform. It's a bit of a steep climb on switchbacks at the beginning of the trail if you access it from the top of Brush Creek Road, but once you get to the platform you will be so happy to enter the enchanted forest and woop de doo yourself through the trees. If you are done at the bottom you can bail out on the road, or you can head back up from Wildcat and keep on going.
From MTB: One of the best singletrack rides in the valley. It's a great loop including lots of climbing on the bike path to 7 miles of great singletrack.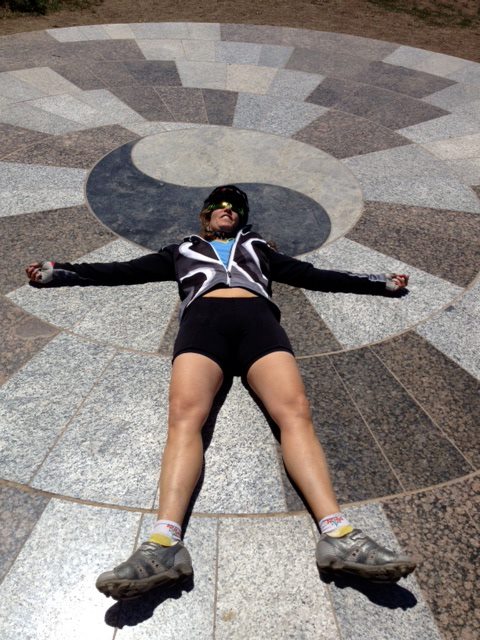 Smuggler-Hunter Creek – Vanhorn – Hobbit – Secret – Sunnyside Loop Ride: This is a great ride of which we have only ridden parts of. Our favorite is to ride up Smuggler, down Iowa Shaft into Hunter Creek Valley and over to Hummingbird, or back up to Van Horn Park, and then back down to Red Mountain Road, but you're probably tougher than us!
From MTB: This long ride provides plenty of climbing and plenty of descending through open meadows, dark timber forests, aspen groves, and red rock shrub oak. Much of the climbing takes place on dirt roads, but nearly all of the descending takes place on high quality singletrack. Much of the riding is intermediate level, although the the epic conclusion – the Sunnyside trail – should be considered difficult (at least) given sections where the narrow trail traverses extremely steep terrain, and rocky and rooted sections demand your fullest attention.
Sky Mountain Park Loop: Sky Mountain Park has many trails to choose from. We love to park in the Buttermilk ski area parking lot and ride up Airline, down Deadline, back up Viewline and back down Airline again (kids LOVE Airline). It connects to the Cozyline Trail which can also be accessed from the Snowmass Intercept Lot.
From MTB: This trail is a first of its kind for the Aspen / Snowmass area. It's a cross country trail that features many flow trail elements including large, generous in sloped berm turns, dips, and rollers. The trail climbs gently with almost no steep sections to deal with. The fun gets serious when riding in the downhill direction! You'll find a number rollers along the way that offer opportunity for "air" time.
Enjoy big views of the upper valley towards Independence Pass & Aspen Mountain, not to mention the airport runway just below.
Highlights of this featured ride include many miles of singletrack, beautiful aspen groves, dark timber forests, open meadows (ski runs in some cases), hundreds of columbine and other wildflowers, big mountain views, and technical rocky and root tangled sections that offer a serious challenge even to expert riders.
Tom Blake Trail (Snowmass): We make a point to ride this trail with our boys every September. It is one of the easier rides in the valley, a gentle ascent up through the golden Aspen trees and a very fun downhill.
From MTB: The Tom Blake trail is a great intermediate singletrack that can be ridden from either direction. This trail has moderate usage so be aware of oncoming foot and bike traffic. The Blake trail is the most buttery smooth trail in the Roaring Fork Valley, and shaded in deep aspen groves the entire way for its 2+ miles.
Prince Creek Loop From Carbondale: One of our favorite rides to go on with the boys who love to ride over the abandoned Monte Carlo.
From MTB: Start in Carbondale at Beer Works, ride up Prince Creek road, climb
Monte Carlo
, climb
Highline Trail
, Climb to Uncle, down Uncle to Father of
Ginormous
, enjoy, traverse to more downhill on
Ginormous
, ride over that
Monte Carlo
, climb
Christmas Tree
, traverse
Outie
to
Buckhorn
descent, to
Rio Grande Trail
back to Carbondale.
RFMBA Mission
The Roaring Fork Mountain Bike Association is dedicated to creating and sustaining the best possible mountain bike trail system in the Roaring Fork Valley. Our territory ranges from Glenwood Springs to Aspen, and from McClure Pass to Hagerman Pass. 
Find the perfect ride for you, explore fun rides and trails and same them to your itinerary. Keep track of where you have ridden.
This website is the next generation of mountain bike trail maps.  Give it a try with your gps enabled smartphone's web browser.  It's a great way to explore an area, whether you've lived here all of your life, or if you've only got a day or two to check it all out.  While many of our classic trails and rides are in the system, we're still adding to the system.  Help us by either posting your favorite ride at mtbproject.com, or contact us with your gps data and trail photos and we'll add to the system for you!  Please keep in mind that we can only post trails currently open to mountain biking!